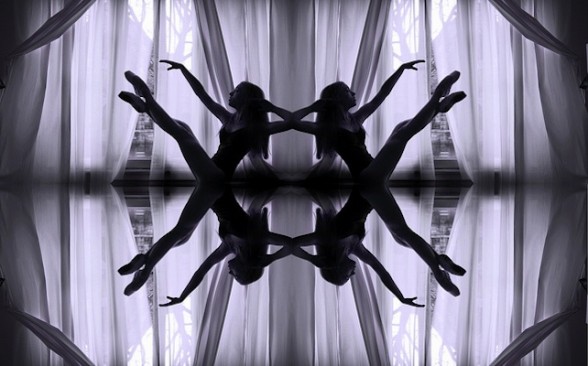 You may remember Melissa K. Dooley, her work, and background in dance and photography from our Sunday Snapshot last month of her photo: Ballerina Lounging in Central Park. When Melissa added this recent shot to our Flickr photo pool, I couldn't resist showing off another of her lovely photos. I find what Melissa calls a 'kaleidoscope' effect (achieved with Photoshop) reminiscent of a Rorschach ink test… and equally as mesmerizing!
Melissa took this self portrait in April of this year (2011). "After a long day at the ballet studio, I was just hanging around in my apartment only to look out the window and see there was a blizzard! In April! Being from Texas, I definitely was not used to this weather shock."
She made the most of the situation though, clearing her desk and setting up her tri-pod for an informal ballet shoot.
Having just completed the Graduate Program with Pittsburgh Ballet Theater, Melissa will be an apprentice with The Alabama Ballet in Birmingham next season.
If you'd like to connect with Melissa, find her on Facebook. Melissa says, "It really means so much to be able to share my photography, especially with the ballet community."
---
The Sunday Snapshot has had a great run, previously as a weekly feature on Dance Advantage. I have tapered its appearance lately and have officially decided that I'll now present a feature photo monthly. On a Sunday of course. I will, however, also share on a regular basis the spectacular dance photography that artists post to our Flickr pool via Nichelle's Notes (my Tumblr and a weekly links newsletter enjoyed by DA's Subscriber PLUS members).
Kindly follow, like or share:
Nichelle Suzanne is a writer specializing in dance and online content. She is also a dance instructor with over 20 years experience teaching in dance studios, community programs, and colleges. She began Dance Advantage in 2008, equipped with a passion for movement education and an intuitive sense that a blog could bring dancers together. As a Houston-based dance writer, Nichelle covers dance performance for Dance Source Houston, Arts+Culture Texas, and other publications. She is a leader in social media within the dance community and has presented on blogging for dance organizations, including Dance/USA. Nichelle provides web consulting and writing services for dancers, dance schools and studios, and those beyond the dance world. Read Nichelle's posts.