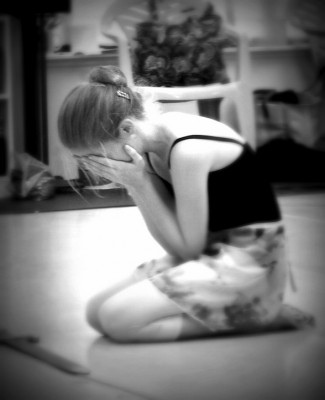 Many dancers utilize the camera to document moments in their dance life. I am not always looking for professional shots in the Flickr pool, but something that captures what it is to dance and be a dancers. Rehearsals are certainly part of the life of a dancer. This hazy, dream-like photo is by Alannah Cataldo, who is a pre-professional dancer, currently a member of
Ballet Chicago Studio Company
. She says, "I have no real photographic experience I just take pictures of my dance friends during rehearsals and performances for our own enjoyment. I took this picture in a rehearsal for 
Gregory Hancock Dance Theatre
's Contemporary Nutcracker as performed by Conservatory of Dance Studio Company. The girl in the photo is "Klara" and she is about to pick up the sword, illuminated, and kill the Mouse Queen in revenge of her dead Nutcracker."
---
Want to have your photo featured?
Add it to the DA Sunday Snapshot pool at Flickr
Learn more here
---
Friendly Reminder: Please respect copyright online. Unless permission is granted through Creative Commons or other licensing agreement, please do not publish copyrighted photos without the permission of the owner. Thank you!
Kindly follow, like or share:
Nichelle Suzanne is a writer specializing in dance and online content. She is also a dance instructor with over 20 years experience teaching in dance studios, community programs, and colleges. She began Dance Advantage in 2008, equipped with a passion for movement education and an intuitive sense that a blog could bring dancers together. As a Houston-based dance writer, Nichelle covers dance performance for Dance Source Houston, Arts+Culture Texas, and other publications. She is a leader in social media within the dance community and has presented on blogging for dance organizations, including Dance/USA. Nichelle provides web consulting and writing services for dancers, dance schools and studios, and those beyond the dance world. Read Nichelle's posts.