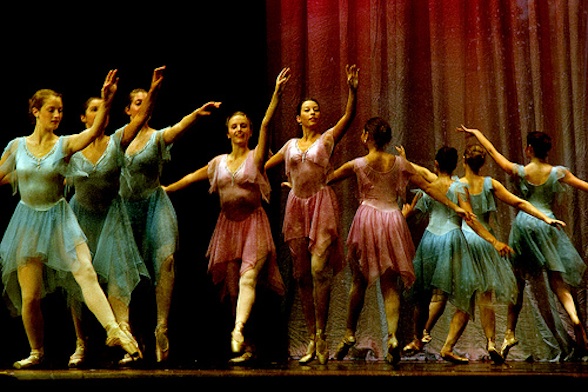 The painter Degas seemed to enjoy capturing the natural asymmetry of dancers in training. He preserved the everyday moments of dancers between barre exercises, waiting or tying their ribbons, or shared with viewers the skewed perspective of performance from the wings.
Similarly, much of what I've seen of Carl Johnson's ballet photography (I made his acquaintance early on in my blogging career) offers casual glimpses of the young dancers in his photos. The shot above may be a bit more formal but the muted reds and blues of this textured image recall the impressionistic paint strokes of Degas.
About the Photographer: Carl Johnson is a photographer from Albany, New York, whose photographs of dance have been sold around the world. Carl blogs about music, biking, and other aspects of his non-urban life over at My Non-Urban Life. His daughters are academy students at the School of the Albany Berkshire Ballet, directed by Madeline Cantarella Culpo, in Albany, New York. This photograph is from the school's annual recital.
---
Want to have your photo featured?
Add it to the DA Sunday Snapshot pool at Flickr
Learn more here
---
Friendly Reminder: Please respect copyright online. Unless permission is granted through Creative Commons or other licensing agreement, please do not publish copyrighted photos without the permission of the owner. Thank you!
Kindly follow, like or share:
Nichelle Suzanne is a writer specializing in dance and online content. She is also a dance instructor with over 20 years experience teaching in dance studios, community programs, and colleges. She began Dance Advantage in 2008, equipped with a passion for movement education and an intuitive sense that a blog could bring dancers together. As a Houston-based dance writer, Nichelle covers dance performance for Dance Source Houston, Arts+Culture Texas, and other publications. She is a leader in social media within the dance community and has presented on blogging for dance organizations, including Dance/USA. Nichelle provides web consulting and writing services for dancers, dance schools and studios, and those beyond the dance world. Read Nichelle's posts.