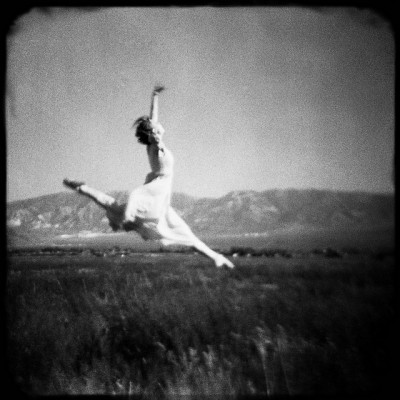 Every photograph has a story. Megan Davis was kind enough to share the story behind this photograph which is part of a series of photos featured in her Flickr portfolio.
I became interested in photography a few years ago when I realized that I didn't have that many dancing years left and photography would be a way for me to stay connected with the dance world. I went out and bought a fancy digital camera, and when I figured out I had no idea how to shoot it in manual, I enrolled in a few photography courses at the community college. Of course, the classes were all black and white film based which I wasn't expecting!

After we learned about the controls of the camera and composition techniques, We had an assignment to use a Holga camera. Holga's don't have any controls practically at all. It's basically a really old point and shoot camera that you guess on exposure time and guess on the focusing. The idea of the assignment was to put all the students on the same playing field. No one would be able to say so and so's photo's turned out better than mine because their camera is more expensive or any thing else like that because we would all be using the same type of camera.

Half of the students absolutely hated the Holga for different reasons, mostly because they felt they didn't have any control over what they were doing. I disagreed. I felt I had more of a creative outlet without any boundaries and more control because I didn't have to worry about the exposure.

For my assignment, I wanted to reconnect with my dancing days and do some flying, as that was my favorite part of dancing. So, my sister and I went out in the middle of no where, set up a small trampoline in the weeds, and had some fun! I set up my holga on a tripod and had my sister click the shutter when I was ready. The tramp wasn't all that stable in all the weeds, but it got us laughing pretty hard a few times when it sent us flying! We were able to create some fun photographs and some memories that will last a while.

I developed my film myself, but instead of printing in the dark room, I chose to scan my film into the computer and develop the photographs in photoshop. There really isn't a whole lot that I did besides a few adjustment levels and spotting (getting rid of all the dust and spots that sometimes is found on film) I really enjoyed using this format and camera and have many plans for the Holga in the future! Oh- and I did get an A on the assignment!
Get featured! Add your photos to the Sunday Snapshot Flickr pool.
Kindly follow, like or share:
Nichelle Suzanne is a writer specializing in dance and online content. She is also a dance instructor with over 20 years experience teaching in dance studios, community programs, and colleges. She began Dance Advantage in 2008, equipped with a passion for movement education and an intuitive sense that a blog could bring dancers together. As a Houston-based dance writer, Nichelle covers dance performance for Dance Source Houston, Arts+Culture Texas, and other publications. She is a leader in social media within the dance community and has presented on blogging for dance organizations, including Dance/USA. Nichelle provides web consulting and writing services for dancers, dance schools and studios, and those beyond the dance world. Read Nichelle's posts.