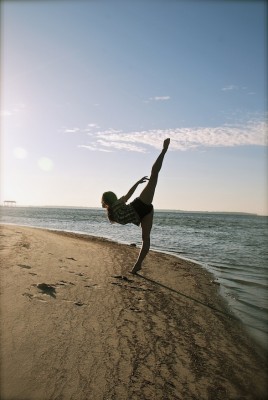 Hannah's "The Eiffel Tower," a lovely arabesque penchée silhouetted against a beachscape, is a welcome sight as I sit at my computer on a winter's day in the U.S. Even here in Houston it's been chilly so I figured many of you might also appreciate the warming thought of dancing on the beach with sand squishing through your toes!
About the Photographer: "I am a dancer. I've been dancing for 14 years! I take any class offered but my favorite is tap, probably because my mother is the teacher! The photo you chose was actually a shot I did for my friend's senior portraits. She didn't want the traditional headshot so we decided to do some dance photos. "Eiffel tower" came from the song "little bribes" by death cab for cutie. While I was shooting, this song came to mind."
---
Want to have your photo featured?
Add it to the DA Sunday Snapshot pool at Flickr
Learn more here
---
Friendly Reminder: Please respect copyright online. Unless permission is granted through Creative Commons or other licensing agreement, please do not publish copyrighted photos without the permission of the owner. Thank you!
Kindly follow, like or share:
Nichelle Suzanne is a writer specializing in dance and online content. She is also a dance instructor with over 20 years experience teaching in dance studios, community programs, and colleges. She began Dance Advantage in 2008, equipped with a passion for movement education and an intuitive sense that a blog could bring dancers together. As a Houston-based dance writer, Nichelle covers dance performance for Dance Source Houston, Arts+Culture Texas, and other publications. She is a leader in social media within the dance community and has presented on blogging for dance organizations, including Dance/USA. Nichelle provides web consulting and writing services for dancers, dance schools and studios, and those beyond the dance world. Read Nichelle's posts.