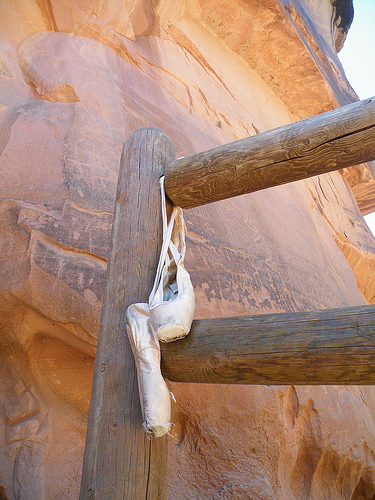 On the rock face are the MoonFlower Canyon Petroglyphs. Considered a holy place in ancient times by the Native Americans, the petroglyphs are located just five miles outside of Moab, Utah.. The pointe shoes resting on the fence post belong to Cricket, the photographer. She says, "What you can't see, is an Indian ladder and foot holds that takes you to the top of the red rock cliffs 200 feet above, that over look the Colorado River and its stunning views. It's a difficult climb for those who are not experienced with climbing on red rock or have a fear of heights."
Cricket's mom used to work for renowned photographer Tom Till. Tom inspired her entire family to enter into photography. "We seem to always have a camera every where we go now days. He was a great inspiration for all of us," she says. On combining her love of dance and photography, Cricket explains, "I've danced since I was three years old, and I can't think of any other way to express my love and appreciation for dance and nature except through photography."
About the photographer: Cricket has an extensive background as a dancer, with 17 years of dance experience. She has taught many levels of dance (K- 12), including jazz/lyrical/modern and ballet. Most recently, Cricket has taught at the Red Rock Stars Dance Studio in Moab Utah. She is also a University of Utah, Crimson Line Dance Team Dance and Spirit Squad alumni. Cricket recently received her BS in Business from Utah State University. She is currently a member of the Utah Dance Judge Association (UDJA). You can find more of her photography, as well as photos of her dancing, at her website, Cricket's Dance. She has also added about 1000 more images to her group on Facebook.
Find unique locations in your area to take your own dance photos!
Be sure to submit them to be featured on Dance Advantage by adding them to our Flickr pool!
Kindly follow, like or share:
Nichelle Suzanne is a writer specializing in dance and online content. She is also a dance instructor with over 20 years experience teaching in dance studios, community programs, and colleges. She began Dance Advantage in 2008, equipped with a passion for movement education and an intuitive sense that a blog could bring dancers together. As a Houston-based dance writer, Nichelle covers dance performance for Dance Source Houston, Arts+Culture Texas, and other publications. She is a leader in social media within the dance community and has presented on blogging for dance organizations, including Dance/USA. Nichelle provides web consulting and writing services for dancers, dance schools and studios, and those beyond the dance world. Read Nichelle's posts.