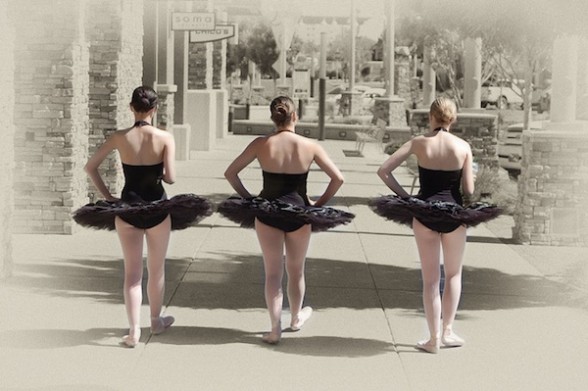 Photographer Randy Talley's youngest daughter has been dancing for 13 years. He takes pictures at the studio, at performances, and at recitals. Randy joined a local "Flickr" group in Albuquerque about 3 years ago, to which he credits much of his growth as a photographer. "There are a lot of excellent photographers in the group that are always showing me new ideas and techniques for photography," says Randy.
From left to right, the girls in the photo are Faith, Nadya, and Maura. Randy explains that he and a close friend, who also has a dancing daughter, came up with an idea to take a group of dancers out into the community and take pictures. Dubbing these "Random Acts of Dance," Randy describes the journey through Albuquerque's city streets. "We started our Sunday morning at a Starbucks Coffee located at the Albuquerque Uptown mall to plan our day. We took several pictures in this outdoor mall setting. The photo [above] was taken after this first session as the girls were walking away from us. We then took the photo shoot to a local park, and then ended up on Central Ave. (old Route 66) where the girls changed into jeans, and colorful pointe shoes to finish up the day."
The rest of Randy's photos from the shoot can be viewed by clicking here. Don't miss those final shots of the girls in jeans and pointe shoes in front of a vibrant mural.
About the Photographer: Randy Talley was born and raised and still lives in Albuquerque, New Mexico where he has worked as a Security Manager at a local hospital for the past 28 years. Randy has been taking pictures as a hobby for the past 30 years. Aside from photography, being a dedicated dance dad, and his involvement in the lives of his wife and all three of his children, Randy enjoys fishing and hiking. You can find Randy on Flickr or on Facebook.
Submit your photos for consideration to the Sunday Snapshot Flickr pool.
Kindly follow, like or share:
Nichelle Suzanne is a writer specializing in dance and online content. She is also a dance instructor with over 20 years experience teaching in dance studios, community programs, and colleges. She began Dance Advantage in 2008, equipped with a passion for movement education and an intuitive sense that a blog could bring dancers together. As a Houston-based dance writer, Nichelle covers dance performance for Dance Source Houston, Arts+Culture Texas, and other publications. She is a leader in social media within the dance community and has presented on blogging for dance organizations, including Dance/USA. Nichelle provides web consulting and writing services for dancers, dance schools and studios, and those beyond the dance world. Read Nichelle's posts.