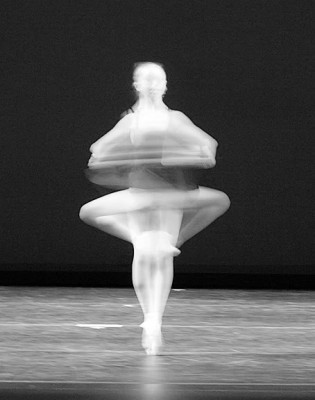 I don't claim to be an expert on pirouettes.
In fact, they are my nemesis.
I've been progressing through the Cecchetti teacher's program, and now that the group has moved on to Grade III we are finally doing pirouettes.  I'd love to say that this makes me happy, but quite honestly I dread the day when I'm standing in front of those examiners, in my pink tights, and asked to demonstrate a proper pirouette.
The happy end to this story, however, is that by re-learning to turn in this format, there is a lot of room to scrutinize why I've always had so much trouble with the dreaded pirouette.
It's come up during our classes that different techniques and teachers have different ideas on how to prepare and "take-off" in a pirouette, and much like my fascination with cou-de-pied, I wonder what and why those differences are, and how to integrate them effectively in my dancing and the training of students.  There are dozens of tiny intricacies in performing a pirouette that can't all be covered in one post, so this particular article starts at the very bottom: with the foot.
There are two "camps", so to speak, when it comes to the use of the supporting foot in a pirouette.
Springing to demi-pointe or pointe allows you to "snap" the foot underneath you and place the supporting foot directly under your center of gravity.
Conversely, pressing to relèvé allows the dancer to keep a stable base of support because the foot does not move from its original position.  However, in order to effectively balance requires that the dancer shift her center of gravity over the supporting foot. Angel Corella demonstrates this approach (quite well, I might add) in this video for American Ballet Theatre's online dictionary.
So, Should I spring or press to relèvé in a pirouette?
Either way, your weight must change slightly when performing a pirouette because you are moving from a position on two legs to a position on one leg.  If you press, the upper body and center of gravity (CoG) needs to move over the leg, and if you spring, the supporting leg meets your CoG in the middle.
Proponents of springing claim that dancers who press to relèvé never truly feel their weight underneath them, that they are "climbing" onto the leg, or that there is not enough elevation required to perform the turn on pointe.  On the other hand, it can be easy to point out a dancer who springs a little too much and is essentially jumping onto her pointe shoe.  Turns can easily get out of control in this case, not to mention the wear and tear it can place on the joints.
Really, the choice is up to you…
There are benefits to both approaches, and it can be interesting to experiment to see what works best for you.  In some cases, it may be helpful to consider using different approaches for different types of pirouettes.  For example, when turning en dehors from fifth position, it can be helpful to spring the foot under the center of gravity to assist in pulling the weight underneath you.  On the other hand, pressing to relèvé when turning en dedans from fourth pushes your weight more forward over the front leg.
Ultimately, if you are pirouette-ing successfully (like Alys Shee in this video), it doesn't really matter whether you spring or press.  In other words, if it ain't broke, don't fix it!
14 Year old Alys Shee's 8 Pirouettes
Other pirouette problems?
For more tips on improving pirouettes, visit Nichelle's articles from the archives:
What say you?!? Spring or Press?
Kindly follow, like or share:
Lauren Warnecke is a freelance writer and editor, focused on dance and cultural criticism in Chicago and across the Midwest. Lauren is the dance critic for the Chicago Tribune, editor of See Chicago Dance, and founder/editor of Art Intercepts, with bylines in Chicago Magazine, Milwaukee Magazine, St. Louis Magazine and Dance Media publications, among others. Holding degrees in dance and kinesiology, Lauren is an instructor of dance and exercise science at Loyola University Chicago. Read Lauren's posts.