We're hoping we put a little spring in your step!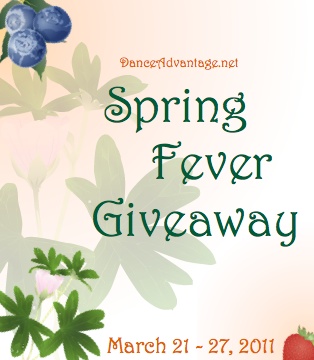 This week of giveaways is over but click below to get details about the great products you missed (this time)!

Details about the giveaway are below but now that we're underway, we are revealing a partial  list of our prize sponsors. These will be updated with links (in red) when the individual giveaways go live on the site:

abc for dance [CLOSED]

Balletband [CLOSED]

Dance Dot [CLOSED]

Dance in a Box [CLOSED]

BLACK SWAN – Twentieth Century Fox Home Entertainment [CLOSED]

Squirrel Trench Audio [CLOSED]

Music, Muk Luks, and More from DA
[CLOSED]
Maybe you remember our last (and first) big giveaway event, The Giving Thanks Giveaway in November. We're set to go again, giving away more great prizes to Dance Advantage readers in our Spring Fever Giveaway!
When will it begin?
Monday, March 21.
When will it end?
Sunday, March 27.
What could I win?
Oh no you don't. We like to surprise you!  I CAN share that we've got you covered – your A-B-C's and 1-2-3's! Wearables, gear to help you practice and improve, teaching and curriculum aids, and more!
What will I have to do?
All you have to do is show up and comment. Stay tuned all week to DanceAdvantage.net. There will be a link to the giveaways on the home page. Or bookmark this post. I'll update it to include links to the daily giveway.
What are my chances?
It depends. There will be up to three winners on each giveaway. Winners will be chosen randomly from those that comment on each individual giveaway.
Subscriber PLUS members will have the opportunity to earn extra entries. Good news! There's still time to sign up… Join HERE.
Why do you hold giveaways?
I see it as a way to show appreciation to readers as well as highlight interesting companies and products with which you may not be familiar. And it doesn't hurt Dance Advantage, either! It brings new readers and sponsors, creates a bit of buzz, and gives us a warm, fuzzy feeling.
What happens if I win?
After I randomly draw your winning entry comment, I'll contact you via email. You'll only have 48 hours to get back to me. I've got to put a limit on it or it drags on and on and on…. So stay close to your email throughout the coming week (and a half). When I don't hear back from a winner, I move on to the next drawn winner which makes another person happy (yay!) but another one pretty disappointed. I'd rather that no one is disappointed!
What do I do now?
Tweet, retweet, tweet again.
Share, like, link on Facebook.
Blog, re-blog, broadcast.
(Monday – mark your calendar!)
Any other questions?
Ask now in the comments below or forever hold your peace...
PLEASE READ our giveaway policies.
Kindly follow, like or share:
Nichelle Suzanne is a writer specializing in dance and online content. She is also a dance instructor with over 20 years experience teaching in dance studios, community programs, and colleges. She began Dance Advantage in 2008, equipped with a passion for movement education and an intuitive sense that a blog could bring dancers together. As a Houston-based dance writer, Nichelle covers dance performance for Dance Source Houston, Arts+Culture Texas, and other publications. She is a leader in social media within the dance community and has presented on blogging for dance organizations, including Dance/USA. Nichelle provides web consulting and writing services for dancers, dance schools and studios, and those beyond the dance world. Read Nichelle's posts.