It Came from Outer Space
From the Earth to the Moon by Jules Verne first appeared in print in 1865. Verne was a pioneer of science fiction and his book is an adventure imagining humans' first journey into outer space.
The story went on to inspire an opera called "Trip to the Moon" which premièred in Paris in 1875. The lavish production included a ballet scene depicting snowflakes dancing on the moon.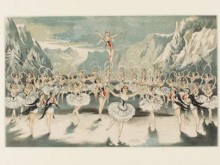 This captured the imagination of the theatrical world and inspired many imitations for many years to come. Snow ballets were all the rage. But all of these have been forgotten, with one notable exception- the stunning climax at the end of Act I of The Nutcracker.
The snow scene, in fact, was the only part of the original 1892 Nutcracker that received widespread praise from critics. Strange though it may seem now, the rest of the ballet didn't impress them. But, they considered the snow scene a success. And it must have been spectacular. It was choreographed for an ensemble of sixty women who danced in the patterns of stars, crosses, zigzags, and Russian round dances. The choreographer was Lev Ivanov. He would go on to create the lakeside scenes in Swan Lake just a few years later.
Today, the snow scene often includes a Snow Queen. An early prototype of the Snow Queen character was danced by the legendary Russian ballerina, Anna Pavlova. In the early twentieth century, her company performed its own version of the Nutcracker's snow scene as a stand-alone piece called "Snowflakes". In it, Pavlova and a partner performed a pas de deux. Pavlova thrived on portraying ephemeral elements of nature like a flitting dragonfly, a delicate poppy, and, of course, the Dying Swan. Her natural grace and fragile quality of dancing must have been particularly well-suited to embody the vision of a snowflake in the winter wind.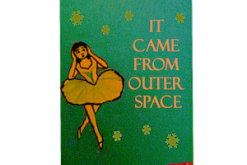 So, from outer space to Anna Pavlova, the snow scene has a rich accumulation of history behind it.
Lots of fun things to think about the next time you're admiring this visual delight from the audience or bourréeing through the blizzard onstage.
———————————————————————————————————————————–
Online Sources:
Victoria and Albert Museum, "A Trip to the Moon", Thursday, November 18, 2010
New York Philharmonic, Notes on the Program, James M. Keller, "Jacques Offenbach", p. 3-5
Book Sources:
On Wings of Joy
, Trudy Garfunkel, Little, Brown and Company, 1994, p. 74-75:
"Ivanov had a particular talent for creating exquisite dances for the corps de ballet. For Act I of The Nutcracker, he choreographed a "Waltz of the Snowflakes," a dance in ¾ time for sixty women in white tutus who whirl and circle in patterns of stars and snowballs […] The Nutcracker premiered at the Maryinsky Theatre on December 17, 1892. Despite a lavish production that included a cast of two hundred, the ballet was not initially a success. It was performed only eleven times before it was dropped from the repertoire."
Apollo's Angels: A History of Ballet
, Jennifer Homans, Random House Trade Paperbacks, 2010, p. 280:
"The snow scene, however, was highly praised, and Ivanov's extant sketches for this windblown dance open a small window onto his often forgotten talent. Dancers were flung together in complicated formations that then fractured and dissolved into new and equally intricate designs: stars and Russian round dances, zigzags, and a large rotating Orthodox cross with a smaller circle, like a bejeweled ornament, around its center and rotating in the opposite direction."
Nutcracker Nation: How an Old World Ballet Became a Christmas Tradition in the New World
, Jennifer Fisher, Yale University Press, 2003, p. 19-20:
"Then, when Anna Pavlova formed her own troupe, she chose the more lyrical Snowflake Waltz for a ballet called "Snowflakes," which was included on her tours around the world from 1911 to at least 1920. Choreographed by her ballet master, Ivan Clustine, it might have contained some of Ivanov's ensemble choreography but also had a pas de deus for Pavlova and a partner, perhaps starting the trend for adding a featured couple to The Nutcracker's snow scene."
Kindly follow, like or share:
Rachel Hellwig is a dance writer/editor/blogger from Birmingham, Alabama. She enjoys taking ballet classes, reading about dance, and attending live performances of ballet and classical music. She blogs at Clara's Coffee Break. Read Rachel's posts.