Nothing gets in the way of reaching my goals like a few misplaced priorities.
My "plan to do's" take a hit if I don't draw lines in the sand when it comes to what's important to me. If you're a people-pleaser like me, you may find it hard to say "later" or "maybe" or even "no, thank you." This priority pyramid, however, helps me make better snap decisions about what's important in the grand scheme and when taking action day-to-day.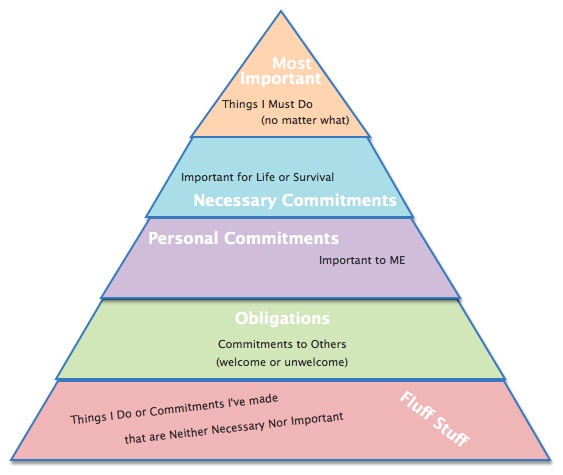 To make sure what belongs on top, stays on top: Stop making more "cuts" than you should in the Personal category (things important to you – like exercise goals or date night with the husband) and slacking on the Necessary commitments (like laundry, or homework, or business) to avoid cutting anything in the Obligations category, which along with the Fluff Stuff, should be the first place to look when something's gotta give.
This doesn't mean you should make a habit of backing out of commitments, rather be encouraged to reflect on priorities before making them in the first place.
If putting others so close to the bottom of the pyramid seems selfish to you, consider this: you are rarely the only one capable of getting a job done but there is only one you. The commitments you make to others can easily take over your time and energy for the things, people, and tasks in your life that require the one and only, you.
Friends in the Circle Discuss Setting Goals:
The Dance Buzz
Cait teaches you how to chart and prioritize goals in every aspect of your life. Her method is wonderfully useful for those visually minded souls who like to keep things organized. Sound like someone you know? Check it out!
Setting Goals: One Step At A Time
Maria's Movers
What I love about Maria (who is our newest DA columnist, by the way — yay!) and her blog, is that I always learn, or at least remember something left behind, from the example she sets as a teacher. In this post, she shows how she sets goals for her own students, leading them to success with none the wiser.
6 Goals To Set For Your Littles: AKA My Hidden Agenda
Dancing Smart
Deborah Vogel asked if I thought her latest video would suit our circle of posts. Yes, a thousand times, yes! No one sets goals hoping to be unsuccessful and in this video Deborah talks about the Inner Dance of Success — how to overcome faulty thinking and old habits so that you can get out of your own way. If you're already struggling to hold on to your 2012 resolutions, watch the video at The Body Series blog.

5 Success Principles
Are you familiar with Terry's blog on Suite101? If not, you should be. She's the Ballet/Tap/Jazz editor there and is doing superb work. She writes in this post about SMART goals and how to apply them to your dance training. What's so smart about them? We've talked about them before but in case you missed it, they're Specific, Measurable, Achievable, Realistic, and Time-Framed. Learn more:
Goal Setting For Dance Students
DancersGlobal
Gabriel presents three crucial steps for making this your best year yet. I said, "Yes!" when I saw the first one because lots of folks forget it when setting their goals, but it's so important, I even put it right at the beginning of our 4 for 40 course here at DA. Better go check this one out!
Tips on Setting Goals for 2012
Access Dance for Life!
Jacqui's penned another take on SMART goals but this time with the inclusion of Action Oriented (under A) which is an element I find pretty crucial. She explains the benefits of goal-setting for students and what role parents and teachers can play in encouraging the practice. Don't miss the wise words in the linked newsletter, either!
4dancers
Our own Lauren Warnecke has been blogging about her creative side with our friends at 4dancers. In this submission, she shares a new online tool she's using to keep her goals (both big and small) in a friendly, organized space that works the way her brain does… in list format! Maybe it will work for your brain too!
The Curse of Being Creative (Why WorkFlowy is Amazing)
DaveTriesBallet
Dave looks back at last year's resolutions to see how he's done and sets his sights on some new goals for 2012. What does this adult beginner resolve to accomplish? Be more confident (in ballet class), watch more ballet, stretch every day, and 7 more auspicious objectives.
New Years Resolutions: Old and New
Ballet Shoes & Bobby Pins by Sheena Jeffers
Sheena returns to childhood and some lessons her mother passed along. She shows you what it takes to transform your beautiful ideas into reality.
Contemporary Dancing
Melissa (LoverofDancexox) shares her goals for blogging, for dance, and for life. This teenager has some big plans and reveals a possible giveaway in your future!
Dancing Tales
Sasha talks about SMART goals, too, and how she plans to apply them the year ahead. She includes inspiring others as a goal for herself – how cool is that? I'm honored that Sasha cites Dance Advantage as a source of her own inspiration and motivation. Music to my ears!
New Year, New Resolutions, New GOALS!
Leotards And The Buns In Them
This may seem like a classic ChrisGo brain dump (and by classic, I mean mischievously irreverent with surprising twists and turns) but look closer… ok, not that close! There are some real gems in this list and you're bound to nod your head and say, "me too!"
Find even more on goals and the new year at Dance Advantage:
and, as mentioned, our 4 for 40 E-course is filled with goal-setting techniques and journal writing!
February's New Topic!
Thanks to all for participating in January's Circle Time. For February, let's discuss:
Kindly follow, like or share:
Nichelle Suzanne is a writer specializing in dance and online content. She is also a dance instructor with over 20 years experience teaching in dance studios, community programs, and colleges. She began Dance Advantage in 2008, equipped with a passion for movement education and an intuitive sense that a blog could bring dancers together. As a Houston-based dance writer, Nichelle covers dance performance for Dance Source Houston, Arts+Culture Texas, and other publications. She is a leader in social media within the dance community and has presented on blogging for dance organizations, including Dance/USA. Nichelle provides web consulting and writing services for dancers, dance schools and studios, and those beyond the dance world. Read Nichelle's posts.