I started pointe at age 9 —
(too young by some teachers' opinions, but that's another article), and my teacher was thoroughly set on having all of her students wear pointe shoes without padding.  Her philosophy was that if shoe fit correctly then there wasn't any need for padding.
That's a nice theory but, unless you have a custom-made shoe, it's unlikely that you'll find a shoe out there that will mold exactly to your foot. The other problem with this particular teacher's point of view is that she required all of her students to wear Capezio brand pointe shoes. There's nothing wrong with Capezio shoes, it's just that if you're going to make dancers dance on pointe without padding and request a "perfect fit", then you had better give her as many options as possible!
Still, I walked out with my shiny new size 3 Capezios and a year later I had ingrown toenails, the beginning of bunions and bunionettes, and nearly constant abrasions and blisters. There just wasn't a Capezio shoe that fit my foot with enough efficacy to wear it without padding.
I eventually changed studios and, at age 14, I essentially started over. I was asked to go to a professional pointe shoe fitting by a woman named Sylvia.
Sylvia, a purest in her own right, always started with Grishko and very rarely strayed to other brands, only allowing lamb's wool as padding.  This time, however, I got a bit lucky and wound up with the Grishko Elite, which happens to be the best shoe out there for my foot.  I haven't bought another shoe since.
I've recently been working on developing an e-course about pointe preparation and came across Nichelle's great article on pointe readiness during my research.  I found all the comments and differing opinions about shoe types, brands, construction, and padding options really interesting.
Even when I found "my perfect shoe", I still needed padding.
So, the focus of this post is to break down your options and help you get to the bottom of the pointe shoe padding conundrum.
I've tried pretty much everything in my shoes, including:
Lambs wool
Synthetic, imitation lambs wool
Pre-formed lambs wool pads
Ouch Pouches
Gel or silicone inserts
Gel toe sleeves
Paper towel
Cut off socks
Band-aids
Athletic tape
Toilet paper
There are no hard, fast rules about padding; if anything, there are as many opinions about it as there are dancers.
Here is the "low down" on a few of my favorites:
Lambs Wool: When it ain't broke, don't fix it
Lambs Wool is a great place to start for pointe shoe padding.  Though it's considered antiquated by some teachers, I consider lamb's wool to be the perfect padding because it can be shaped and molded to each individual dancer's foot.  It gets in all the nooks and crannies that pre-formed pads don't, and is thin enough to still be able to feel the floor and the shoe.  It breathes more than gel or silicone, meaning that your shoes don't get as stinky as fast, protecting the shoe from accelerated wear due to the extra moisture.
How to make a toe pad out of loose lambs wool:
Cut the lambs wool into two pieces (size will vary, but make sure it's not so much that your toes are crunched)
Stretch out the wool slightly and wrap around the front of your bare foot at the metatarsals, leaving excess on the tops of your toes and making sure all parts of the toes are covered.
Cover the pad with your convertible tights and try on your shoe.  With new wool, you may need to make a couple of adjustments, but as your foot sweats and you work with the wool it will mold to the shape of your foot.
Once the pad starts to get really worn and tear, you should replace the wool to try and avoid rubbing blisters through the worn parts of the pad.
Gel pouches: the toe pad of the future?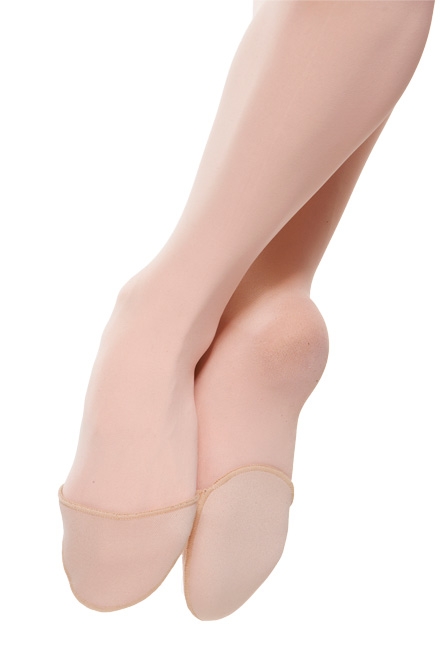 I recently fit a new student in pointe shoes and they didn't have any lambs wool in the shop.  We fit her using an Ouch Pouch Jr., and I have to say I was really impressed with how well these worked for her.  Though I'm a huge advocate for loose lambs wool, I can't say that I would stop a student from using synthetic pads so long as they pass "the Lauren test".
"The Lauren Test" for perfect pointe shoe padding:
No plastic.  Plastic is too hard, does not form to the foot, and doesn't breath.  That means your feet will be a pruny, soft mess that are prone to blister.
Not too thick.  Too much gel in those gel pads means that you lose the feeling of the floor, and might be wearing a shoe that's too big for you to accommodate the pad.  Shoes that are too big can cause a host of problems such as ingrown toenails, hammertoes, and sickling.
Not too long.  A lot of pads are too long and poke out of the front of the shoe.  That's why I like the Jr. version of the Ouch Pouches… because they don't do that!  The pad should cover your metatarsophalangeal joints of the first and fifth toe, but that's it.
They've got to be soft and mold to the foot.  Hard, rigid pads of any kind are a complete no-no.
As teachers, we want to use our expertise to inform our students and prevent injuries in their pointe training.  Perhaps it's because of this that we sometimes create rules that don't make sense (like, no one can ever use padding ever in their shoes, or, everyone has to wear such-and-such brand of shoes).  Every dancer is different, and ultimately has to make their own choices about what shoes and padding work best for them.
On the other hand, it's important that we do instill some guidelines in dance programs to prevent dancers from making bad choices from among the countless shoe and padding combinations out there.
As a general rule, I always lean toward the side of antiquity and tradition when it comes to pointe; a well-constructed, handmade shoe with no synthetic parts and real lambswool padding are an excellent place to start.  However, that's not to say that their aren't some new products out their made from synthetic materials that can't do the job just as well.
Teachers: What guidelines do you set in place in your program/studio?
Dancers: What sorts of products or tricks do you use to protect your feet from wear and tear in your pointe shoes?
Kindly follow, like or share:
Lauren Warnecke is a freelance writer and editor, focused on dance and cultural criticism in Chicago and across the Midwest. Lauren is the dance critic for the Chicago Tribune, editor of See Chicago Dance, and founder/editor of Art Intercepts, with bylines in Chicago Magazine, Milwaukee Magazine, St. Louis Magazine and Dance Media publications, among others. Holding degrees in dance and kinesiology, Lauren is an instructor of dance and exercise science at Loyola University Chicago. Read Lauren's posts.