This DIY whipped peppermint lotion is really special for anyone suffering with rough, scaly, dry "sandpaper" feet, making it a wonderful gift for yourself or any dancer you know.
It can be used anywhere on your body and it is recommended to apply a generous amount to your feet with socks before going to sleep.
Below is the complete recipe (Also found here)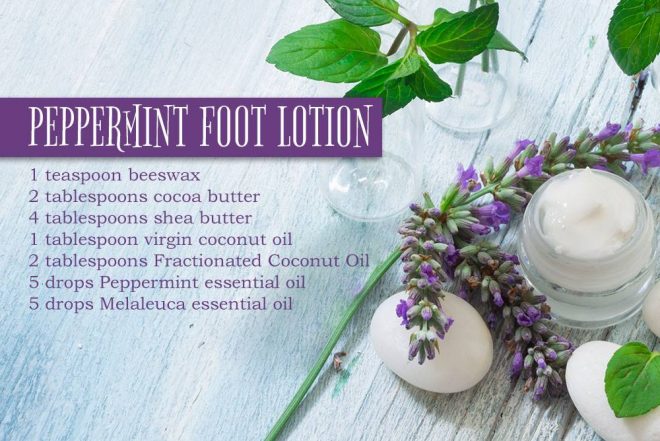 Directions:
1. In small glass container, combine all ingredients except essential oils.
2. Place in saucepan with 1-1.5 inches of boiling water.
3. Stir ingredients until combined (around 5-10 minutes).
4. Once melted, remove from heat and let rest 3 minutes.
5. Add essential oils and stir.
6. Let mixture come to a solid. To quicken process, place in refrigerator.
7. Once solid, use an electric mixer to whip lotion.
8. Gradually come to high speed and whip for 3-4 minutes or until light and fluffy.
9. Place in a container. To use, rub on heels to help soften and soothe them.
What has been your experience with DIY lotions?
Is this something you'd like to try making at home?
Free Peppermint!
For a limited time, if you purchase a 15ml bottle of Melaleuca (retail $25) plus shipping, I'll send you a 15ml bottle of Peppermint (retail $27) for FREE.
Simply send $30 when you click on this link PayPal.Me/DanceAdvantage.
Interested in other ways dancers can use essential oils?

Kindly follow, like or share:
Nichelle Suzanne is a writer specializing in dance and online content. She is also a dance instructor with over 20 years experience teaching in dance studios, community programs, and colleges. She began Dance Advantage in 2008, equipped with a passion for movement education and an intuitive sense that a blog could bring dancers together. As a Houston-based dance writer, Nichelle covers dance performance for Dance Source Houston, Arts+Culture Texas, and other publications. She is a leader in social media within the dance community and has presented on blogging for dance organizations, including Dance/USA. Nichelle provides web consulting and writing services for dancers, dance schools and studios, and those beyond the dance world. Read Nichelle's posts.