More space.
That's one thing dance studio owners and teachers wish they had. Whether it's an extra studio floor or a larger one, a bigger office, or more room in storage – the need for places to put things never ends.
There are times, especially during the height of performance season or the summer camps when it can feel as if the chaos of buckets and bins of princess wands, over-sized lollipops, top hats, and canes are going take over your life: often times spilling into your car and your own home.
Here are some tips on how to maximize the space you have, increase efficiency, and save money in the long run.  This will help you tackle that problem of digging and searching in the abyss for those sparkly star wands or parasols you know you bought a couple of years back when it comes time to plan your camps or set a piece of choreography with props.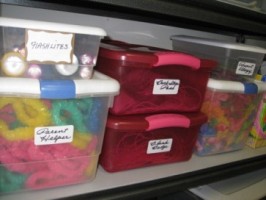 Protect your investment with clear or see-through, lidded storage bins
It may be tempting to store things in cardboard boxes or trash bags, often to simply reuse the boxes they came in, why not recycle right? Or perhaps trash bags are just easy to tote around and squish into tight closets.
You invest your hard-earned money into props, materials, and supplies for your studio, it's key to think more long-term with your storage.
Clear, see-through, sturdy bins with lids are the most effective and efficient way to store supplies and maximize your space.  In addition to adding labels to everything (that's coming up!) the ability to see through all sides at a glance help you see exactly what you're looking for and you can quickly gauge extra space that you wouldn't see in a brown box or opaque bin.
Locking or tight snapping lids on the clear bins are also essential, they keep out the dust, dirt, bugs and moisture that could damage your investments.
We have successfully stored custom-made costumes this way for over 20 years, they look as good today as they did when we first got them!   From props, to costumes, signage to decorations  – clear stack-able, lidded bins protect your materials and give you the most effective way to maximize your space.
Label, label, and label some more
Those sparkly gold wands are somewhere, you just can't remember if they got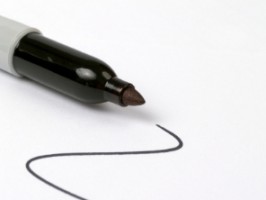 shoved in the box of white gloves or perhaps they're in your basement or better yet at the bottom of the box with the duct tape, scissors and flashlights from last year's recital.
This is the source of frustration and overwhelm for many because once you pack up after a recital or production the last thing you want to do is get back to re-organize your props and materials…you need a break (better yet, a vacation!).
The trouble is, life happens and it often piles back up into a corner or closet at the studio and you think you'll get to it later.  That time never comes and then the next season's show comes along and it just gets worse.
This is going to sound really basic, but the solution is to label everything – even down to the most obvious of things is your access to solving this problem.
Even if you have a small, clear bin full of scissors, label that bin: scissors.  Same goes for the sparkly gold wands, label a bin for them: sparkly gold wands.  Repeat this with every single thing you have in storage or in closets.  We find a label taped to the front outside of the bin and sometimes also labeled on the top of the bin too is most effective.
Trust me you will be glad you did this because even if you are the only person who ever accesses or touches your supplies you will never have to wonder or give energy to being sure you can find those scissors on a moments notice for a dance camp.
The bonus and upside, once you do this, is that you can easily outsource the re-organization after a recital to some high school students or office workers so you can spend your precious time on other things that grow your studio business.
Give issues and topics you visit regularly a binder or file in the 'real world' too
Just like you label specific files on your computer hard drive, certain documents and papers that need to be accessed by you and your staff on a regular basis are best managed with a specific file folder or binder location in the real world.
Having digital backup copies of files and going paperless when ever possible is an important part of running your studio.  However, there are times when you are sitting in a meeting with a parent taking notes on paper or talking by phone recording an injury report update or putting choreography or rehearsal notes into a place for a sub.
If you need to log in to a computer every time you need to retrieve a document you reference regularly or see what notes have been made, you run the risk of losing time or forgetting to record notes right when they happen.  Not to mention there are some files you want to keep private and accessible only to you as either the director or owner.
Here's a photo of some of the many files we keep segmented so that we can grab them for meetings, take into classes when necessary, record quick notes by phone and then transfer, when necessary, to our computer system for backup and tracking.
Checklists take the mystery out of your processes and procedures
One question I often ask dance studio owners is, "what is a typical day like for you and what do you like to do the most and the least?".  One task at the top of the list of things they say that they dislike the most: cleaning the studio.
My follow-up question is, "Do you have a checklist or list of the exact steps you take when you clean? " Most often the answer is no, or no one can clean the floors or wipe the barres just the way I want it done.
The quickest way to solve this problem is with a checklist so that you can not only train someone else to do your job, but that you don't have to worry about it if you're out sick or there is a family emergency.
We are super specific at our studio with things like cleaning checklists/procedures.
Even if you are running your studio without any help at all, I encourage you to write down the steps you take.
The teenagers who have work-study at our studio and our office staff can clean at the standards we recommend because there is a checklist in place.
Here's just a sample from one of our cleaning checklists:

Dry mop (sweep) studio 1 & 2 floor (afterward, vacuum off the mop)
Vacuum waiting rooms in studio 1 & 2, including bathrooms and straighten each chair
Vacuum the dust behind the speakers and around the edges of the studio 1 & 2
Wash studio 1 & dressing room mirrors,  the french door to studio 2 and the front/side door(s)
In studio 1 & 2, wipe down the counters, the barres, the base boards, & molding on the wall with the all-purpose wipes.The list goes on for trash removal, etc…
Having checklists for things like cleaning and opening/closing procedures are just a couple of examples of ways to breakthrough to a more organized and efficient studio. They can be easily tweaked and revised and they are a helpful tool to train volunteers or paid staff.  Start with one area that you feel would make the biggest help and reduce your workload and you'll start to see what a difference it makes to your productivity and organization.
If you want to find out more about checklists and procedures, a book I highly recommend is The Checklist Manifesto: How to Get Things Right
by Atul Gawande.  It will revolutionize your relationship to the basic checklist and the amazing impact following one can have on your business.
Where could a new or improved system or organization help at your dance studio?
Kindly follow, like or share:
Suzanne Blake Gerety is not only the very busy mom of two young children but is the owner and co-founder of DanceStudioOwner.com, and the Vice President of Kathy Blake Dance Studios. She is a regularly featured contributor in various pieces for Dance Teacher Magazine including, "Ask the Experts", business articles, and has presented live workshops at Dance Media's Dance Teacher Summit New York City.
Suzanne experiences the ups and downs of studio ownership too, which is what inspires her to help studio owners and teachers keep their passion for dance alive as they grow their business. You can connect with Suzanne on Twitter @SuzanneGerety and at DanceStudioOwner.com.