Have you ever counted how many times you get down on the floor and get back up in one 45 minute class?
I have, and it's close to 15 times. 15 times! 15 x 6 classes a day = 90! That's a lot of up and down, but let me tell you why I think it's worth it.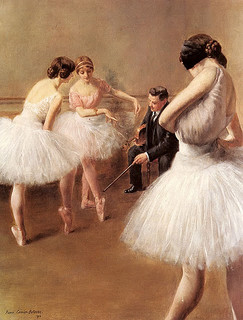 When I was young, I attended a small town dance studio but occasionally I would visit the big studio 45 minutes away.
Looking back, what I remember most about visiting the big studio was the woman teaching from a chair. She would even teach the preschoolers like that. Now, she wasn't teaching creative movement but I still think, in my opinion, that teaching from a chair isn't the way to go.
Dancing with your students is so important.
It gives them something to look up to and strive to be. In creative dance, it models your creativity and gives them the permission to take their own creativity and run with it. If they see you dancing outside the box, so will they and that's exactly what you want for them. You are their biggest role model! Right?
Here are some ideas to keep in mind while dancing with your preschoolers.
Become Three
My students frequently ask me how old I am. I think they are stumped because, despite the significant height difference, when my young students are in my presence, I transform into one of them.
The truth is, it doesn't matter how old you are, as long as you can get down on their level and think like a 3-year-old you are golden. And by golden I mean, the center of their universe.
Think back to when you were young, when your imagination was bigger than you and your sense for adventure with no fear was all you had to worry about. Sounds nice, doesn't it? Think about where your young students are and then try as hard as you can to be that way.
If they want to do a dance about rolling down a hill? You do it too!
Be Playful
As I have written before, I like to make my students laugh. I like them to believe that they know what's going on even if I pretend like I don't. It all goes back to being one of them. Being playful means not being afraid to show your personality, and embracing where the class is going.
Example of being playful: If you are doing explosive jumps with your students, and someone says "let's be fireworks!" Thinking on my feet I would say "what color? what shapes? what holiday is it? who is watching our fireworks? Oh no! my firework fizzled out, what should we do?" I could go on and on.
Being playful is not shutting ideas down, it's going with the flow and taking in every idea as a good idea!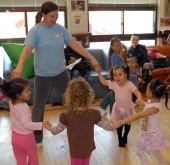 Follow Your Own Rules
This is the most important of all: If you set rules for your classroom you MUST follow them too.
No exceptions just because you are the teacher. If your students are not allowed to lean on the barre in the back of the room, then you are not allowed to either! If your students have to wear their hair up, so do you. If they have no choice but to dance, you must dance too.
Sorry if it sounds like I'm lecturing, but I have seen so many teachers break every rule they have set and then expect their students to follow them. I just don't think that is fair or very nice. I think this goes for all teachers, not just teachers of preschoolers.
If you don't follow your own rules, you are signing up for trouble . . . trouble you could eliminate if you became three years old for just a short amount of time. You set rules for a reason and they most certainly apply to you!
Words Are Important, Your Body Is More Important
We teach our students movement words and dance words, but in preschool, it's very important for them to see your body moving while learning the words. The only way I know how to teach is to move WITH my young dancers.
It doesn't matter what it looks like. In creative dance, there is no wrong. So jump in, roll around, and play. You won't regret it!
Ways To Get Through The Day
When I was in graduate school, a wise professor always told us to picture our day and plan ways to try to save energy while you are teaching. At the time, I didn't understand what she was talking about, but now I do.
Even though I just made the case for why you should dance with your students, I do believe there are ways you can still do that and not use up all of your energy in the first 45 minutes of your day.
Here are some "sneaky" ways to save energy while you are still rolling down the hill.
Warm-up
If you have a specific warm-up that you do every class (which I would recommend for a preschool class), you can lead them through it halfway and then ask them to lead the second half. Give them the role of the teacher. My students love it.
Demonstration
If you have been doing a dance or a step for a while, try asking one of them to demonstrate it. Then do the step with them when you ask the entire class to do it.
Singing
Sometimes my voice leaves me when I'm talking and singing too much. I love to ask my students to sing the songs. I notice that if I give them the lead on the songs, they sing them louder and brighter.
Collecting Props
Come up with ways to have students collect the props for you. The last thing you want to do is go around picking up twelve dots. Students can bring them to a pile or a special spot in the room. This saves time, and energy!
What if you are sick or injured?
If there is a reason you can't dance with your students, do the best you can within your limitations.
I'm advocating for your participation because I know it benefits young dancers. Becoming one of them creates an environment of happiness and acceptance, and that's exactly what I want my dance room to be.
Do you dance with your students?
What are your "sneaky" ways to save energy? I would love to hear! 
Kindly follow, like or share:
A passionate advocate for early childhood dance education, Maria Hanley Blakemore specializes in teaching ages 0 months to 6 years. She left NYC, where she designed and implemented programs at Manhattan's Jewish Community Center, Dancewave Center and The Mark Morris Dance Group, to teach dancers in the greater Cleveland area. Maria holds a Master's degree in dance education from New York University (2007) and a Bachelor's degree in dance performance from Slippery Rock University in Pennsylvania (2005). Maria authors the blog Maria's Movers (www.mariasmovers.com) where she shares creative ideas and strategies for teaching young dancers. Maria served on the Dance/NYC Junior Committee for 2 years and presented at the 2012 Dance USA Conference. She also presents at the Dance Teacher Summit in New York City. Read Maria's posts.