Hand-torn snow. 7,000 lbs of it.
Houston Ballet's current version of The Nutcracker, choreographed by Ben Stevenson, premiered in 1987. And ever since, what falls from above in the Land of Snow is what designer, Desmond Heeley always wanted: Crepe paper, because of the way it looks, reflects the light and most importantly, because of the way it falls. Hand-torn because its densely textured surface makes it impossible to cut layers of paper without sticking and clumping.
For the first few years, volunteers from the Houston Ballet Guild and the HB staff donated several days in the weeks before The Nutcracker opened to sit and tear paper into snowflakes, but over the years a new method was developed using spools and special blades. Now a crew of four can tear several layers at once more efficiently over a period of 2 weeks.
About 200 pounds of snow fall during each snow scene, after which (during intermission) the snow is swept up and placed in special boxes to be cleaned. The used snow is carefully sifted and cleaned to be used again in another show. About 30 minutes before curtain on each performance day, the snow bags are refilled with either new or newly cleaned snow that will majestically fall to the stage, to the delight of the Houston Ballet audience.
Repair. Rebuild. Remake. Repaint.
Snow isn't the only thing that's reused and recycled in The Nutcracker, which is produced season after season for more performances than other ballets in the Houston Ballet repertoire.
According to HB's Production Director, Tom Boyd, who has been part of its production team from the start, there have been the expected subtle changes in choreography over the years. But everything else has remained very close to what was originally conceived by Stevenson and Heeley. Even costume fabrics and trims, which endure the wear and tear of hundreds of performances, are replaced only with the best possible match to the original design.
Dressing the Cast
When asked which Nutcracker costume is her personal favorite, it seems an easy answer for Houston Ballet's Wardrobe Manager, Laura Lynch. "The Snow Queen," she pronounces. "Love that tiara."
One-hundred and thirty costumes appear in a single Nutcracker performance. But if you break it down to the individual clothing pieces, like collars, petticoats, and more, the wardrobe department maintains over 650 items, not including tights, facial hair or wigs.
Because The Nutcracker is performed every year, the show's costumes hang in the back wardrobe room at Wortham Theater Center all year long so that Wardrobe may continually restore and rebuild as necessary in the costume shop at Houston Ballet's new Center for Dance (the largest professional dance company facility of its kind constructed in the United States).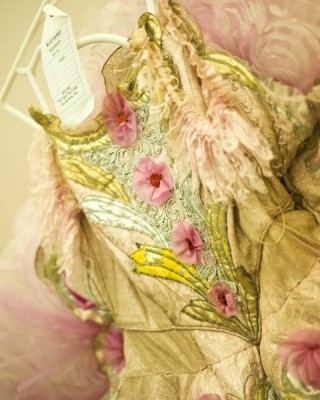 The Wardrobe department uses a dancer's most current measurements to rebuild costumes and depends upon the fitting process to determine if Nutcracker costumes must be rebuilt or altered. Costumes are generally not re-fit on dancers who have performed the role previously, so it may surprise those visiting Wardrobe during Nutcracker preparation that seemingly there's not much going on with the show. However, the department is always working on other productions as well. This season, you'd see costumes for the one-night-only Jubilee of Dance, photo shoots, Cinderella (opening in February), and academy performances.
How does Wardrobe keep track of all the measurements, alterations, and other costume details?
"LOTS OF ORGANIZATION," exclaims Lynch. "We use an extensive inventory system to keep track of which costumes belong together. We also have a numbering system in all costumes to assist in charting who wears which costume."
If you're producing your own Nutcracker this year, Ms. Lynch has some tips: "Stay on top of keeping things clean. Spot cleaning and hand washing are very important and if left to wait will certainly damage the costumes." She recommends you have a system in place and "stay the course."
Making Theatrical Magic
In the second act of HB's The Nutcracker, flying chef-angels zip across stage. Tom Boyd recalls the origins of this unique feature: "The idea came from the fact that Act 2 is the Land of the Sweets and the designer, Desmond Heeley, was quite interested in answering the question, that a child might ask, 'Where do all the sweets come from?' So, Desmond decided there should be bakers and cooks and some of them would be flying. And, if you look at the chandeliers you will see flying cooks on either side. Ben liked the idea so much, he decided to expand the concept with dancers flying to open the Act."
According to Tom, the dancers rehearse the basic positions and timing in the studio as part of the regular rehearsals for many weeks prior to moving into the Wortham. When the flying rig apparatus has been installed in the theater, the dancers are called to be fit in their harnesses and work with a flight coach until they feel comfortable being in the harness and off the ground. Then, they rehearse the flying sequence to piano music with all the flyers, the flight coach, the stagehands (each flyer requires 3 each), stage managers, and artistic staff needed during the actual show. Throughout the entire run of The Nutcracker, the flying sequence is also rehearsed onstage during Intermission for the comfort and safety of the dancers and crew alike.
Though flying takes a great deal of coordination, it is the extremely complicated transition from the Battle Scene to the Snow Scene that Boyd describes as the most technically challenging. "The house scenery has to move off and fly out, with the enormous tree, and in its place is revealed the Land of Snow. This transition involves the entire stage crew, with 7 people pulling lines on the fly-rail, and 11 people moving scenery off-stage. Both stage managers are involved in calling cues, timing the moves to the music and the entire company of dancers are either running offstage, running onstage, or quick-changing costumes to be onstage." All in a matter of seconds.
What are the essentials for staying organized and keeping The Nutcracker running smoothly?
"It helps to have very good archived records of how the show hangs, what is involved from scene to scene, how many people are required to do what," says Boyd, "but, the most important element of all is to have highly skilled, dedicated, experienced people putting it all together. And, we are fortunate to have an outstanding production staff, stage crew, and wardrobe staff who all know that we have a duty to present this amazing company of brilliant dancers with the highest production value possible, whether it's The Nutcracker or any other performance."
So you want to be a…
During the 1980's Boyd made the leap from dancing to managing productions and scenic design. If you're planning to make a similar leap, Boyd says to pay attention to all that is going on around you. "Our audience sees only the tip of the iceberg when attending a performance, but as members of an arts organization we have the opportunity to understand and be involved with the entire infrastructure," he explains.
"Find out what the other departments do, how they contribute to the final product. Any single performance and audience experience is the result of hundreds of people doing so many different things. Not only could you encounter interesting career options, you have an opportunity to capitalize on the experience you already have."
Similarly, Laura Lynch, says the path to becoming Wardrobe Manager for a large ballet company requires experience. Lots of it, working in all aspects of Wardrobe. "I have a theater degree and have been working professionally in costuming for 27 years," divulges Lynch. "I've done everything from stitching, patterning, cutting, dying, crafting, painting, shop supervising, freelance design, traveling with Broadway productions to community theater. To rise to the top hard work, good work ethic and a passion for what you do are necessary."
In addition to supervising in HB's wardrobe and costume shop, she has also designed costumes. If you're a dancer with a passion for ballet fashion, Lynch says, "Research! Everything, from fashion to theater." She explains that exploring museums and art history are two great ways to research and learn, and that paintings offer an enormous wealth of fashions throughout history. "Get involved and keep learning new skills," Lynch encourages.
Of course, what Nutcracker feature would be complete without a few stories from those who've seen it all?
I couldn't help but ask Boyd about something a little mouse told me: That HB used to stage an elaborate "Nutty" Nutcracker for audiences at the close of the run.

"The Nutty Nutcracker was a tradition for a number of years," explains Boyd. "It was a way to close out a very long season of The Nutcracker performances, and to let the dancers and audience have some fun within a very traditional framework."
"I think my fondest memory was when Drosselmeyer brought out his trunk of dancing dolls to entertain the children, and pulled out Lauren Anderson dressed as Tina Turner doing her signature song, 'Proud Mary'," he recalls. "That one was so popular, she made several cameo appearances in subsequent shows, even when it made no sense, just for the fun of it."
Last year on Dance Advantage, corps member Madison Morris, shared her favorite wardrobe malfunctions involving rats. Lynch recalls a year when one of the rats' ears came unglued and was barely hanging on to the head. "Lots of flopping about… luckily the rat was done for that show and we were able to re-glue for the next show."
Boyd says so many things happen behind the scenes, most if not all unseen by the audience, that it's hard to pick one thing that he can look back on and laugh at. "The ones I remember weren't funny when they happened, and unfortunately, they really aren't funny in retrospect. Oh, I guess they are just a little bit. But, each little hiccup in the otherwise smooth running of a show, is a reminder that there is an enormous level of detail that needs to be constantly monitored in a show like this and one can never, ever take it for granted or think you can phone it in."
He does relay one instance of flying gone wrong: "The flying cooks are supposed to meet at center and hold hands until they are flown off to their respective sides of the stage," he says. " Well in this performance, the stagehand in charge of traveling the flyers to their marks went so far past his mark that instead of stopping at center stage, the dancer from stage left went past the one from stage right, and they spun around each other getting their flying cables hopelessly entangled. So, they were just stuck together center-stage, 15 feet above the floor, staring at each other."
Oh no, what then?
"When the stage manager realized they were not going to untangle themselves, he instructed both sets of crew operating the flying rig to travel the flyers off stage right until they were in the wings." To a round of cheers from the audience, of course.
Featuring breathtaking scenery and costumes by Tony Award-winning designer Desmond Heeley, Houston Ballet's The Nutcracker is ideal for introducing children to the power and beauty of classical dance, and a delightful way for the entire family to ring in the holiday season. Thirty-three performances run November 25 – December 27, 2011 in the Brown Theater at Wortham Theater Center in downtown Houston. For tickets call 1-800-828-ARTS, or visit www.houstonballet.org.
More of The Nutcracker Behind-the Scenes:
CultureMap goes Art & About and wants to know…
Nancy Wozny, aka Culture Sis, aka dancehunter, and Joel Luks, aka Culture Bro, go behind the scenes at the Houston Ballet to learn why Ben Stevenson's version has been a hit for 24 years.
Kindly follow, like or share:
Nichelle Suzanne is a writer specializing in dance and online content. She is also a dance instructor with over 20 years experience teaching in dance studios, community programs, and colleges. She began Dance Advantage in 2008, equipped with a passion for movement education and an intuitive sense that a blog could bring dancers together. As a Houston-based dance writer, Nichelle covers dance performance for Dance Source Houston, Arts+Culture Texas, and other publications. She is a leader in social media within the dance community and has presented on blogging for dance organizations, including Dance/USA. Nichelle provides web consulting and writing services for dancers, dance schools and studios, and those beyond the dance world. Read Nichelle's posts.