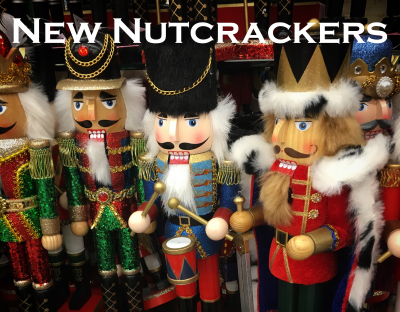 Out with the old, in with the new…
There's been a wave of new Nutcrackers in recent seasons as dance companies near and far remake and re-imagine their versions of this beloved holiday classic.
Last Nutcracker season, Pacific Northwest Ballet retired its famous Stowell-Sendak production and ushered in George Balanchine's The Nutcracker with new costumes and sets designed by Ian Falconer, author and illustrator of the Olivia children's book series.
https://www.instagram.com/p/BNh0qEKBEuY/
Kansas City Ballet and Boulder Ballet also debuted new Nutcrackers during 2015 and Richmond Ballet and Urban Nutcracker revitalized their productions with new sets and costumes.
Here's a sampling of new Nutcrackers of 2016…

Houston Ballet
Do many Nutcrackers leave you feeling like Clara ought to play a larger role in the ballet? Never fear, Stanton Welch's lavish new production expands her part in the story. With new sets, costumes and projections, this Nutcracker begins during the Victorian era in Act I and transports Clara and her Nutcracker prince to the realm of a bygone French court by Act II. It's also humorous, filled with roles for young performers, and even features minions of the rat king running down the aisle of the theater…

Joffrey Ballet
Meet me at the fair? No, not in St. Louis, in Chicago… Renowned British choreography Christopher Wheeldon re-imagines The Nutcracker taking place in the months leading up to the Chicago World's Fair (World's Columbian Exposition) of 1893. In this version, Marie is a Polish immigrant being raised by a single mother who works as a sculptor for the upcoming fair. Act II is Marie's dream of the fair…

Ballet Hawaii
Snowflakes dancing on Mauna Kea…Hibiscus, Plumeria and Crown blossoms in the Waltz of the Flowers… Like Joffrey Ballet, this production draws upon local history for inspiration–in this case, the Kingdom of Hawaii circa 1858. Ballet Hawaii's new Nutcracker features choreography by Septime Weber who just retired from the position of artistic director with The Washington Ballet after 17 years with the company.

Charlotte Ballet
What would you do if your ballet company received a million dollars? When patron Hugh McColl made such a generous donation to Charlotte Ballet in honor of his wife (who first introduced him to ballet), artistic director Jean-Pierre Bonnefoux decided to give the company's Nutcracker a makeover with new sets and costumes…

Staatsballet Berlin
Choreographer Nacho Duato's new Nutcracker for the German company is set in 1913, and, among other things, features faster tempos for the score and more demanding choreography for the mice—Duato's favorite characters in this production after Clara and the Nutcracker prince.

Festival Ballet Providence
The Rhode Island company's Nutcracker features many new costumes this year—but for an unfortunate reason: a mysterious thief, whom company members refer to as Mr. Grinch, stole over 50 of the production's costumes from the warehouse where they were stored. Mr. Grinch has yet to be caught, but ballet companies and schools from across the country came to the rescue and lent replacement costumes from their collections.

Will Tuckett's Nutcracker
Sadly, due to financial issues, this immersive theater version of The Nutcracker closed in November after just one performance in London. The production allowed audiences to converse and dance with party guests in Act I and wander through Act II, re-imagined as a winter fair. But here's to hoping it that it will soon return to a future Nutcracker season…

Kindly follow, like or share:
Rachel Hellwig is a dance writer/editor/blogger from Birmingham, Alabama. She enjoys taking ballet classes, reading about dance, and attending live performances of ballet and classical music. She blogs at Clara's Coffee Break. Read Rachel's posts.