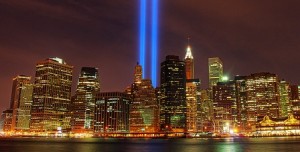 At 8:46 on September 11, 2001, when the first plane hit the North Tower of The World Trade Center, I was about to begin teaching my ballet class at Penn State University's branch campus in Altoona. In fact, the students in the class and I were not aware of the unfolding events in New York and Washington until class was nearly over. By that time three planes had carved their paths of destruction, reports were just coming in of the plane down in our home state of Pennsylvania, and one tower had come crashing down. The information on the lips of students now arriving for the next class was jumbled and confusing.
Canceling the jazz class that was to follow, I began the 45 minute trip home. The picture became clearer as I listened in horror to the radio reports of the second collapse. But only when I arrived home was I able to turn on the television and absorb the actual images of burning buildings, smoke, ash, and worse now stamped upon my mind and heart.
I remember the overwhelming emotions of that day and am strangely comforted that ten years ago I was dancing.
We will never forget
Multiple dance events are scheduled to commemorate 9/11

Jacqulyn Buglisi's Table of Silence Project will offer a ceremonial, spare procession by 100 dancers in white who will form a peace labyrinth encircling the Lincoln Center fountain. It will begin at 8:20 a.m. and culminate at 8:46 with the mass of dancers raising their outstretched arms in a gesture of universal peace.

The Joyce Theater Foundation is presenting an evening of dance and music at 5 p.m in Rockefeller Park, located at the northern end of Battery Park City. The Limón Dance Company, Paul Taylor Company, Matthew Rushing will dance Ailey's A Song for You, while Ailey dancer Jamar Roberts will appear in a new work by Jessica Lang commissioned by the Joyce for this occasion. The Voices of Ascension and the Orchestra of St. Luke's will provide music.
9/11 Dance — A Roving Memorial.
Soon after the September 11th attacks, Sarah Skaggs created a minimalist meditative response in a solo called "Dances for Airports." For the tenth anniversary of the disaster, she has converted the solo into a group work, so that it may emerge out of pedestrian traffic in public spaces.
The work features dancers ages 20 to 70, and it will be simultaneously performed by about 15 dancers between noon and 3 p.m. Sept. 11 at the National Museum of Women in the Arts, the National Postal Museum and the Arts on Foot Festival in Washington, as well as in three locations in New York City and and one in Shanksville, Pa.
Read more at The New Yorker
and The Washington Post
Are you, have you, or do you know of events, choreography, or films commemorating 9/11 through dance?
Share or describe them in the comments below or, tell your memories and stories of that day.

Kindly follow, like or share:
Nichelle Suzanne is a writer specializing in dance and online content. She is also a dance instructor with over 20 years experience teaching in dance studios, community programs, and colleges. She began Dance Advantage in 2008, equipped with a passion for movement education and an intuitive sense that a blog could bring dancers together. As a Houston-based dance writer, Nichelle covers dance performance for Dance Source Houston, Arts+Culture Texas, and other publications. She is a leader in social media within the dance community and has presented on blogging for dance organizations, including Dance/USA. Nichelle provides web consulting and writing services for dancers, dance schools and studios, and those beyond the dance world. Read Nichelle's posts.