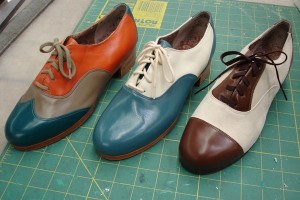 It is no secret that tap dancers grow very fond of their tap shoes. With the high level of aesthetic customization that exists today, it is easy to attribute fond memories with a particular pair of tap shoes.
I loved my blue Capezio K360s. I kept them around for over two years. When the lateral side, or outer edge, of my feet started to ache, I figured I must have landed wrong during a difficult step. When they got really sore, I thought that I must have been doing something chronically wrong. When sharp, electric jolts of pain kept me from dancing, I realized I had been doing something wrong. I needed new shoes.
Three days after receiving my new pair of shoes, my pains from the previous six months had disappeared. If I were to put on my old blue shoes, the pain would come back. I had learned my lesson the hard way.
A new pair of tap shoes are not only important for correcting current problems, but are necessary in preventing a smorgasbord of potentially painful ailments.
Signs of tap shoe deterioration include:
Tearing of the leather where it is attached to the sole.
Leather of the foot housing has become extremely soft.
Increased sole bend.
Sole and/or heel separation from the shoe.
Diminished sound quality.
Insole lining (cushion) has become very compressed.
Eating away of inside materials due to bacteria
Shoe life can be prolonged by regular maintenance. Care includes:
Clean and moisten the shoe leather with a wax shoe polish and leather cleaner.
Store shoes in a place with low humidity.
Wear socks when dancing to inhibit bacterial growth.
Insert a wooden shoetree when not dancing to help the shoe keep its shape and to absorb moisture. (I prefer red cedar.)
Air them out.
Expose the shoes to sunlight to kill bacteria without chemicals.

Refurbishing
A dancer may wish to refurbish a pair of shoes for a number of reasons. Sentimentality, financial circumstances, and a light dance schedule are all valid arguments for refurbishment, but it is unwise to leave such specialized work to a standard cobbler. Tap shoes should be interested to the care of the company from which they were purchased, or outside parties with specialized training focused on tap shoes.
A used pair will never regain the level of support and manageability of a new pair, and after seeing the price tag that comes with major refurbishment, a new pair of shoes could save time and prevent traumatic injury for a small additional cost.
Want to be an informed customer when you buy tap shoes?
Check out the previous article in this series: Deconstructing a Tap Shoe
---
Seeking Your Customized Shoes!
Do you have customized tap shoes (old or new) that you just love? Share them with us. Send pictures and/or a short paragraph that details your custom work to Nichelle:
Your shoes may be featured in Tristan's upcoming Great Tap Shoeganza post on shoe customization!
Kindly follow, like or share:
Tristan Bruns has studied the art form of tap dance with Donna Johnson, Ted Levy, Lane Alexander and Martin "Tre" Dumas and has a BA in Music from Columbia College Chicago. Tristan has been an ensemble member of such Chicago tap companies as BAM!, The Cartier Collective and MADD Rhythms. Tristan currently produces his own work through his company, TapMan Productions, LLC, which includes the performance ensemble The Tapmen and the tap and guitar "band" of The Condescending Heroes.