You've been asked, hired, begged, or volunteered to choreograph a musical at your local theatre.
Even before the first production staff meeting you want to be thoroughly familiar with the show and begin to develop your vision. After that comes the collaborative process, involving all of the show's directors, and then… auditions!
Developing Your Vision
Know the Score
You've got a copy of the full director's score (not just the libretto). You want to be able to see ALL of the music, not just rests where music is being played.
If you are not comfortable with reading or using the full score, a copy of the piano or rehearsal score typically includes the vocal line and will give a pretty complete overview of the music or instrumentation.
To introduce yourself to the production numbers, get a copy of the appropriate Broadway soundtrack and try to follow along in your copy of the score. These will probably NOT be identical. Changes, cuts, and additions are made in most productions.  Getting the Musical Director's to make a rehearsal recording with his/her changes is ideal. I've found it's not unusual for a Musical Director to make cuts based on the Broadway soundtrack recordings but, you never know.
Know the Script
You've got your hands on the script, and as mentioned in our article Approaching Choreography for Musical Theatre, you've read it more than once and taken notes. Let's dig in with some specifics about what kind of notes to take, shall we?
What to ask yourself about the musical numbers:
How have the characters changed (or not) by the conclusion of the song? What is the characters' mental state over the course of the song? Does this number move the story forward? This will depend on the show. There are musicals in which song and dance numbers seem to drop out of the sky. Consider ways you might smooth these sometimes difficult transitions.
What is the musical style for this number and how might it affect the movement? Is the number energetic and athletic? A soft shoe? A waltz? What does it remind you of (Fred and Ginger, a carnival, moments from your own past, a film you saw once)?
How might the main vocalists be used in the number? Remember singing and dancing at the same time can be difficult. Use the chorus or a select group of dancers when possible so that the words and intent of the song are properly communicated. What is their character and how does that character move?
How might chorus members be used in the number? Are they part of the primary action or part of the background? Do they help tell the story? How many bodies do you have to work with?
How might the set, stage space, or props be used? Feel free to draw diagrams. Think big and let your imagination go – you can always scale it back later.
During which sections should the action or singing be the focus, rather than the dance? You might think of major movement and choreography happening in the 'negative space' of the vocal, accentuating the musical accents and interludes rather than the primary melody or during the singing. If actors must move and sing at the same time, keep the movement simple or gestural.
How do you imagine the actors will transition between speaking and singing or dancing? Often there is an overlap of dialogue and these transitions should be seamless. What are the actors doing, saying, and feeling immediately before and directly after the number? For amateur actors especially, you may need to suggest ways of transitioning during applause so consider possibilities now.
What kind of experience or abilities will the actors/dancers need to have? Because many amateur actors will not have had dance training, how might your vision might be adapted for someone that is well-suited but not necessarily as skilled in dance. Be prepared to adapt these once the chosen actor is in place.
Do all musical numbers require choreography? You may not be responsible for every musical number in the production – the director may prefer to simply "block" (set stage directions for the actors) some. Which numbers do YOU think need your expertise?
Do as much of this prep work as you can before initial production meetings. Some questions will be unanswered until after you've had the chance to discuss the show with the entire team. However, go into this initial collaboration with your thoughts and notes so that you know where the 'blanks' are and how they will be filled in. Being prepared will save you so much time.
Embracing The Stage Director's Vision
A good director will have done homework and begun developing his/her vision for the final product as well.
He or she must follow what is in the script. No really, it's a must – most scripts are licensed and adherence to the script is enforced by copyright laws. Still, he will have his own ideas about and interpretations of how the action is carried out on the stage.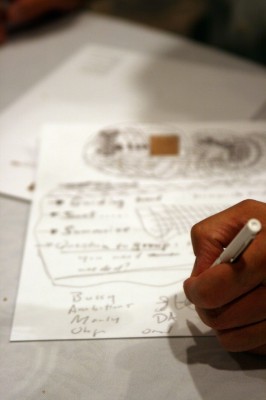 Production Meetings
Hopefully in the first production meeting, the Stage Director, Musical Director, Choreographer, and Set/Lighting Designer(s) will be present to discuss the direction for the show. You will likely need to adjust some of what you were thinking to accommodate the overall plan.
If you find that your impressions of something in the script are significantly different from the director's, now is the time to discuss it.
Reality Check: The director may or may not be interested in your ideas and thoughts on anything he/she considers unrelated to dance or choreography. Be confident in what you bring to the table.
You will work closely with the director to align your individual visions for the musical numbers and characters. I've found it very helpful, at some point early in the process, to discuss each individual musical number with the director. This process will cover many of the questions you've already asked yourself (see above).
Reality Check: The director does not necessarily have any idea what it takes to teach/build/learn choreography. As choreographer, it's necessary to communicate what you (and your actors) need to do your job well and insist it be blocked into the schedule.
Consulting on the Staging of Musical Numbers

As stated above, the director may prefer to "block" rather than choreograph certain musical numbers. Some will even want to handle staging all the way up to the "dance break."
Personally, I dislike dropped-in choreography because it leads to a disjointed concept. I prefer to be involved or collaborate on all musical numbers (the whole song) and, if not given the reins completely during these, become more of a movement consultant on sections with blocking only.
What do I do when I consult on a number? I watch as the surrounding scene is blocked or rehearsed. I make notes and come up with small movements or  gestures that will accentuate the musical elements of the song. I discuss these with the director and then counsel or consort with the actors on how to incorporate the ideas or specific movements. Usually the actors are grateful to have some direction in this area. Just be careful to avoid over-choreographing something that should seem as though it is being spoken or expressed in normal conversation (even the singing kind).
Reality Check: I've often worked with community theatre directors that block musical numbers just as they would a scene, perhaps with the expectation that the actors may be able to make them look "musical." However many amateur actors lack the experience needed to accomplish this and musical numbers fall flat without the additional eye and consultation of the choreographer.
The Dance Audition Process
In a piece called Dance Auditions for Actors, you will find the four components I typically include when running auditions for a musical. 
You can also read about Dance Auditions for Non- Dancers, who are intimidated by the dance portion of a musical audition.
I've also written more on the actual choreographing part of working on a musical.
How do you prepare when you choreograph for a musical theatre production?
What obstacles have you encountered when collaborating with other production directors?
What do YOU include in your auditions?
Tell us in the comments!

Kindly follow, like or share:
Nichelle Suzanne is a writer specializing in dance and online content. She is also a dance instructor with over 20 years experience teaching in dance studios, community programs, and colleges. She began Dance Advantage in 2008, equipped with a passion for movement education and an intuitive sense that a blog could bring dancers together. As a Houston-based dance writer, Nichelle covers dance performance for Dance Source Houston, Arts+Culture Texas, and other publications. She is a leader in social media within the dance community and has presented on blogging for dance organizations, including Dance/USA. Nichelle provides web consulting and writing services for dancers, dance schools and studios, and those beyond the dance world. Read Nichelle's posts.