The favorite part of my week is teaching creative movement to my littlest students.
I have taught 1 and 2 year olds for five years and have crafted a class that is progressive, creative, and fun for young dancers accompanied by their adults. I have learned many strategies for my toolbox and thought I would share!
Breaking Down the Ages

18 months – 2 years old
2 years – 3 years
I find these age groups are the most productive to combine as their brains and bodies grow.
Attire

I don't require tights and leotard or shoes at this age. Actually, it's best if they come to class in bare feet. In their bare feet they can feel the floor.
It's important for them to just come to class and for me to give them a healthy, happy experience in their comfortable clothes.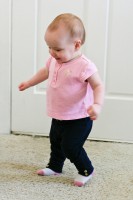 Getting Familiar
(every week)
I open my door 5-10 minutes before class every week. It's important for them to get acquainted with the space and you before class begins.
Ever noticed that when kids join class late they don't perform as well? I have seen it many times and I believe it's because they didn't have a chance be in the space before taking direction.
I know sometimes that five minutes is all you have to get a drink of water and prepare for the next class, but you can still take time with your door open.
Keep 'em Moving!
Once the 1 and 2 year olds hit the room, offer play time. I put out balls, hoops, and shakers for them to play with before class begins.
These props are great for conversation starters too! "Oliver, roll me that ball!" or " Vivian, can you find the yellow shakers?" Use this opportunity to interact with each student and their grown-up, they will love you for it.
When it's time to end class I put all of the bags and buckets out and sing our clean-up song. Cleaning up is so fun for this age and they are so good at it too!
Circle Up
Making circles includes every dancer and assures that you can see everyone and that they can see you.
Forming lines just makes everyone frustrated and feels unwelcoming. 
I find it helps to give each dancer and their adult a spot. This tells the children exactly where they should sit (or stand) and often they will remind their adults they need to sit on the spot too!
Name Game

If there is nothing that young children like more, it's hearing their name.
I'm sure that through a 45 minute class I say (or sing) each dancers name 3 times each. It could seem redundant but names are powerful and I believe incorporating every name builds self-esteem and confidence.
Diversify Your Playlist
I love using different types of music, just like you would if you were teaching an adult ballet class.
You should include slow, fast, popular, and an oldie but goodie.
It's tempting to use directive music and I do use a few, but adding too many directive songs to your playlist doesn't allow for flexibility or creativity. You are the teacher, not the woman or man on the song. Use your imagination and develop dances that you and your young dancers can create together.
When you are using directive music give directional cues BEFORE the music says what to do. This gives the children (and adults) the cue to what is coming next before it happens in the music. If you sing along with the music, they might miss the direction and then fall behind.

Keeping everyone together and aware is a big part of  your students' safety. 
Be Ready To Challenge

When I tell people I teach dance to 1 and 2 year olds they look at me all crazy and promptly say "What?"
The truth is, those of us who spend their days playing, dancing, and talking to this young set know what they are capable of. Even then, some days I throw things out and I am completely surprised that can do it.
Try not to get caught up in the "they are just babies" mentality. Offer classes that challenge their bodies and their imaginations. If you see they have mastered a skill or a concept add to it, just like you would in a class for your older students.
I hope you find these tips useful.
Do you teach toddlers classes? What are some 'go to' tools you use for success?
Look for next month's post on tips for directing adults in your toddler classes!
Kindly follow, like or share:
A passionate advocate for early childhood dance education, Maria Hanley Blakemore specializes in teaching ages 0 months to 6 years. She left NYC, where she designed and implemented programs at Manhattan's Jewish Community Center, Dancewave Center and The Mark Morris Dance Group, to teach dancers in the greater Cleveland area. Maria holds a Master's degree in dance education from New York University (2007) and a Bachelor's degree in dance performance from Slippery Rock University in Pennsylvania (2005). Maria authors the blog Maria's Movers (www.mariasmovers.com) where she shares creative ideas and strategies for teaching young dancers. Maria served on the Dance/NYC Junior Committee for 2 years and presented at the 2012 Dance USA Conference. She also presents at the Dance Teacher Summit in New York City. Read Maria's posts.