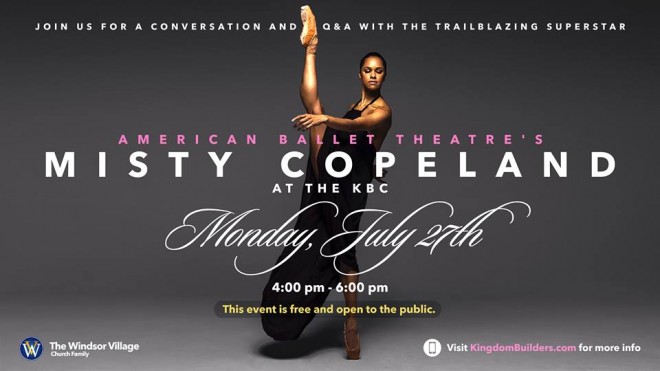 On Monday, July 27th, Misty Copeland visited Houston for what seemed like the dance event of the year. The event, titled A Conversation with Misty Copeland, was hosted by Houston City councilmember, Dwight Boykins, moderated by ABC 13 anchor, Melanie Lawson, and was free and open to the public. Misty Copeland was joined on stage by Houston Ballet's Lauren Anderson.
Twenty-five years ago, as the first African-American to be promoted to principal dancer at Houston Ballet, Anderson, like Copeland, became one of the few African-American ballerinas in the world to reach this level in a major ballet company.  Retired from the stage since 2006, Anderson is an outreach associate for Houston Ballet's educational program, a teacher, and an in-demand speaker throughout the U.S. She is a ballet celebrity in her own right, especially here in Houston.
The room was packed with buzzing people – those who knew everything and those who knew very little about Misty Copeland. Fathers brought their daughters, directors of local dance studios brought tiny little ballerinas in bright yellow and pink leotards and tutus. There were aspiring and professional dancers, dance patrons, and educators – all sitting patiently, waiting for Copeland to be introduced. When she was, she was greeted by applause comparable to your favorite pop star.
Melanie Lawson did a great job keeping the energy level high and Copeland was generous and giving with her presence, while Anderson was hilariously to the point.
Most of the discussion centered on the roads both of these amazingly talented women took to arrive at the coveted role of principal ballet dancer, each sharing how issues of race brought challenges along the way. Although the day was all about Copeland, she gracefully paid homage to Anderson and mentor, Raven Wilkinson, a former Ballet Russe de Monte Carlo dancer who faced intense racism while traveling on the road with that company during the 1950s.
Anderson made the strongest point of the evening when she noted that after attending Copeland's debut performance as the Swan Queen in American Ballet Theatre's Swan Lake, she noticed there were other dancers of color in the corps and, though she did not intend to diminish Copeland's great accomplishment, she wondered, "why the media decides that only one of us can do it at one time?"
Throughout the event, ushers collected audience questions that were randomly selected and read aloud by Melanie Lawson. Most of the questions were from parents seeking advice for their daughters showing interest in pursuing ballet. Both Ms. Anderson and Misty stressed the importance of taking class and listening to your teachers.
A beautiful moment for me was when Ms. Anderson shared with the audience the advice she gave Misty after the aforementioned Swan Queen performance and before her promotion. She said she gave Copeland time to "come down," then called her on the phone and said, "You, Misty Copeland, are enough, and by the time you realize that it doesn't take all that fight, it's time to retire."
The advice is poignant, as many of us dancers struggle with discovering who we are and what we may believe in while we're focusing on someone else's "steps," someone else's vision, someone else's dream.
Over the course of watching Misty Copeland pursue such an extraordinary dream, I have always been curious to know if she's ever regretted taking on racial issues with respect to her career but it was clear, after this event, that she does not regret it, but welcomes the responsibility.
I applaud Ms. Copeland for her courage and strength, and I look forward to watching her star continue to rise. She is poised, her game face is on, and she is ready to take on everything coming her way.
Courtney D. Jones  |  Photo by Travis Kelley

Named one of Dance Magazine's 25 to Watch in 2012, professional dancer, guest teacher and actress Courtney D. Jones is a proud graduate of SUNY Purchase with a BFA in Dance Performance and a minor in Psychology. A native of Houston, she began her professional career in Miami, FL and has worked with the Kevin Wynn Collection and with Jennifer Muller/The Works, where she taught and toured internationally for four seasons. She joined the cast of Show Boat in 2008 and went on to join Broadway's First National Tour of WICKED in 2009. After returning to Houston, Ms. Jones spent four seasons with Hope Stone Dance Company where she was the Assistant Director of Hope Stone Dance II. As adjunct faculty, she taught modern dance at University of Houston, has been a guest teacher at numerous universities, workshops and intensives including Bates Dance Festival and the Joffrey Ballet School Summer Intensive (NYC), and has appeared in many productions at Houston's Stages Repertory Theatre. Ms. Jones is the Full Time Dance Teacher at Houston's High School for the Performing and Visual Arts, teaching modern dance, musical theatre dance, composition and repertory and is the Co-Founder of Houston Dance Collective, providing professional, open dance classes to the Houston dance community.
Copeland's visit to Houston was indeed big news. Dance Advantage wishes to thank Courtney Jones for sharing her experience of this event with our readers.
You can see video of A Conversation with Misty Copeland in its entirety here.
Houston's Style Magazine interviews Copeland and Anderson below.
Kindly follow, like or share: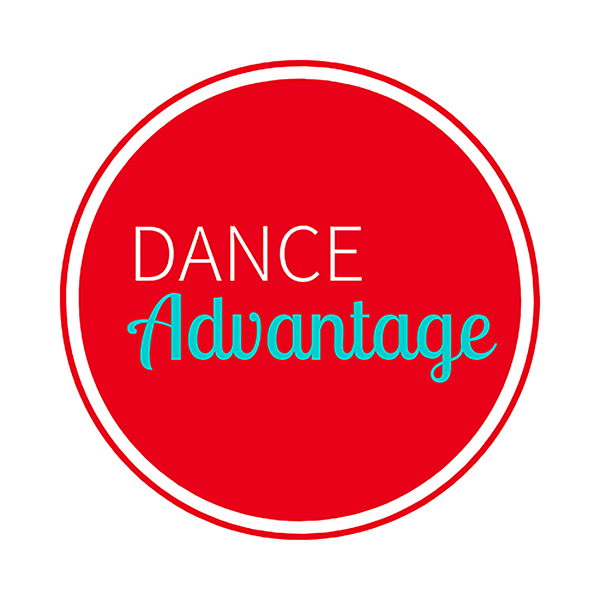 Dance Advantage welcomes guest posts from other dance teachers, students, parents, professionals, or those knowledgeable in related fields. If you are interested in having your article published at Dance Advantage, please see the following info on submitting a guest post. Read posts from guest contributors.