The Magical Kingdom of Dance is an instructional dance program designed to teach little ballerinas French terms, basic steps and a lifetime love of dance. Using the key teaching tools of the program, the Alphamat and Magical Kingdom of Dance Encyclopedia Characters, instructors teach ballet through visualization and association.
Mary Alpha Johnson, who opened her studio in Meridian, Mississippi in the 1950's traveled the country as a faculty member of the National Association of Dance and Affiliated Artists, Dance Educators of America, and Dance Caravan. As she traveled and taught, she realized that students did not know proper French ballet terms. It was during this time in the 1960's she began developing her ideas for the Alphamat and Encyclopedia.

Her daughter, Tonie Bense continues to use and share her mother's teaching program and talks with Dance Advantage about its development, use in the classroom, and the legacy she's inherited.
Dance Advantage: Tell us a little more about the Alphamat and how your mother developed it.
Tonie Bense: After years of teaching experience in dance and ballroom lessons, my mother knew that if someone could see where to place their feet that it would be easier to teach that student, no matter the age.
The idea of associating a fun character to a dance step made perfect sense to her. This led to the development of the Encyclopedia of Dance and the Alphamat.  She would pick a character like the cricket, choose the movement that represents the character (PLIÉ the Cricket,) write an original poem and research if that animal was ever represented in a ballet. She would also purchase a stuffed animal to keep in her studio so that the students could get to know all of the Magical Kingdom of Dance (MKOD) friends.  The Alphamat puts many of the Encylopedia's characters beneath the feet of young students, helping them with directions like right, left, front, and back, diagonals, and more. It was created under the premise of "A picture is worth a thousand words."
My Mom worked on finding the proper material to design a mat around the stage directions.  Therefore, there are the four corners, front, back and 2 sides plus diagonals, circles and a home spot for the feet, Righty Red and Lefty Blue, which simulates the dancer's square.
The first prototype was a 4'X4′ board that folded in half. That evolved to the vinyl material that it is printed on today.  It was very important to be able to have these mats connected in a row for the dance teacher classroom use.
Now, the Alphamat is made of a durable, washable, vinyl polyurethane material and can be ordered as singles or in a row to fit the dance studio needs up to a row of 8.  She used two rows of 8 in her studio with her students for many years. It was evident that having the mats led to more fun, creative play, easily learning terminology and organization.
DA: Your mother wrote and illustrated her Magical Kingdom of Dance Dictionary herself. What was her background in visual art?
TB: My mom, Mary Alpha, was a great supporter of the Arts. She enjoyed all of the arts and would travel extensively to see any and all types of productions, shows, and ballets and would enthusiastically applaud all efforts.
She had a knack for art and probably could have become a great artist had she pursued that field. Creating and illustrating the characters for the Encyclopedia of Dance was her favorite project, however, she wrote many other books to compliment and expand her vision of Magical Kingdom of Dance which we plan to share in the future. It is interesting to know that she also designed beautiful costumes for her students and my grandmother headed up a team of seamstresses who made them.
The book became her main focus as we searched for a manufacturer for the mat. She was constantly updating, tweaking and rewriting her book. Even the week before she died at age 91 she was changing a few pages in the book and had new ideas.
DA: How long did you carry on her legacy before deciding to share it with teachers everywhere?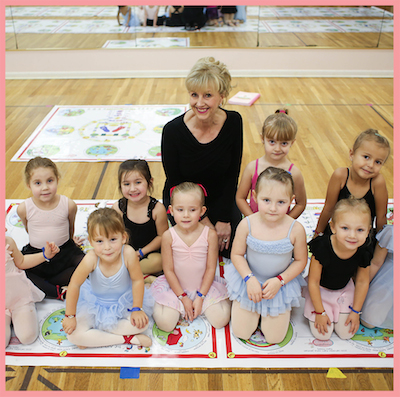 TB: I moved from Mississippi to Florida when I graduated from University of Southern Mississippi. After teaching in the school system for two years I decided that I wanted to open up my own dance studio.  I made sure that I had enough Alphamats to get started.
The manufacturer who made the original silk screen mats closed down and it was extremely difficult to find someone to reproduce the mats cost effectively.  Therefore, my mats that were now 30 years old were showing the wear and tear and I really needed new ones. Mother had entertained many contracts for MKOD but none were just right for her.  Meanwhile, she kept searching for a manufacturer and I kept hoping that the Alphamat would be reproduced.
We couldn't really promote the mats until we found someone who could reproduce them and that became a reality just a few years ago.
When my mother's health started failing, it became evident to me that this was all going to become my legacy. There were two choices; either her life's work on all of the products would sit on the shelves and eventually deplete or I could step out on a limb and share this method of teaching with other teachers.
DA: How do children do when they leave the mat? And when or how soon does this typically happen in your program?
TB: All of our Tiny Tots, Pre-ballet and ballet/tap classes for Kindergarten and 1st grade use the mats most every week for the season. The mats do not have to be used every lesson and they do not have to be used for the entire lesson. Sometimes we are so busy and so happy on the mat that I can use it the whole lesson if I choose.
The Alphamat keeps your students organized and gives them their own personal space where they can't touch each other. That in itself is worth a million.
The wonderful advantage of the mat is you can still teach your students as if they were on the mat even when you choose not to use them.  For example, quarter turns are taught by vocal cues. Jump and face Jack, the backyard, Jill, and the front.  Jack's house is on the Right and Jill's is on the left.  Students remember that even when they are not on the mat.
Or you can ask them to face The Apple Tree (which is Corner 1) and they know exactly which way to face. If you want them to walk in their own circle, you ask them to walk around their house. I don't begin ballet barre until my students are in the 1st or 2nd grade so that is when we leave the mats as a whole, knowing that we can roll them out when needed.
There are many advantages for using the mats with older students as needed. Sometimes when I am teaching a specific step and my student and or students are having trouble learning it, I can find the visual cues on the mat that they need to master the step.  It is also very advantageous to teach the body positions on the mats, as you can use the corners and visual diagonals to line their bodies up perfectly in their own square. It is extremely valuable in teaching body lines and body directions.
DA: Do you offer a teacher's guide or lesson plans with the Alphamat?
TB: Yes we do. We offer a "Magic of The Mat" DVD that compliments our detailed "Magic of the Mat" Teacher's Manual. They are sold separately or can be purchased as part of our starter package with mats, Righty Red and Lefty Blue bracelets and footwraps and Level 1 tools. We also have an MKOD membership program that will be available this summer. For a monthly fee, members will receive new material each month that will expand their MKOD program with videos, downloadable lesson plans, etc.
Also, a creative teacher would have no problem utilizing the mat along with the book.  You can pick a character a day, read the double page in the Encyclopedia and follow the suggestions in the book.  On each double page you can teach them the term, show them the word, show them the step, sing an accompanying song, act out the poem, discuss the "Twinkle Toes Says," which has great bits of wisdom that teach our young dancers to have good manners and a positive outlook.  "Bright ideas" are also suggested by each character.
DA: If your mother was still with us, what words of encouragement do you think she'd offer to young teachers struggling to help ballet students dealing with increasingly busy schedules, media overload, and other distractions?
TB: I think that she would encourage every teacher to stick to her principles and continue to teach not only dance but the life lessons that go along with dance. You can only teach and reach the students that come to class.
Educating the parents as to the importance of constant attendance and using the "P" words help with perseverance leading the way, followed by patience and passion. Treating each student like they are special and that they matter will bring them back to class.
My mother had a knack for making each student feel like they were her most important student.  I still hear from many of her former students with messages of what an important part she played in their lives. She had her studio for 67 years and was still teaching at 87. She was such an inspiration to all that knew her and many times taught three generations of family members. Dance and life lessons were taught at the Alpha School of Dance in Meridian, MS.
DA: What are three tools or 'rules' you use in your teaching of young dancers that you just couldn't live without?
TB: Keep your students BUSY by keeping your class in constant forward motion.
Be FLEXIBLE in your lesson plan.
Be AWARE of the short attention spans and use it to your advantage.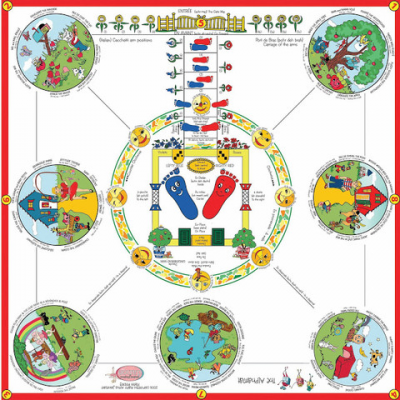 Enter to Win
Tonie has generously offered the following three Magical Kingodom of Dance prize packages to be given away to THREE very lucky Dance Advantage readers.
3rd Prize –
Twinkletoes and Magical Kingdom of Dance Encyclopedia
Level 1 Coloring Book
Level 1 Flashcards
Value: $79.95
2nd Prize –
Teacher Manual
Single Alphamat
Twinkletoes and Magical Kingdom of Dance Encyclopedia
Value: $234.95
1st Prize –
Set of 4 Alphamats
Twinkletoes and Magical Kingdom of Dance Encyclopedia
Teacher Manual
12 Righty Red Lefty Blue
Value: $534.95
To be eligible to win, you must enter with a comment answering the following:

What is the greatest challenge in teaching your youngest dancers ballet?
Comments will close Tuesday, August 12 at 11pm EST.
You must be over 18 and within the continental U.S. to win!
Winners will be chosen randomly from the comments and contacted privately via email. They will then have only 48 hours to claim and confirm their prize. Check our giveaway policy for more details.
Best of luck!
Kindly follow, like or share:
Nichelle Suzanne is a writer specializing in dance and online content. She is also a dance instructor with over 20 years experience teaching in dance studios, community programs, and colleges. She began Dance Advantage in 2008, equipped with a passion for movement education and an intuitive sense that a blog could bring dancers together. As a Houston-based dance writer, Nichelle covers dance performance for Dance Source Houston, Arts+Culture Texas, and other publications. She is a leader in social media within the dance community and has presented on blogging for dance organizations, including Dance/USA. Nichelle provides web consulting and writing services for dancers, dance schools and studios, and those beyond the dance world. Read Nichelle's posts.