Don't freak out,
but Halloween is this week!
Just in case you're a little confused by the chocolate Santas that have covertly crept into the candy aisle and the wreathes already darkening the doorstep of your local shopping center, I thought I'd share a video that is, without question, in the soul-snatching spirit of All Hallow's Eve.
Beware ye faint of heart!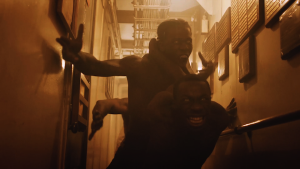 You're about to come face to face with The LXD: RISING.
If you're not familiar, The LXD is a popular three-season dance series, only recently released to a global audience on YouTube via the DS2DIO (D-studio) dance lifestyle channel and also available on Hulu, Amazon
, and iTunes. Directed by Jon M. Chu (Step Up 3D), and choreographed by Harry Shum Jr., aka Mike Chang from "Glee" and Christopher Scott, it chronicles the journey of seemingly ordinary people who discover they have extraordinary powers (dance-fueled, of course) and must choose their place in an epic war between good and evil.
The haunting webisode features the supernatural talents of Jesse "Casper" Brown as Peetie/Fangz, and Adedamola "Nugget" Orisagbemi, Nicholas "Slick" Stewart, and Marc "Marvelous" Inniss as 'The Eaters'.
This has to be our most terror-iffic addition to the Dance Advantage catalog. Watch at your own risk.
More Halloween Treats
If that's not enough treats in your Jack-o-lantern bucket, stay tuned this week on Monday and Wednesday for two Halloween episodes on DS2DIO 360.
First up, at 10am PST on October 29, Cameron Goodman takes a look at dance-themed Halloween costumes that are both fun and funny on DS2DIO 360: DANCE LOOKS WITH CAMERON.
Then on Halloween, October 31, Cameron joins co-host tWitch (So You Think You Can Dance, Step Up: Revolution) to explore the scariest dance sequences in history on DS2DIO 360: WHEN DANCE GOES EVIL.
Be safe and enjoy your Halloween celebrations!
Tell us what you think of Rising and share what you'll be dressing up as this year in our comments!
Kindly follow, like or share:
Nichelle Suzanne is a writer specializing in dance and online content. She is also a dance instructor with over 20 years experience teaching in dance studios, community programs, and colleges. She began Dance Advantage in 2008, equipped with a passion for movement education and an intuitive sense that a blog could bring dancers together. As a Houston-based dance writer, Nichelle covers dance performance for Dance Source Houston, Arts+Culture Texas, and other publications. She is a leader in social media within the dance community and has presented on blogging for dance organizations, including Dance/USA. Nichelle provides web consulting and writing services for dancers, dance schools and studios, and those beyond the dance world. Read Nichelle's posts.