As part of the Cecchetti certification process, teachers are required to not only demonstrate accurately, but also to describe (many times verbatim) how to perform steps and exercises and to list common errors that students make in executing these steps.  One step that is often subject to a whole gaggle of problems is pas de chat.
In Grade I of the Cecchetti Method, pas de chat is performed from fifth position.  Just three and a changement, repeat on the other side.  Whereas a lot of teachers give pas de chat during enchainments across the floor, this exercise gives you no preparation other than a demi-plie in fifth position. During class one day we were discussing the common errors students make in pas de chat such as turning in the second leg, over-crossing to fourth and not leaving the floor with both feet.
Hold on…. Both feet leave the floor at the same time??
Well sure they do, but how often do you as a teacher give a pas de chat from fifth position and only get a dinky little demi-plie as preparation?  Thank you, Enrico.  This idea seems simple given the momentum you get from doing a glissade before the pas de chat, but directly from fifth?  Let me tell you, lugging my old bones up into the air at 9AM on a Friday morning is not easy.
So, how do I get 8-12 year olds to accomplish something that is completely irrational to my body?  What tool can I use to encourage students to take off with both legs?
Immediately what came to mind for me was to use a saute from fifth as a preparation and then do the pas de chat. Saute, pas de chat, saute, pas de chat……
Ding! It's not just my pure genious talking here, people.  It's biomechanics.
Every jump in ballet is preceded by a counter-movement, namely, a plie, and this is exceedingly effective in getting more height out of a jump (try jumping from straight legs and see what happens), not to mention protecting the achilles tendon from injury.  In fact, people have studied jump height and found that maximum vertical height in a jump is higher using a counter movement than not (3).  So it makes sense that we bend our knees before jumping.  But here's the best part: jump height is found to be even higher in a "drop jump", which essentially involves jumping off a small platform, landing and jumping again (measuring the height of the second jump).
Bingo.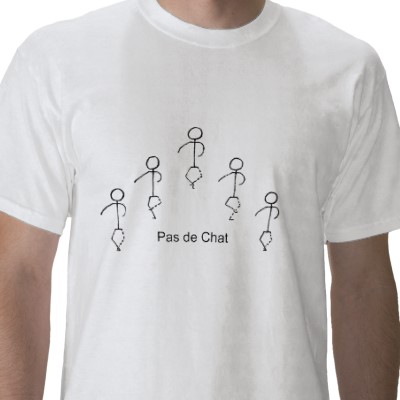 Going back to my example, the pas de chat is the jump and the saute is the drop.  If you try this, you'll notice that not only do you jump higher in the pas de chat, but you have more power behind your jump to really drive both feet off the ground.  Energy is transferred from the ankle joint to the hip joint after landing the saute, making more power available in the large muscle groups at the thigh to come to the party for your pas de chat (1, 2). Provide more power and more height and the way I see it there's more of a likelihood that the push comes from both legs as a jump instead of that one-legged, clunky clunk, getting on a horse motion……
Ok, so maybe it's not so irrational to do pas de chat directly from fifth after all.
Do you teach pas de chat from fifth position?
What tools do you use to encourage students to push off with both feet?
–References:
McCaulley, G. O., Cormie, P., Cavill, M. J., Nuzzo, J. L., Urbiztondo, Z. G. & McBride, J. M. (2007). Mechanical efficiency during repetitive vertical jumping. Eur J Appl Physiol 101, 115-123.
Prilutsky, B. I. & Zatiorsky, V. M. (1994). Tendon action of two-joint muscles: transfer of mechanical energy joints during jumping, landing and running. J Biomech 27, 25-34.
Voigt, M., Simonsen, E. B., Dyhre-Poulsen, P. & Klausen, K. (1994). Mechanical and Muscular factors influencing the performance in maximal vertical jumping after different prestretch loads. J. Biomechanics 28, 293-307.
Kindly follow, like or share:
Lauren Warnecke is a freelance writer and editor, focused on dance and cultural criticism in Chicago and across the Midwest. Lauren is the dance critic for the Chicago Tribune, editor of See Chicago Dance, and founder/editor of Art Intercepts, with bylines in Chicago Magazine, Milwaukee Magazine, St. Louis Magazine and Dance Media publications, among others. Holding degrees in dance and kinesiology, Lauren is an instructor of dance and exercise science at Loyola University Chicago. Read Lauren's posts.