Before leaping into a new dance competition,
it pays to know a little more about the competition company, its judges, and its philosophies. Today we're looking at LEAP! National Dance Competition, so I've asked Executive Director, Drew Vamosi to answer a few questions about his latest endeavor.
Drew Vamosi has been in the dance industry his entire life. He has toured both nationally and internationally as a professional dancer, owned his own dance studios and taught for many others. Drew was also the director of a large talent agency, has judged and emceed for a number of dance competitions throughout his career, and is also the co-owner of BravO! National dance competition.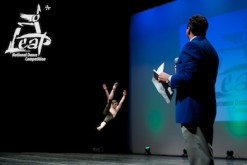 Dance Advantage: How do the philosophies that drive Leap set it apart from other dance competitions?
Drew Vamosi: Leap! has moved away from the traditional Bronze, Silver, Gold, & Platinum awards. Dancers are adjudicated with a "Star" ranking, instead. This tends to keep parents and studio dancers from fixating on the competition side of things by comparing their placement from one competition to another.
Leap! is the only competition in the industry to host a special "Leaping Competition". We all know that dancers love to leap and at our competition we give those dancers, who choose to sign up for this special segment, a chance to show the judges their best leaps. The winner receives special prizes and a picture of their award winning leap is featured on our home page for all to see. It's very exciting!
DA: Who are the judges for Leap competitions and what are the primary things they are looking for among the top competitors?
DV: We offer two levels of competition. The "LEAP!" level is for the more competitive dancer while the "SKIP!" level offers something for the dancer that may be more interested in the experience of competitive dance and is in the studio 5 or less hours per week.
At Leap! we have a very special and popular judging staff. We are the only competition in the industry to have an "ALL MALE" panel of judges! This came about purely by chance. At our very first event we just happened to have 3 men judging that weekend and many teachers told us how they loved the competition…especially the "ALL MALE" panel. They assumed that we had planned it, but it just kind of happened. They said that their dancers loved it and that it set us apart from the others, so we decided to continue.
Our three main judges are Tony Coppola, Gary Vaughn, and Walter Shepherd. They are all amazing in their own right. Between them, they cover everything from ballet, tap, modern, lyrical, hip hop, and gymnastics. This year, we are adding for more judges in the mix. At Leap! we try to make sure that all of our judges are versed in all areas of dance and that they have not only taught in the studio world but have also had a professional career in dance.
DA: What do you hope dancers of all ages take away from your competition?
DV: Dance is to be fun above all else. Competition is only a snap shot of that particular weekend. On a different day with a different set of judges it could come out completely different. At Leap! we offer the studio and audience a fun atmosphere. With our state of the art lights and sound, music videos between routines, and audience giveaways…everyone is sure to have a great time!
DA: From your unique perspective, how can teachers and studio owners better prepare their dancers for the competitive dance environment?
DV: Having been a studio owner myself, I try to instill the love of dance into my students. Dance is an art not a sport. I tell them not to get too wrapped up in the outcome.
I ask the parents to show support no matter what happens. The students see the look on the parent's faces if they are disappointed. It shouldn't be about winning or losing. I try to emphasize on doing our best. That's all we can do. Just being able to be on stage performing with a chance to take away a top honor should be incentive enough. The great thing about today's competition world is that there are many choices and if it doesn't go the way you had hoped one week there is always another chance the following week at the next competition.
DA: "The Leap! For The Stars" competition is unique among organizations. Tell us a little bit about this part of the competition, please.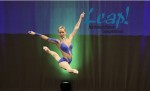 DV: The "Leap! For The Stars" competition is a special portion of the competition weekend where dancers who chose to sign up get to show off their best leaping abilities. It's not based necessarily on how high a dancer leaps. Often the judges take into consideration style and creativeness. It just depends on the weekend and the amount of dancers that enter. The cost is just $10 so it is affordable for everyone. It's broken into to age divisions (4-11 and 12-19). Each dancer get their turn on stage as they are individually introduced. They can either do a series of leaps across the stage or the can just do one leap right in the middle. Once all of the competitors have had their turn, we give them all a second pass. They can choose to do the same leap or switch things up with a different pass or leap!. After that we bring them all out on stage in a line and the judges reveal if they have a winner. Sometimes when the judges have more than one favorite we have what is called a "LEAP-OFF". This is where the judges can choose up to three of the dancers to re-compete with one last attempt. When the winner is finally chosen, the audience explodes. It's awesome!
DA: Coordinating events is a lot like a performance –
Things don't always go as expected but you've got to keep going, and smile, and work together to still put on a successful show. Tell us about a memorable time when the unexpected happened. How did your team pull together to still pull off the event?
DV: What a great question! I am lucky to have such a seasoned crew at Leap! My team is always ready for the unexpected. We all pull together to get the job done. The toughest part is arriving in a city at a new venue and loading in. You never know what the theater is going to be like but you have to adjust and modify if need be.
We have had power go out in the middle of a show with no lights but the emergency lights. We hand out glow sticks if need be to keep the audience and kids calm. Once we were in a tornado during the show and the winds started to shake the rafters. Luckily the theater was storm proof. We stopped the show for a little while and played funny music videos on the big screen to keep everyone in good spirits. As they say, "The show must go on," and after about 20 minutes, we resumed the event and it turned out to be a terrific show.
DA: Where can those who are interested learn more information?
DV: To learn more about dates and locations please look for our ad in Dance Spirit Magazine or Studio Life Magazine. We invite everyone to visit our website at www.leapcompetition.com for rules and online registration. Or feel free to give us a call toll free at 1-877-272-8641
Disclosure: Dance Advantage accepts compensation to promote LEAP! dance competitions
Kindly follow, like or share:
Nichelle Suzanne is a writer specializing in dance and online content. She is also a dance instructor with over 20 years experience teaching in dance studios, community programs, and colleges. She began Dance Advantage in 2008, equipped with a passion for movement education and an intuitive sense that a blog could bring dancers together. As a Houston-based dance writer, Nichelle covers dance performance for Dance Source Houston, Arts+Culture Texas, and other publications. She is a leader in social media within the dance community and has presented on blogging for dance organizations, including Dance/USA. Nichelle provides web consulting and writing services for dancers, dance schools and studios, and those beyond the dance world. Read Nichelle's posts.