Our columnist, Lauren Warnecke has been writing at Dance Advantage for almost 2 years on the Cecchetti Method, muscles, bones, injury, ballet terminology, and more.
So you know a lot about her… but you don't know ALL about her!
If you visited the site and checked out our sidebar last month you may have noticed we flashed a Kickstarter campaign initiated by Lauren to support her other dance habit.
But after all she's done for you and I, Lauren deserves a little more, so I pulled her aside and asked a few questions about this side we don't see.
And, you know Lauren's a giver so, she's got something for readers to WIN later. Read on…
Dance Advantage: Frankly, most of our readers have only seen your nerdy side, Lauren. A conscientious dance teacher, meticulous academic… they may not know you have a rebellious streak, making work as an independent dance artist in Chicago. What gives?
Lauren Warnecke: I started becoming interested in choreography during undergraduate school, and created about three pieces there that I would actually be willing to vouch for.  I went to a school that is notorious for producing avant garde and innovative dancemakers, so while I'm a thoroughly trained bunhead, I also have sensitivities toward strange modern dance.
After school I became heavily involved with teaching and community theatre, choreographing seven full-length musicals, going to graduate school, and essentially "retiring" from the modern dance community. [Read more of that story in Lauren's article Life Lessons on Injury: Arriving at Plan C]
Two years ago I joined the board of directors for a small modern dance company (Synapse Arts) that was doing work I really liked.  Synapse's Artistic Director, Rachel Damon, had gone to the same school as me, and offered me a rare opportunity to create some work for the company. This was exactly the spark I needed to come out of creative hibernation!  It opened many doors for me to reenter the community, and even moreso opened my mind to making work that I really care about.  I feel that a lot of the work I make is actually informed by the time I spent away from the dance community… it takes cues from pedestrian life and musical theatre that are an important part of my development as an artist.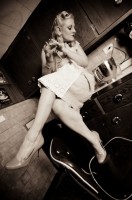 DA: I know as an artist it's sometimes hard to talk about your work but put on the nerdy teacher hat for a moment and tell your students: What is Grind all about?
LW: Grind is a dance that is rooted in definitions of artistic success. For me, success is a three-fold conundrum that is sought through money, praise, and self-actualization. All three intertwine to create some perception of success in all of us, that ultimately can never be acheived.
In Grind, this idea manifests through the eyes of four 1950's american housewives. For me, this is an era in which evidence of the "perfect" family and the "perfect" woman were ever-present in the media and every woman strived for this, even when things were falling apart around them. The piece is deeply satirical and manifests as an absurd comment on the state of success. I first premiered Grind last August in Chicago, and since then it's undergone a huge evolution into a brand new piece. This new iteration premieres Feb 10-12 in Chicago at the Drucker Center.
DA: Tell us about your collaborators for Grind and a little about the artistic process.
LW: I rely heavily on games, chance devices, and a meticulous process to create a work. This 30-minute piece was largely created from one 16-count phrase manipulated in many, many, many different ways.
Grind is part of a pilot program at Links Hall called the Apprentice Producers Program. Through this program, we are offered two venues at discounted rates over the course of 9 months, as well as a paid production manager. This allows the artist to focus more intensely on her work and not have to worry about things like press releases, schedules, etc.
I've been working with the same dancers (Katie Matteson, Vienna Willems and Jenna Dillon) since March 2011, developing the piece. After the initial premiere in August I knew I wanted to keep working with the same dancers, the same idea and the same movement vocabulary, but essentially everything else has changed.  I enlisted sound artist, Russell Weiss to create a sound score that uses era-specific sounds such as kitchen appliances, old commercials, and 1950's love songs. Lighting is also very important to me, and Francesca Bourgault has beautifully lit both versions of the piece. Without having had the opportunity to perform this piece and hear feedback from that first experience, I don't think Grind could have evolved to this point, so I think it's a fantastic luxury to have become involved with this program.

DA: Congratulations on your successful Kickstarter campaign. That's gotta feel good. Any quick tips for others who want to give Kickstarter a try?
LW: Kickstarter was great, but also really challenging! The potential problem with Kickstarter is that if you don't reach your goal, you don't get anything. In some cases, I think this inspires more pledges, but it's a dangerous game to play.
I chose our goal extremely carefully, and put tons of time and energy into the campaign, as did all of the dancers and collaborators.  I posted updates about once every two weeks and continually pushed on social media and through emails.  I saw people coming out of the woodwork and donating who I either hadn't talked to in years, or had never donated before. This is great, but you can really only do a campaign like this every few years. When I see people continually "Kickstarting", you can easily tap out people's enthusiasm because it's something you have to push really hard at in order for it to be successful.
Ultimately, raising money to make dances is hard no matter how you slice it!
DA: What's behind the photos we're seeing here? You've created calendars from the shoot?
LW: I started talking to photographer Kelly Rose very early in the process. Kelly and I have known one another since 3rd grade, and reconnected over this project. She has shot a lot of pin-ups, and I didn't exactly know why, but I knew I wanted to work with her on Grind. Our conversation really helped me to find the connection between success, perfection, and the vintage housewives.
Consequently, I also recently bought a fixer-upper with a vintage "party basement".  The style of my basement perfectly compliments the era that I'm working with in the piece, and dancer Katie Matteson happens to have a closet full of vintage clothes. The photos are loosely based on images that are seen in the piece, and on the interpersonal relationships of the characters we have created.  I really wanted Grind to be more than a dance…. the goal is to create a visual world around these four women and this iconic decade that is more tangible than a 30-minute dance.
The calendars were dreamed up as a marketing alternative to the same old posters and postcards you see, as well as an additional way to bring some income to the project. Plus, Kelly's photos were so amazing I couldn't just pick two for the press release and let the others go.
DA: Grind isn't the only dance on the program in February. What's the low down on Refill?
Refill is the part-two of the Apprentice Producers Program.  We will premiere the latest (and last) version of Grind, and are splitting the bill with another choreographer, Enid Smith.  The show is Feb 10-12 at the Fasseas Whitebox at The Drucker Center (1535 N. Dayton, Chicago).  You can buy tickets at fanfueled.com or at the door.
Win a Grind calendar!
To enter, all you have to do is leave a comment with your favorite "success" quote.
I'll select 4 winners randomly from the comments.
Should you be a winner, you'll have the good fortune to look upon Lauren and her 1950s housewives crew every month of the year when you win a Grind wall calendar featuring fabulous photography by Kelly Rose.
You must be 18 or over and a U.S. resident to win.
Contest will end Saturday, January 21st at NOON EST.
Kindly follow, like or share:
Nichelle Suzanne is a writer specializing in dance and online content. She is also a dance instructor with over 20 years experience teaching in dance studios, community programs, and colleges. She began Dance Advantage in 2008, equipped with a passion for movement education and an intuitive sense that a blog could bring dancers together. As a Houston-based dance writer, Nichelle covers dance performance for Dance Source Houston, Arts+Culture Texas, and other publications. She is a leader in social media within the dance community and has presented on blogging for dance organizations, including Dance/USA. Nichelle provides web consulting and writing services for dancers, dance schools and studios, and those beyond the dance world. Read Nichelle's posts.