Photo by Josef Astor

"To dance, put your hand on your heart and listen to the sound of your soul."

– Eugene Louis "Luigi" Faccuito
The world lost a beloved legend April 7, when Eugene Louis "Luigi" Faccuito passed away from cancer at age 90. The man labeled by the New York Times as "the father of American jazz dancing"  left behind a technique that took the dance world by storm – and a story that is sure to inspire dancers everywhere.
Born to Italian immigrant parents in Steubenville, Ohio in 1925, Luigi got his start singing and dancing on street corners. It started as a way to earn money for his family after his father died in a car accident in 1930. Luigi went on to win amateur contests, was named the lead singer of the regional Bernie Davis Orchestra, and became a touring vaudeville performer – all before the age of 20. After serving in the Navy in World War II, Luigi's performance career continued on to Hollywood, where he studied dance on the G.I. Bill.
The dancer's steadily rising career came to a halt soon after his move to Hollywood in 1946. Luigi, then 21, was thrown from the passenger seat of a car that skidded and hit a telephone pole on a rainy Los Angeles street. Luigi hit the pavement head first and didn't wake from a coma until two months later.
The right side of his body and the left side of his face now paralyzed, Luigi sought to defeat doctors' predictions that he would never walk – let alone dance – again. Three years passed as Luigi created a process of stretching, breathing and movement that gradually led him to be able to stand at the barre and, eventually, move completely on his own. As he went on to perform in the chorus of some Hollywood films, his stretching regimen caught the eye of other performers – and the Luigi technique took off.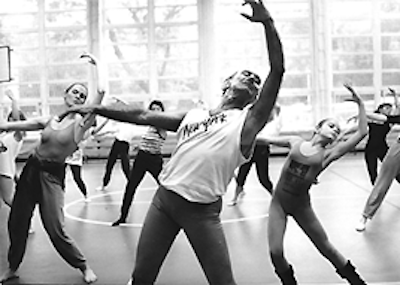 In addition to receiving numerous awards and establishing a long  list of credits in Hollywood and on Broadway, Luigi established dance schools in both Los Angeles and New York. His students included everyone from the beginning dancer to dance icons such as Liza Minnelli, Alvin Ailey and Twyla Tharp, to name a few. Whether seeking beginner classes, exercise, rehabilitation or professional training, dancer after dancer was impacted by the man said to have created the first codified jazz technique – and his legacy is sure to live on for years to come.
Interesting Facts:
Gene Kelly was one of Luigi's mentors. Kelly gave Luigi his affectionate nickname while they were working on "On the Town" to avoid having two "Genes" on set.
Luigi's technique wasn't initially intended for jazz, but ballet.
"It was created for ballet because that's what I was doing when I was performing in motion pictures in Hollywood. I found that in any ballet class I took, my body wasn't ready to stand in fifth position. So I created a therapeutic warm-up that would prepare me for class," Luigi told Dance Magazine in an interview. "I also created it because of my automobile accident, which left me partially paralyzed. I loved ballet's barre exercises because they helped me correct my injuries. But when I left the barre, I was in trouble. My technique addresses how to stand up without the barre. It teaches the body how to support itself and how to use muscles evenly."
Links
Find Luigi's Jazz Centre on Facebook
Visit the Luigi Jazz Centre website
Read more about Luigi
Kindly follow, like or share:
Elizabeth is a dance minor and journalism major at Southern Illinois University – Edwardsville. A dance student since the age of six, she has danced in the studio and on dance team, as well as at Radio City Music Hall as part of the Rockette Summer Intensive. She currently teaches at a studio in her college town.