I've had my eye on JAM Cosmetics for a while now. Owner, Jessica Dupont (formerly Jessica Ann Michaels… hence J.A.M) is a dancer. Though she has retired from performance, she appeared on and off Broadway and toured across the world throughout a 10-year professional career on stage. During that time she pursued another passion and supplemented her income as a makeup artist, freelancing in fashion, theater, and photography. Prior to creating and developing JAM cosmetics, Jessica was even a dance teacher and studio owner and it shows in her desire to provide the dance community with the educational tools needed to look their best on stage.
So, when Jessica approached me about reviewing her products on Dance Advantage, I was eager to try them out for myself and share my findings with you.
A Palette For Every Palate
Though on the website, individual colors, pencils, liners, foundations and more are sold separately, I sampled some of JAM's most popular products: the Prima Diva Essentials Kit, the Stage Siren Palette, the JAMglam Recital Palette, and the 7 Piece Brush Kit. The palettes themselves are not drastically different. All three contain a blush, a creamy lip pigment, white highlighting shadow, one or two neutral eye colors, and (with the exception of the recital palette) a black shadow eyeliner. These colors have been selected for their versatility – they are designed to work for all skin tones and can be used in a variety of stage looks. The advantages:
Groups can purchase the same self-contained kit and it will work for every member of the company and for any dance number.
No need to carry around a ton of loose compacts and makeup tools – everything you need will fit in one little makeup bag.
Stress-free selection… the professionals have already done the work and chosen suitable color combinations for all.
The Essentials Kit, in addition to the palette of your choosing (Prima Diva, Stage Siren, or Mod Squad) comes with a lip pencil, a white highlighter pencil, a professional and attractive tapered half-lash set by Elise, Duo eyelash adhesive, and a free makeup bag. The silver and black palettes are attractive, with foam construction protecting the contents inside, and they have no clasp but seal magnetically. They are a good size for holding with one hand and can be refilled when one item is used up.
You can visit the JAM Cosmetics website for further details about the palettes and kits, just "Choose Your Look" or, if you aren't sure, select from the How-To Videos for Ballet, Jazz, Hip Hop etc. and the appropriate kits will be listed with each video.
Quality and Cost
Let's talk value. A lot of you out there are using street makeup for the stage and aren't even really sure of the value of "stage makeup" in the first place. I've been dancing among professionals in the modern/contemporary dance world for more than 10 years now and, believe it or not, many of these folks are using street makeup too. Growing up as kind of a theatre brat, this has always kind of bothered me but I understand that a lot of it has to do with the feeling that greasepaint is just too heavy to wear for recitals or intimate venues.
Investing in makeup that doesn't need constant reapplication is a better value and looks better on stage. What I liked most about JAM is that it is lightweight like street makeup but "reads" well onstage and doesn't absorb or sweat off as easily as street cosmetics. The pigments are much stronger than street makeup, meaning you need less to pull off a more intense look. Even after reading the clear instructions that come with each kit stating "less is more" and that one can always build and increase color, I was heavy-handed with the blush on my first use. I was just so used to much weaker street cosmetics.
Sometimes less really is more. Are these the cheapest kits available? Not necessarily. Some of the big names in professional stage makeup like Ben-Nye and Mehron tend to throw color options, cosmetic tools, brushes, and sponges into their kits. However, I've been a long-time user of "greasepaint" kits for stage and its inevitable that there are colors and extras I simply don't use because they don't look good on me. The JAM kits may not include a ton of extra stuff, but they've got what counts. I can't say how long each palette would last, as it depends on how often you are performing but, I'm pretty confident one palette would easily sustain you through competition and recital season.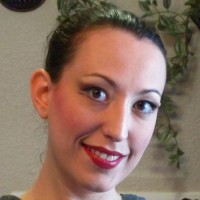 Healthy skin is in. It is important to note also that JAM cosmetics are mineral-based, hypoallergenic for sensitive skin and non-comedogenic, which means it won't clog pores. They are completely talc and paraben free and, as a company that does not test on animals, the company is on the PETA "friends" list. Technical jargon aside, it just feels better on my skin. I'm prone to breakouts. I've used greasepaint and suffered the consequences. After using JAM's products and not feeling like a wax sculpture about to melt, $25 – $50 seems like a great investment. Even if you can't afford the additional gear, $25 for the basic recital palette is a good start.
Instruction and continuing education. I first became aware of JAM Cosmetics about two years ago while writing and reading blogs over at Dance.com. Jessica was providing instructive articles that were authentically and specifically educating dancers (and dance moms) on makeup and application. That effort caught my attention, even then, as being a unique and refreshing way to utilize a blog for business. She continues these efforts. The JAM website is overflowing with crisply done videos like the one below that cover makeup application for a variety of dance styles (not for actors, or for Halloween costumes… for dance), tips for everything from applying false eyelashes to finding the right foundation shade, and blog posts on recital makeup for students of every age, making it an informative resource (i.e. a must-visit) for dancers, parents, and teachers even if you don't buy JAM products.
[youtube=http://www.youtube.com/watch?v=YrRF5fb7nzg]
You Know You Want One
For reviewing JAM cosmetics on the blog, Jessica has offered to give away THREE Prima Diva Petite Kits to Dance Advantage readers.
This giveaway is now closed. Winners announced soon!
From the website: This classically gorgeous stage makeup look is recommended for Ballet, Jazz, Dance Team, Cheer, Recital, Ballroom, Belly Dance and even Theatre or Vocal performances. Easily go from good girl to glamorous in no time flat! Prima Diva Petite Kit includes:

Prima Diva Palette (see Prima Diva Palette description below):
Warm Brandy Lip Pencil

NEW silver REFILLABLE Prima Diva Palette includes:

One (1) Mineral Lip Stick: Fierce
One (1) Mineral Blush: Superstar
Three (3) Mineral Eye Shadows: Innocent Me, Elegant Me, Fear Me
One (1) Mineral Eye Liner: Double Dare Me
MISTAKE PROOF APPLICATION with easy to follow face charts/instructions and FREE online how-to videos.
Here's How You Enter
If you are in the U.S. and 18 or older, place a comment on this post. That's it! We would love to hear how badly you want the kit, or your most embarrassing stage moment, or a horrific makeup tale. Just know that winners are randomly chosen so it won't help you one little bit. 🙂 And please make sure you use an email address at which I can contact you should you be a winner. (If you are under 18, tell your parent about the giveaway and have them enter). If you have questions, check our giveaway policy.
Additional entries:
Tweet about this giveaway (you can use the tweet button at the top of the blog post) and make sure your tweet contains @danceadvantage (this is how I'll verify you've done it). Then – this is important – add another comment on this post telling me you tweeted the giveaway and put your twitter address (ex: http://twitter.com/danceadvantage) in the website field.
Reblog (see below at right) or blog about this giveaway and add another comment on this post telling me you blogged it and – this is important – put the link to your post in either the website field or the body of your comment.
Additional entries are completely optional. You can do one or both for up to three entries per person but you must comment for each entry… three entries = three comments, capiche?
Also my apologies to faithful fans of Dance Advantage on Facebook. I'd throw you a little extra entry love if it weren't against Facebook rules.
This giveaway will close at Midnight EST on Wednesday, March 24!
Let's JAM!
Kindly follow, like or share:
Nichelle Suzanne is a writer specializing in dance and online content. She is also a dance instructor with over 20 years experience teaching in dance studios, community programs, and colleges. She began Dance Advantage in 2008, equipped with a passion for movement education and an intuitive sense that a blog could bring dancers together. As a Houston-based dance writer, Nichelle covers dance performance for Dance Source Houston, Arts+Culture Texas, and other publications. She is a leader in social media within the dance community and has presented on blogging for dance organizations, including Dance/USA. Nichelle provides web consulting and writing services for dancers, dance schools and studios, and those beyond the dance world. Read Nichelle's posts.