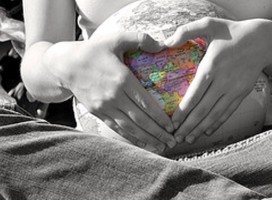 One year ago today, in honor of Earth Day, I published 12 Steps To A More Eco-Friendly Dance Studio. Below are four of these tips:
Go Paperless — In this age of technology, going paperless isn't as difficult as it seems. Studios are beginning to move newsletters and other communications online.
Carpool — Start a carpool network. We live in a fast-paced world but students are very conscious of environmental issues. Consider tapping this resource and challenge your students to come up with a plan for organizing the car pool (or to brainstorm more green ideas for the studio). You might be surprised at their willingness to embrace your efforts in this area. However, if you want to go that extra mile, consider offering some incentive with a discount or coupons to those who participate in an organized carpool.
Community Clean-Up — Adopt a highway or join other community clean-up efforts. This is great for your city and the environment. Additionally, showing an interest in your local region is good for business.
Buy Organic, Recycled, and Eco-Friendly Products — From the snacks you offer, to the paper towels you use, to the cleaning products you put on your floors, there are plenty of options for going green. Check TheGreenOffice.com or Amazon Green for electronics, lighting, and cleaning supplies (not to mention digital music and now books).
Speaking of Amazon, you might be interested in knowing that they also offer a trade-in program for DVDs, video games, electronics, and for you college students, text books. I've not tried this myself as we have a local business that buys back media. If you don't, or if you are upgrading to blu-ray, Amazon may be an option.
Anyway, there are six more, really excellent (and really easy), suggestions for going green in the original 12 Steps To A More Eco-Friendly Dance Studio post. Click here to jump to that article and read them all!
Earth Day Threads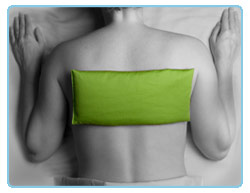 If it is earth-friendly dancewear you are after, I would normally point you to a variety of yoga apparel companies. However there are a few dance clothing manufacturers offering organic options. Trienawear's Entropy, Harmonie's Delicate Balance knitwear (above left), and Just Marvy has expounded upon their Pink/Green motif with the cute little "earth is your stage" logo (above right) for their organic cotton/recycled polyester warm-ups. The pictured items above can be found at All About Dance
, along with a few more items in their Eco-Friendly category.
More Organic…
A while back  I featured RelaxPack on the blog, a company producing organic and very useful packs for soothing aches, pains, and sore muscles with herbal and heat/cold therapy. I urge you to check these out if you missed the post – just click on the image to the right.
[Update! I like RelaxPack so much that I'm now an affiliate. If you click to their site from here and decide to purchase, you are helping to keep the free content flowing on Dance Advantage. How cool is that?]
Do you have some green tips to share?
Do you shop for organic clothing or other organic products?
How are you celebrating Earth Day?
Kindly follow, like or share:
Nichelle Suzanne is a writer specializing in dance and online content. She is also a dance instructor with over 20 years experience teaching in dance studios, community programs, and colleges. She began Dance Advantage in 2008, equipped with a passion for movement education and an intuitive sense that a blog could bring dancers together. As a Houston-based dance writer, Nichelle covers dance performance for Dance Source Houston, Arts+Culture Texas, and other publications. She is a leader in social media within the dance community and has presented on blogging for dance organizations, including Dance/USA. Nichelle provides web consulting and writing services for dancers, dance schools and studios, and those beyond the dance world. Read Nichelle's posts.