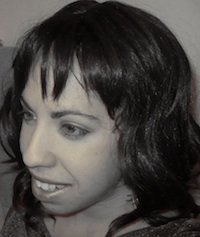 As a dance educator and choreographer in New Mexico, Jenn Romano works with high school dance students and in two after school dance programs for at risk youth. She also choreographs for local musicals and is involved in a myriad of diverse projects, including writing on ballet and dance as Albuquerque's Dance Examiner.
Jenn's Top Three comes directly from her work, teaching dance composition in New Mexico high schools. She uses these exercises to practice improvisational skills as well develop student-generated choreography in her classes. Try them with your students!
1.  Slowing Things Down
Movement in slow motion is by far my favorite thing to do (as my students will definitely confirm). The fluid, controlled motion is mesmerizing to me and takes strength as well as focus.
For this exercise I choose a starting point and give the dancers a period of time (sometimes half an hour or more) to traverse the perimeter of the room. The leisurely pace allows for the exploration of a myriad of levels and shapes. As an added bonus, slow motion is a great cool down and is easy on the joints.
2.  "Flocking"
A grown-up version of "Follow the Leader," this exercise is great to initiate dancers into improvisation. Like "Follow the Leader," one dancer is in charge of creating the movement and the others must follow. Rather than forming a line, however, the dancers are grouped together like a flock of birds. That way, when the current leader turns in any direction, the dancer now in front of the group becomes the group leader. This is a great activity because the dancers must learn to work while moving in a closely established group and also learn to think quickly when they are leading others. (DA Notes: See flocking in action in the video example from a 2008 flock improvisation at Tate Modern below)
Once, we performed this exercise in a common area of the school where the other students were treated to an impromptu show. Some of the "leaders" took to following the mannerisms of spectator students and even the headmaster (thankfully, he was a good sport!). The feedback from our audience was very positive and it seemed to give the dancers a new confidence in their improv skills.
3.  Hitting the Books
This choreography assignment means going to the library because, well, I love to read! Beforehand, we discuss different qualities of movement. This discussion might include having the students suggest descriptive words which the class then interprets with our bodies.
In the actual assignment, the dancers choose a bookshelf and pick a random book. Children's books tend to be the most fun but the possibilities are endless. Sometimes I compose specific instructions to make it more like a game (i.e. pick the seventh book to the left on the second shelf, read the third sentence on the fifth page). Once a sentence is chosen, the dancer's job is to interpret the words through dance paying close attention to adjectives and verbs.
The best part of the project is putting all of the dancers' contributions together to create one big performance piece. We use the text as a soundtrack (sometimes getting the drama club involved to record them for us). Repeating some sentences and chopping others into two parts have created some hilarious combinations of nonsense.
Jenn Romano has a degree in Dance with a minor in Journalism from Columbia College. For over twenty-five years she has been pursuing her love and passion for dance beginning with an obsession with Classical Ballet and soon branching-out to study Modern Dance, Jazz and Classical Indian among others. In all her endeavors, Jenn encourages dancers to follow their dreams and passions regardless of body shape or ability: Dance hard and dream big.
What are YOUR favorite improvisation or composition exercises?
We would love to answer any questions you have about using improvisation-based "games" in the K-12 or studio setting.
Your comments are welcome below!
Kindly follow, like or share:
Nichelle Suzanne is a writer specializing in dance and online content. She is also a dance instructor with over 20 years experience teaching in dance studios, community programs, and colleges. She began Dance Advantage in 2008, equipped with a passion for movement education and an intuitive sense that a blog could bring dancers together. As a Houston-based dance writer, Nichelle covers dance performance for Dance Source Houston, Arts+Culture Texas, and other publications. She is a leader in social media within the dance community and has presented on blogging for dance organizations, including Dance/USA. Nichelle provides web consulting and writing services for dancers, dance schools and studios, and those beyond the dance world. Read Nichelle's posts.