Black History Month can be celebrated with dance!
Each year I make it a point to reflect on how far African-Americans have come as a people, how their outstanding contributions have added to the rich fabric of American history and how prominent their influence is on popular culture, entertainment and the arts.
Last year I wrote an article on how to build African-American Audiences for dance. The year prior I wrote about the desegregation of dance and the African-American pioneers that made it possible. This year I am writing about how dance is being used to celebrate the 50th Anniversary of Dr. Martin Luther King Jr.'s legendary speech "I Have A Dream."
The Civil Rights Movement and "I Have A Dream"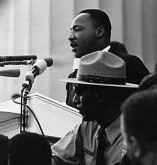 The Civil Rights Movement was inspired by years of slavery, oppression, segregation, violence, and injustice targeting African-Americans. Although it may be hard to imagine a United States where African-Americans were forced outside of bathrooms, classrooms, restaurants, stores, and theaters, this was the cruel reality of the times. According to History.com, "In 1954, the U.S. Supreme Court struck down the "separate but equal" doctrine that formed the basis for state-sanctioned discrimination, drawing national and international attention to African Americans' plight." This ushered in the Civil Rights Movement: a decade and a half of non-violent protest, civil disobedience, and soul-stirring rhetoric that would forever change the face of America.

While the Montgomery Bus Boycott of 1955, Voting Rights Act of 1965, and Civil Right Act of 1968 were highlights of the Civil Rights Movement, the 1963 March on Washington is arguably the most powerful moment.
On August 28, 1963, nearly 250,000 people gathered to March on Washington for jobs and freedom. "The demonstrators—black and white, poor and rich—came together in the nation's capital to demand voting rights and equal opportunity for African Americans and to appeal for an end to racial segregation and discrimination," says History.com. The historic event ended with Dr. Martin Luther King, Jr.'s "I Have A Dream" speech. This year marks the 50th Anniversary of the March on Washington and one of the greatest speeches delivered in American history. The speech is just as relevant, impacting, and soul-stirring as it was nearly 50 years ago.
View part of Dr. King's "I Have A Dream" speech!
"I Have A Dream" lives on through Dance
"Snapshots": A New Choreographic Work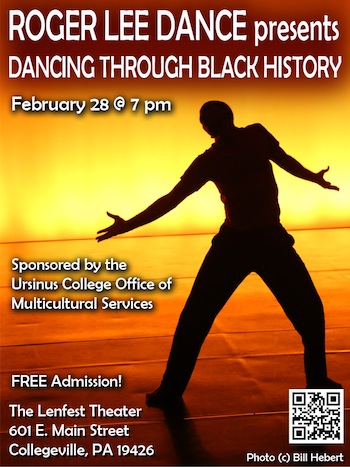 Dr. Martin Luther King, Jr.'s "I Have A Dream" speech lives on through a variety of art forms. Dance is being used as a catalyst for celebrating this historic speech during its 50th Anniversary this year.
I used "I Have A Dream" as the inspiration for choreographing my dance company's newest piece Snapshots. The multi-disciplinary work was commissioned by the Ursinus College Office of Multicultural Services and will debut during the finale of the College's 2013 Black History Month Program Series. Snapshots takes a look at two key components of black history: segregation and the Civil Rights Movement. I combined song, dance, and narrative to depict these two snapshots from black history.
When conceptualizing and choreographing Snapshots, I could not help but go back to "I Have A Dream." The profound imagery, powerful delivery, and lasting impact of the speech helped charge my creativity. It inspired me to further research the events that occurred during the March on Washington. I discovered that legendary Gospel singer Mahalia Jackson sang a live rendition of "How I Got Over" right before Dr. King took the stage to deliver "I Have A Dream." This inspired me to add a section to Snapshots where a solo dancer performed to Mahalia Jackson's singing. I then choreographed my own solo performed to part of Dr. King's closing speech. The idea was to re-tell the story of The March on Washington 50 years later through dance.
While I used "I Have A Dream" to create just one new dance work, some have used the speech as inspiration for an even larger dance creation…
"Dance the Dream": A Global Dance Celebration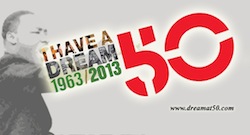 Dance The Dream is a part of THE DREAM @ 50, an art, music, and dance-filled global celebration honoring the 50th Anniversary of Dr. King's "I Have A Dream" speech. The celebration's website explains that "THE DREAM @ 50 is produced by Karz Productions in partnership with the King Center, United Nations, YouTube, National Education Association, National Art Education Association, Americans for the Arts, National Council of Teachers of English, National Council for the Social Studies, and the Congressional Black Caucus Foundation." It is also sponsored by the New York Foundation for the Arts program Artspire.
With such a strong mission, creative team, and influential partners and sponsors, THE DREAM @ 50 is sure to go down in history as the largest artistic celebration of "I Have A Dream." Dance The Dream will bring the world together for a day of dance, celebration, and remembrance. On August 28, 2013, a series of flash mob dancers will erupt in public squares of cities, towns, and villages around the globe. With local choreographers working together with Dance the Dream's Creative Director Jeffrey Page (Winner of MTV's 2011 VMA for "Best Choreography" with Beyonce's "Run The World (Girls)") and countless dancers from around the world, Dance The Dream will bring communities together in a way that is unparalleled. In addition to working together on-site, participants will be streamed on YouTube, featured on select digital billboards in public squares, and featured in a compilation video of the dances released on YouTube. In essence, Dance The Dream will combine dance and Dr. King's legacy to create a beautiful piece of history. According the THE DREAM @ 50's official website, "DANCE THE DREAM is about creating a shared life-affirming experience that galvanizes global solidarity for overcoming division and solving problems. It is about people from every corner of the planet all coming together in Dr. King's "symphony of brotherhood," and it is about inaugurating a new era of progress and possibility."
View THE DREAM @ 50's promotional trailer!
Will you celebrate "I Have A Dream" through dance this year?
Tell us about it in the comments.
Kindly follow, like or share:
Roger Lee is a professional dance writer, instructor, and studio consultant from Philadelphia, PA. His writing has been published nationally in Dance Magazine, Dance Magazine College Guide, Dance Studio Life Magazine, and The Dance Journal. Roger has taught hip-hop at The Rock School of Dance Education, Koresh School of Dance, Mid-Atlantic Ballet, Philadelphia Ballet School, and Drexel University Recreation Center. Roger also directs and choreographs Roger Lee Dance Company and provides dance studio marketing, communications, and publicity at www.rogerleedance.com