1. Wait until your teacher is telling or showing something very important to the class and then ask your question.
2. Stand practically on top of your teacher, pull on her clothing, and speak very loudly until she acknowledges you.
How does it feel when your little brother interrupts you while you are telling your mom about something really important? Does it make it harder for your mom to make sense of your story? What about when he insists on poking at you while you are trying to do your homework? Does it distract you from what you were thinking? Does it upset you that your brother feels what you have to say or do is not important?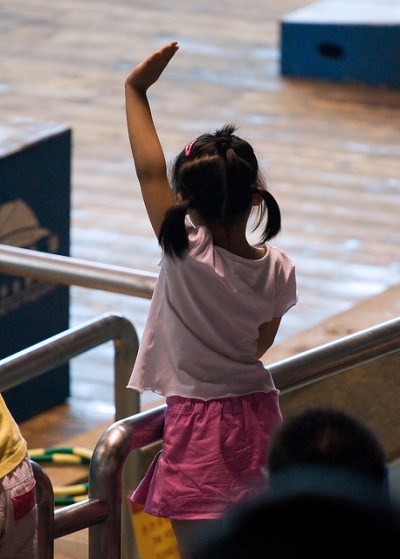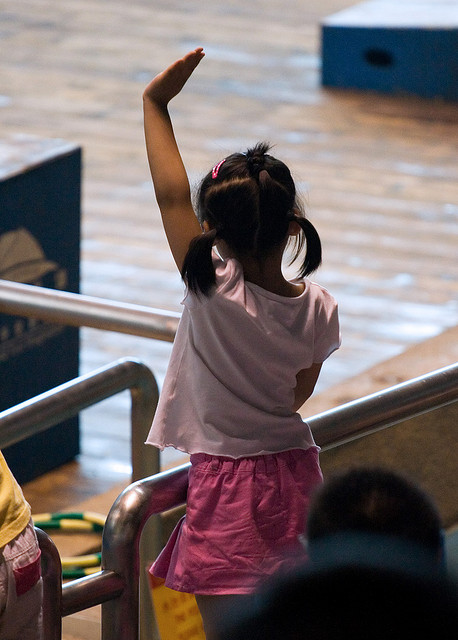 (If you don't have a younger brother like I did growing up… you are lucky (kidding)… try to imagine what it would feel like if a friend or classmate did these things while you were trying to speak or work).
Your teacher feels the same way when she (or he) is interrupted while sharing important information or trying to focus on running the class. So, pick an appropriate moment to ask your question or get her attention. It may be hard to recognize a good moment to ask your question if you are standing too close to your teacher. It is also likely that you'll distract or annoy your teacher so much that she won't answer at all.
An example of an appropriate moment would be when your teacher asks if there are any questions. If she doesn't ask this, perhaps after she is done speaking you could politely get her attention (by raising your hand, for instance). Or, perhaps it could wait until after class. It takes practice to learn where those "right moments" are. Most teachers try to be very patient while you are learning this skill.
Remember, before asking your question…
Think about how it feels to be interrupted and decide if now is the best time
Raise your hand, or politely say your teacher's name… once, maybe twice if you aren't sure she heard
If you need help use "please."
And don't forget to say "Thank you" when your teacher answers, explains, or helps you!
If there is an emergency
emer·gen·cy
1:    a sudden, urgent, usually unexpected occurrence or occasion requiring immediate action

2:    an urgent need for assistance or relief
Emergencies in dance class usually include a sudden injury (or someone is about to be really hurt – bleeding or broken bones), an unexpected feeling that you are going to throw up, an urgent need to go to the bathroom… or else!
Your classmate playing with your ponytail while in line is not an emergency situation. Instead of telling your teacher when someone else is not following the rules (tattling), try to tell your friend how their actions make you feel ("I feel frustrated when you play with my ponytail while I am waiting for my turn. Please stop.") Your teacher probably won't do anything about the problem until you've tried to resolve it yourself with words, anyway.
Your uncomfortable leotard does not need immediate attention. This is unfortunate and must be dealt with, but it is not an emergency. Even needing help with a difficult dance step is not an emergency. None of these things need to be handled right away while your teacher is busy talking or leading the class. These can be dealt with at an appropriate moment (when your teacher is done talking, when your parents pick you up, after class, for example).
Be wise about what you decide is an emergency situation. If you "cry wolf" too many times your teacher is less likely to respond quickly (even if there really is an emergency).
If there IS an emergency — Call out your teacher's name or get their attention as best you can (even if it means interrupting). If you think you are going to be sick or have an accident right now, just go. Your teacher will understand.
If it is not about dance…
Save It!
You can always tell your teacher about your new puppy after class. It is hard to wait when you remember in the middle of class, but your teacher will more fully appreciate hearing about it when she is not busy with other things.
If it is not really a question…
Save It!
Unless it is an emergency, or specific to what you are working on that very moment in class, your thoughts can probably wait until… you guessed it…
an appropriate moment!
Kindly follow, like or share:
Nichelle Suzanne is a writer specializing in dance and online content. She is also a dance instructor with over 20 years experience teaching in dance studios, community programs, and colleges. She began Dance Advantage in 2008, equipped with a passion for movement education and an intuitive sense that a blog could bring dancers together. As a Houston-based dance writer, Nichelle covers dance performance for Dance Source Houston, Arts+Culture Texas, and other publications. She is a leader in social media within the dance community and has presented on blogging for dance organizations, including Dance/USA. Nichelle provides web consulting and writing services for dancers, dance schools and studios, and those beyond the dance world. Read Nichelle's posts.