I want to help you cross items off your holiday gift list this year. So let's get right to it, shall we?
Gifts for Teachers
Make your own edible treats.
Your teacher will appreciate something on the healthier side!
Try a trail mix. My favorite is almonds, chocolate chips, golden raisins, and cranberries. Dress it up in a Personalized Holiday Cookie Tin, a Mason jar decorated with fabric or ribbon, a Chinese Take Out Box, reusable but pretty food storage containers like these Fresh Keepers
.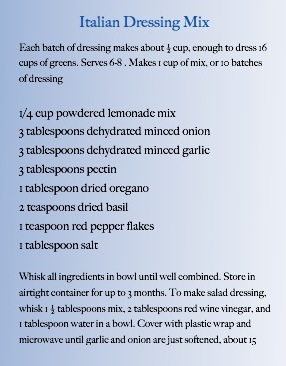 Granola is good too. Better yet, granola bars!
Salad anyone? Make your own Italian Dressing Mix like this one from Chris Kimball (America's Test Kitchen).
Present it in this Fit & Fresh Salad Shaker
for meals on the go.
Art from the Heart
Petite Paintings
from a little (or not-so-little) Picasso would make a nice change from handmade ornaments. These could be displayed year-round.
Do-it-yourself jewelry can be simple enough for a kid yet sophisticated enough for a teacher. You might try a Bead Kit from Bead Bazaar
.
Can't someone else do it? Yes. try the Etsy.com shops for beautiful handmade jewelry and artwork, many at very reasonable prices.
Teacher Tees
There are a lot of dance tees out there but these are teacher specific:
You or your teacher may also like this Dancing Across Borders t-shirt or DVD. A promotional item for the film documentary, the proceeds go directly towards Nginn Karet Foundation for Cambodia's "Give a Future to a Child of Angkor" urgent appeal. Your kindness will help children fulfill their dream to follow in the footsteps of dancers and musicians seen on Angkor Wat and other ancient Khmer temples.

More, more, more!
What are YOU getting your dance teacher this year?
Kindly follow, like or share:
Nichelle Suzanne is a writer specializing in dance and online content. She is also a dance instructor with over 20 years experience teaching in dance studios, community programs, and colleges. She began Dance Advantage in 2008, equipped with a passion for movement education and an intuitive sense that a blog could bring dancers together. As a Houston-based dance writer, Nichelle covers dance performance for Dance Source Houston, Arts+Culture Texas, and other publications. She is a leader in social media within the dance community and has presented on blogging for dance organizations, including Dance/USA. Nichelle provides web consulting and writing services for dancers, dance schools and studios, and those beyond the dance world. Read Nichelle's posts.