It is fair to say I spend a decent amount of time presenting alternatives to competition dance.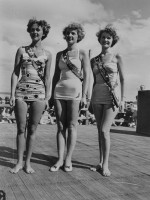 I readily admit, though, that competition has a certain value in any type of dance classroom. We may not be facing off against other dance programs and focusing our time and energy in beating the competition, but we do challenge ourselves to dance our best with the movement and methods we choose to explore, and to drive our own progress by improving upon our work consistently.
Here is an example of how this has been done in my K-5 classes recently:
In my program, the elementary program meets for 30 minutes per week. During my first year in this school, I found management of the classes was touch and go. This was mainly due to the revolving door that seemed to usher teachers in and out during a challenging transition, as well as the drastic change of curriculum from previous experiences.
As such, I started issuing "happy slips" to the students that had worked hard during our time together. Basically, the slip of paper congratulates the student for following directions, listening to instruction and demonstrating new skills, and behaving in such a way allows our class to learn together.
In some ways, the "happy slips" have turned into a "reward" for some students- to which I have mixed feelings. I want the students to internalize the lesson that they need to pay attention and work hard and rewarding them externally becomes situational. Their sense of accomplishment becomes dependent upon my opinion rather than their own. However, they need to start somewhere.
If a student didn't earn one, I inquired about how they felt class progressed, how they behaved, and where their choices were not favorable. Most of the time, students understand and can clearly state what needs to be done. There are times, though, that I can tell they've been "trained" in what to say and have not internalized the appropriate behaviors. When this happens, the conversation becomes even more personalized and the process remains ever a work in progress.
Ready for more responsibility
Now that engagement and class management is running smoothly, the students are ready for more responsibility.
Recently, I have limited the number of "happy slips" that are issued and the number changes each week. Before the students enter, I tape the happy slips that will be distributed to the mirror so they understand the goal up front. I explain that in order to earn a slip, I will be looking for class etiquette, good answers, fulfilled movement (or clear demonstration of the concept for that week), and so on. I distribute slips based on excellence or significant improvement in any of those categories.
The results have been fascinating.
Even the 5th graders, normally nearing on too cool for school, are responding. Answers to thoughtful questions are equally thoughtful and I think students are more responsible in how they are completing the classwork in all grades.
Applications

The life lesson that I offer to my students is that this is very similar to auditioning as professional dancers. Each audition is subjective. The success or lack thereof is dependent upon variables of which the auditionees may not even be aware.
While I explain what I am expecting and why I have selected the students I have, the reasoning from week to week shifts. I typically choose one for dancing, one for thinking and responding either physically or verbally, and another for behavior but not always in the same ways. Sometimes there is only one slip to give; choices need to be made.
As in the auditioning process, it is important to maintain your own high standards and realize that there are more opportunities right around the corner. We can celebrate others' success and we can take pride in our own work. It is a win, win.
Maybe they are internalizing after all, once they understand how and why.
How does healthy competition exist in your class?
Kindly follow, like or share:
Heather Vaughan-Southard MFA, is a choreographer, dance educator, and performer based in Michigan. She currently directs the dance program at the Everett High School Visual and Performing Arts Magnet in Lansing. With the philosophy of teaching dance as a liberal art, Ms. Vaughan-Southard collaborates with numerous arts and education organizations throughout the state. She has danced professionally in Chicago, Detroit, Los Angeles, and New York and has performed works by Mia Michaels, Lar Lubovitch, Donald McKayle, Billy Siegenfeld, Alexandra Beller, Debra Levasseur-Lottman, and Bob Fosse. As a choreographer, her work has been credited by the Los Angeles Times for "creating heat." She has recently choreographed for the dance programs at Michigan State University, Grand Valley State University, Lansing Community College and is the former dance professor at Albion College. She is a regular guest artist and blogger for Dance in the Annex, an innovative dance community in Grand Rapids. Heather received her MFA in Dance from the University of Michigan, BFA in Dance from Western Michigan University and K-12 certification in Dance from Wayne State University. Read Heather's posts.