This giveaway is now closed.
Welcome to Day 3! Our next giveaway comes from Cynthia King Vegan Ballet Slippers.
Cynthia King Vegan Ballet Slippers give dancers a unique way to show their love for animals in their art by providing high quality, cruelty free ballet slippers.

Ms. King is the director of Cynthia King Dance Studio in Brooklyn, NY. A dancer and choreographer with over 30 years of experience, she has taught and directed dance departments of schools in New York and New Jersey.
"At my studio," Ms. King says, "I was challenged by my students' question: 'Which ballet slippers would you recommend?'"As a vegan, she found there were no good options for ballet slippers. Even canvas slippers use animal skin on the soles. "Providing a viable and affordable alternative to leather-soled slippers became my mission, and after much research (and trial and error) Cynthia King Vegan Ballet Slippers were born! I was finally able to bring my passion for dance and compassion for animals together."
Cynthia King Vegan Ballet Slippers are the only 100% cruelty free slippers available. Dancers can enjoy the beauty and wonder of dance knowing that no one was harmed in making their slippers. Made of canvas uppers and synthetic full or split soles, they are the compassionate choice for dancers seeking slippers not derived from animal products. They're durable, dye-able, and easily stand up in quality to leather soled slippers.
Cynthia King Vegan Ballet Slippers have also gotten the attention of Hollywood—vegan star Emily Deschanel ordered a pair for a scene in the TV show "Bones", and most recently, Vogue magazine requested a pair for Natalie Portman to wear in their January 2011 cover shoot.
Here's what you can win:
Ms. King would like to give away a pair of vegan ballet slippers to TWO Dance Advantage readers.
Compassion is contagious! By wearing Cynthia King Vegan Ballet Slippers, you're not only taking a kind step for animals, you're helping to protect species whose habitats would otherwise be destroyed for livestock production.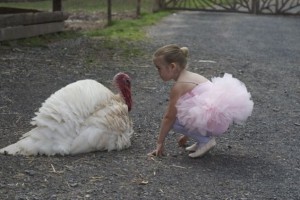 "To our winners: Tell a fellow dancer about Cynthia King Vegan Ballet Slippers and help one more person go gracefully green!"
Enter to win a pair of Cynthia King Vegan Ballet Slippers:
Leave a comment at this post, telling us about your favorite animal friend.
Good luck! Tune in tomorrow for yet another day of giveaways.