This giveaway is now closed.
Courtesy of PortableTapFloor.com, our first giveaway for Day 4!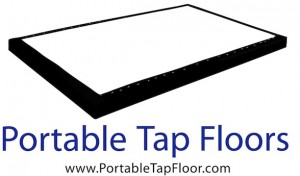 PortableTapFloor.com provides quality portable tap floors that are affordable, lightweight, durable, and resonant.
Once again, here is a product that was born from necessity. Terrence "Taps", the man behind online tap dance resources, TapDanceMan.com, eTapDance.com, and TapDanceSongs.com, needed a lightweight, shock absorbing tap floor that he could use when performing in schools, libraries, and other venues where a good wooden stage is not available. It was important to Terrence that he have good flooring, not only because it improved his performances, but because it reduced his risk of injury.
Armed with ideas for his design, he worked with a designer to produce his portable tap floor. Realizing later that others might also need a functional solution for performance or practice that costs less than $300, he decided to make his Portable Tap Floor available to other tap dancers.
"Whether it's for personal use, or is given as a gift," Terrence says, "the "Perfect" Portable Tap Floor encourages tap practice and is great fun to use!"
Watch and listen to the Portable Tap Floor in action, and hear Terrence tell more of his story in this video:
PortableTapFloor.com kindly sponsored this giveaway, however in the interest of disclosure I want to let you know that I am an affiliate for PortableTapFloor.com (meaning that I earn a commission on sales from this item). I believe in Terrence's dedication to the art form of tap and like to support other teachers who dedicate their skills and ingenuity to create useful resources for other teachers and dancers. Though other transportable tap floors are on the market, I haven't seen any others like this one, plus it is an affordable option for tap students who want to create a space for home practice.
On to the giveaway:
Terrence "Taps" wants to give away one of his Portable Tap Floors to a Dance Advantage reader.
At 36 x 48 inches, it is currently the largest size floor offered at PortableTapFloors.com, and weighs about 26 lbs. The winner will also be able to choose from among the nine custom colors available so that the floor can communicate his/her own unique style.
Direct any questions about the floor to Terrence:

Here's how to enter:
Leave a comment at this post, answering the question: Why would YOU like to own a tap floor from PortableTapFloor.com?
Note: Winners are chosen randomly. Your answer will have no effect on the outcome of this contest, but creative, heartfelt, and entertaining answers will affect how super we think you are. 😉
This giveaway is open to those in the continental U.S. The giveaway will close Saturday, November 13 and a winner will be drawn on Sunday.
Best of luck to everyone who enters!
Kindly follow, like or share:
Nichelle Suzanne is a writer specializing in dance and online content. She is also a dance instructor with over 20 years experience teaching in dance studios, community programs, and colleges. She began Dance Advantage in 2008, equipped with a passion for movement education and an intuitive sense that a blog could bring dancers together. As a Houston-based dance writer, Nichelle covers dance performance for Dance Source Houston, Arts+Culture Texas, and other publications. She is a leader in social media within the dance community and has presented on blogging for dance organizations, including Dance/USA. Nichelle provides web consulting and writing services for dancers, dance schools and studios, and those beyond the dance world. Read Nichelle's posts.