"At the core of jazz dance is the interpretation of the music. It is my obligation to the musician to express what he feels when he's playing. The interpretation all boils down to the relationship between the movement and the music." – Frank Hatchett, in Frank Hatchett's Jazz Dance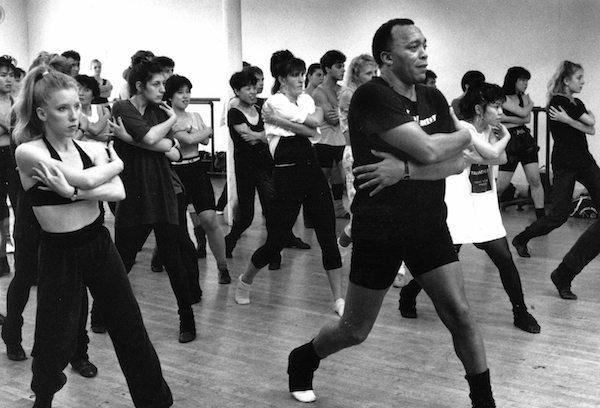 To say that Frank Hatchett was a multi-talented dancer would be an understatement. The jazz dance legend and master teacher, who passed away December 2013, left a lasting impact on the dance world as the creator of VOP jazz and the studio that eventually became Broadway Dance Center.
But Hatchett didn't become a famous dance icon over night. Long before entering the big-time dance scene of New York City or working alongside celebrities, Hatchett began his career the way a majority of dancers do – as a young student at a local dance studio.
Early Dance Training
Hatchett first experienced Mary Morlock's studio in East Hartford, Conncecticut because one of his chores was to take his sister to dance class. Though he pretended to be reading comic books, he paid more attention to the class than anyone realized. He finally stood up to correct the girls practicing one day when Mary was late to class due to a snowstorm. Mary began encouraging Hatchett to participate in class, and even gave him private lessons at her home until he felt comfortable taking classes at her studio.
Even as a teenager, Hatchett's dance teaching talents were apparent, and he started teaching his friends in his grandmother's basement. Later in his teens, he took classes from Sevilla Forte (Katherine Dunham's protege) at Phillips and Forte School of Dance in New York City. He later credited Forte as one of his best teachers. Hatchett went on to study dance at the University of Connecticut, but after his first year he left for Philadelphia to study under Eleanor Harris.
From there he booked a highly popular show called "Smart Affairs" that performed in Atlantic City and Las Vegas. He eventually left the show, however, to return to college and finish his degree. After graduation, he opened a dance studio in Springfield, Massachusetts. Then, when Dunbar Community Center in Springfield offered him a teaching position, he expanded their dance program into what became the widely successful Frank Hatchett Center for the Performing Arts. Once the school was strongly established, he toured the US and Europe with the Frank Hatchett Trio (along with Wyetta Turner and Coco Dushon), began choreographing professionally and toured with various national dance conventions.
Broadway Dance Center Beginnings
Hatchett moved to New York in the 1980s, teaching at various dance studios. Sue Samuels welcomed Hatchett to work with her and JoJo Smith at JoJo's Dance Factory, and in 1982, Hatchett and Maurice Hines renamed the studio Hines and Hatchett. Later when Hatchett left, Frank and Richard Ellner turned the studio into what today is Broadway Dance Center. Throughout his long teaching career, everyone from beginners to professionals, children to famous entertainers studied under Hatchett and learned the art of VOP jazz. Olivia Newton-John, Brooke Shields and Naomi Campbell are just a few of the stars Hatchett taught, in addition to a long list of other Broadway and television actors.
VOP Jazz Style
So what exactly is VOP jazz, and what does it stand for?
The answer: nothing. It's not an acronym. Rather, it is an exclamation Hatchett began using early on in his teaching career to encourage students to accent or stylize a step. As Hatchett's style developed over time, "VOP" eventually became the name of Hatchett's style of jazz.

In his style and teaching, Hatchett stressed the need to not only have strong technique, but to truly feel the music and use that emotion to personalize and enhance their movement. His style was influenced by his teachers, martial arts and a wide variety of dance styles, including African, East Indian, Caribbean and hip hop. He was also largely inspired by the overall rhythm of life.
Dancer, teacher, choreographer, mentor – Frank Hatchett filled many roles throughout his life and had a major impact on countless people as a result. As Steve Boyd, a dance teacher and choreographer, put it, "Frank sees inside people and inspires them to bring out their potential. Frank teaches more than dance; he teaches about life."
For more information on Frank Hatchett and VOP jazz, read Frank Hatchett's Jazz Dance
.
Fun Facts:
Hatchett was a mentor for many of his students. His role as a father figure led to being nicknamed "Papa Frank."
ABC's "Good Morning America" labeled Hatchett as "The Doctor of Jazz."
You can also learn a classic VOP step here.
Sources: Hatchett, Frank, and Nancy Myers Gitlin. Frank Hatchett's Jazz Dance
. Champaign, IL: Human Kinetics, 2000. Print.
Kindly follow, like or share:
Elizabeth is a dance minor and journalism major at Southern Illinois University – Edwardsville. A dance student since the age of six, she has danced in the studio and on dance team, as well as at Radio City Music Hall as part of the Rockette Summer Intensive. She currently teaches at a studio in her college town.