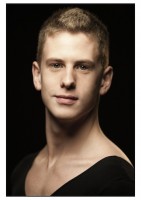 Duncan Lyle, fresh out of the Royal Ballet School has been offered a contract with Boston Ballet. In 2009 the young Australian was awarded a prize for Choreographic Development by the NJL Foundation and has performed Liam Scarlett's Toccata at the Assemblée Internationale in Toronto, and in the RBS Matinee, an annual Covent Garden presentation that marks the shift of graduating student to performing artist. Before his training in London, he was a young ballet student in Victoria, Australia's Camberwell District Ballet School (now the Russian Choreographic Academy).
Graciously sharing helpful tips for auditioning and jumps with Dance Advantage readers, Duncan took a moment to talk with me about his transition from student to professional.
Dance Advantage: You were young when you began begging your mom for ballet classes and eight years old when she finally relented. Do you recall what you liked most about training in ballet?
Duncan Lyle: I honestly can't remember. I think it's always just felt right. The ballet studio is always a place I have felt comfortable and felt like I belonged.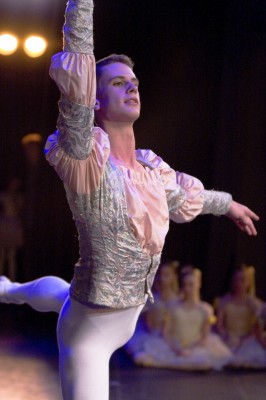 DA: You began with respected instructors in a pretty rigorous program, dancing after school for a couple of hours, four days a week. Was there ever a time you contemplated quitting or pursuing a less demanding track?
DL: Yes. I once took six months off from ballet when I was 14. My school commitments were growing and it was becoming seriously difficult to juggle everything. It reaffirmed for me, however, that ballet was my one love and out of everything what I should have been doing.
DA: Allegro dancing comes naturally to you but I am sure you have had instruction that has helped you develop that talent. Any advice you could pass along to a student hoping to improve their agility in beats or jumps?
DL: I think the best advice I could give is two things: develop the height of your jump by doing very slow static allegro and; always work every movement, no matter how quick, to the fullest. Always fully stretch your legs and feet in the air and think about the movements you are making in the air. Be very precise with your movements in the air and gradually they will become clean and crisp.
DA: At age 17, when most teens here in the U.S. are contemplating the move to college, you traveled continents away from your home in Australia to London to study at the Royal Ballet School. What was most difficult about the transition?
DL: I think the hardest thing about moving away was just the unknown. I had no idea what my new life was going to be like and I think that was the scariest thing. Once I was actually in London, of course I missed my family, friends and Melbourne but it wasn't as hard as I thought it was going to be. I made great friends with almost everybody in my year who provided a wonderful support network.
DA: I know it might be hard to imagine, but what what kind of career do you think you'd be interested in if you did not dance?
DL: I would definitely pursue a career in music. I have been composing and arranging music since I was fourteen and it's something I really love. I would apply for a university course in music and see where it would take me.
DA: Tell us a bit about the audition process that leads graduates of the RBS to employment.

DL: Firstly, we submitted a list to our director of the companies that we wanted to join and audition for. Our director then helped us by suggesting other companies that might suit us and removing companies that wouldn't. From then on it was up to us to arrange our auditions, whether they be open or private, book our flights and make our way to our auditions. Every audition I participated in was just a ballet class watched by the director with a panel of ballet staff. Candidates get eliminated at certain points throughout the class so that the panel can see the people they are interested in better. I was lucky enough to make it through all of my classes without being cut. You then mostly find out the result of the audition on the day but of course this varies from company to company. If they're definitely not interested in you then you'll know that on the day, but if they might be interested in you then you may have to wait to find out.
DA: Do you find auditioning stressful? What is most challenging for you?
DL: I think the only aspect of auditioning I find really stressful is the travelling to the destination! It's very hard trying to book a flight that will get you to your destination in enough time to get to the studio and warm-up! Plus I hate airports! I'm pretty good under stressful circumstances like auditions or appraisals.
DA: What advice or tips for auditioning you could you give to students or young professionals like yourself?
DL: I think most importantly, stay calm and confident. If you're overly nervous, you won't be able to show the people that matter what you're capable of. Presentation!! Remember that what most directors are looking for are dancers and not just technicians so perform everything in the class! And I believe that a lot of directors are looking for a clean canvas that they can work with and adapt to suit their company so make sure your technique doesn't get affected.
DA: You've been to the U.S. before, and I'm sure you've been doing some reading up on Boston. What excites you most about dancing in America?

DL: I think what I'm most looking forward to in the U.S. is the positive atmosphere and the fact that there's so many exciting things. Everything is happening there and I'm very excited to be a part of that.
We are excited to follow your career, Duncan, and welcome you to a new continent! May you have many thrilling adventures in Boston and beyond.
For more on Duncan, his background and training visit Ballet News and Oberon's Grove and Blast Magazine.
---
How do YOU feel about auditioning? Do you get nervous?
What do you enjoy about training in ballet?
Do you like to travel? How far would you go to study dance?
Kindly follow, like or share:
Nichelle Suzanne is a writer specializing in dance and online content. She is also a dance instructor with over 20 years experience teaching in dance studios, community programs, and colleges. She began Dance Advantage in 2008, equipped with a passion for movement education and an intuitive sense that a blog could bring dancers together. As a Houston-based dance writer, Nichelle covers dance performance for Dance Source Houston, Arts+Culture Texas, and other publications. She is a leader in social media within the dance community and has presented on blogging for dance organizations, including Dance/USA. Nichelle provides web consulting and writing services for dancers, dance schools and studios, and those beyond the dance world. Read Nichelle's posts.