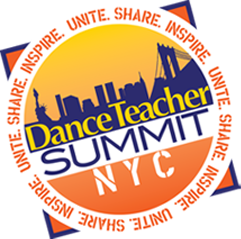 For a long while now I've wanted to attend the Dance Teacher Summit in New York City. For reasons beyond my control I have never before been available to go. However, I'm happy to share that August 2-4, I'll be hanging with some of the best in the business for the 3-day conference.
Seven Reasons Why I'm Psyched
We're all in this together.

I've spent summers at intensives and dance artist workshops, but there is something especially validating about sharing ideas, taking class, and continuing your education with other dance instructors.

The line-up of dance artists, master teachers, and presenters.

Every single one has contributed so much to the dance world and to dance training. Legends and long-time educators like Frank Hatchett, David Howard, Bill Evans, Finis Jhung, Zena Rommett, Denise Wall and my former professor at Slippery Rock University, Thom Cobb. Plus luminaries like Sean Curran, Mandy Moore, Travis Wall, Mike Minery, and Andy Blankenbuehler.

I'll be meeting up with some of my best online buddies.

Suzanne Blake Gerety and her mom Kathy Blake of DanceStudioOwner.com are presenting again this year and will share their extensive knowledge about running and growing a successful dance studio. Plus, I'll be seeing my friend, fellow SRU alumni, and blogger, Maria Hanley, and plenty of other Twitter pals.

Uh, hello! New York City!

I'm sad to say since moving to Texas and having a child, I just don't get back there enough. The Summit will be held at The Hilton near Rockefeller Center and well, all the other great stuff in Midtown Manhattan. (P.S. The Hilton NY has VERY few rooms remaining at the discounted rate for attendees – book now!)

The event keeps going and going…

The hardest part for me will be choosing which of the seminars and master classes to attend. I know that I'll have to make some coin-toss decisions. Making this just a little less painful will be the post-event Summit-To-Go online access.

Parties, Performances, and Goody Bags.

Need I say more?

Last but not least, YOU!

With something like 900 other attendees, I know at least a few of you will be there and I am thrilled that I will get to thank you in person for reading Dance Advantage! But even if you won't be attending, I know I'll be inspired with plenty of new ideas and thoughts that I can share with you and I'm excited that, in that way, you'll receive a valuable portion of the experience as well.
Wanna Go?
It is not too late to reserve your spot for the Dance Teacher Summit. If you are the last-minute type, you still have time to register. There's no deadline but it is better to reserve in advance so that everything is ready for you when you get there.

I'll be sending out a message to Subscriber Plus members via email tomorrow with an exclusive Dance Advantage discount. There's a quick sign-up form at the top right of the blog if you want to make sure you're on the list.
If you register THREE teachers from your studio the fourth can come for free.
If you'll be in New York but cannot attend the seminars and classes you can still walk the Exhibit Hall for free (and get a goody bag). Tickets to the Capezio A.C.E. Award competition, Fashion Forward and the Cocktail Party, and the closing night Gala are available for individual purchase.
There are 4 ways to register, including online. Go to DanceTeacherSummit.com to register now.
If you haven't made summer plans
Let me encourage you, whether or not you attend the Dance Teacher Summit as I am, to seek out a workshop or conference this summer.
Here are my Top Ten Reasons Teachers Should Continue Their Education.
If you just can't get to a conference this summer (believe me I've been there), here are fourteen other great ways to Activate Brain and Body During Summer Break
---
Special thanks to the folks at Dance Media for inviting me to the Dance Teacher Summit. I'm looking forward to a great three days!
I'll be doing a bit of "live blogging" during the event via Twitter and Facebook so if our geo-locations are crossing, please take a moment to say hello while you are at the Summit.
Don't forget to let me know in the comments if you are going, too!
Kindly follow, like or share:
Nichelle Suzanne is a writer specializing in dance and online content. She is also a dance instructor with over 20 years experience teaching in dance studios, community programs, and colleges. She began Dance Advantage in 2008, equipped with a passion for movement education and an intuitive sense that a blog could bring dancers together. As a Houston-based dance writer, Nichelle covers dance performance for Dance Source Houston, Arts+Culture Texas, and other publications. She is a leader in social media within the dance community and has presented on blogging for dance organizations, including Dance/USA. Nichelle provides web consulting and writing services for dancers, dance schools and studios, and those beyond the dance world. Read Nichelle's posts.