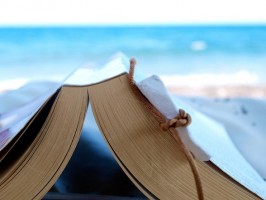 I delight in reading fiction. It's my quiet retreat but, a couple of years ago I was stuck in a reading rut. My recent reads at the time were by J.K. Rowling and Stephenie Meyer and to my dismay I realized it had been a while since I had tried a new author, in or outside the YA niche! What did I do to get out of my rut, try new things, and discover new writers?
I joined a book club.
Obviously, dance is something else that I delight in and I've been spending some time thinking about how I might bring some dance art discussion to DA's other educational offerings. Reading dance books and biographies was definitely a first thought but past experiences, like chatting live during a Misnomer Dance Theatre performance in 2008, seeing the encouraging level of participation recently during PNB's Internet broadcast of Giselle, and the increased availability of downloadable dance performance by "arts ambassadors for the future," TenduTV, inspire me to consider video as well.
What I like about the email book club I joined is its accessibility. Within the group there are a wide range of ages (though admittedly lopsided in gender) and quite a range of literary interests. Some read and discuss more critically than others. Some clearly enjoy certain genres more than others. But somehow everyone feels free to join in and discover new things in the process.
In that spirit, I'd like to introduce to you, Terpsichorus.
Delight in Dance
In Greek mythology Terpsichore is the muse of lyrical poetry and dance but the word more literally means, "delighting in dancing".  You might also know that a Greek chorus is a group of performers who comment on the action within a play.
Terpsichorus is a dance discussion project. It's still a work in progress – one that I hope will continue to define itself – but I'm joining up with a couple of pals to work together with me as this little venture comes into its own.
One of those pals is someone you may already know, You Dance Funny writer and Top Dance blogger, Steve Ha. He definitely delights in discussion of dance performance. Another is long-time Dance Advantage friend and follower, Robin Mahboeb. She's not a blogger but a dance teacher who we know delights in a good dance book.
One step at a time
The only way I know to begin is to just begin it!
Our first selection will be Entity by Wayne McGregor: Random Dance.
When we'll open discussion.
Download/purchase and watch anytime… starting now. On February 24th a new post will go up here at Dance Advantage. My teammates and I will have some starter thoughts and questions which you'll be free to acknowledge or ignore when you post your own ideas and reactions about Entity in the comments. Join the discussion on or after the 24th – we're keeping it wide open for anyone to jump right in.
In the meantime…
Encourage your friends, students, and colleagues to watch and join the discussion.
Spread the word on Twitter with the #terpischorus hashtag, share, and link wherever you can – more participants means livelier discussion.
Where you can get it
Entity is available for $3.99 rental or $14.99 permanent download on both iTunes and Amazon Video on Demand (U.S. and Canada). In the UK and elsewhere, the DVD with additional features can be purchased for £9.99 at SadlersWells.com.
McGregor and Entity
"Mr. McGregor, a 38-year-old Englishman who is also the resident choreographer at the venerable Royal Ballet, is doing some of the most exciting work in ballet on the planet". – The New York Times [link]
McGregor was the subject of some media attention just recently when he was awarded a CBE (Commander of the Order of the British Empire) in January 2011. He has created new work for La Scala, Paris Opera Ballet, Nederlands Dans Theatre, San Francisco Ballet, New York City Ballet, and English National Ballet and has been called "the closest thing to a rock star that ballet can currently claim" by the New York Times. Movie fans may also recall his movement direction in the film Harry Potter and the Goblet of Fire.
He's known for his unconventional movement vocabulary featuring angular articulations and fluid hyperextensions of the body. In addition, McGregor's deep interest in science and technology has led to investigations and collaborations with digital artists, heart imaging specialists, and cognitive researchers.
"The steps unfold with startling clarity and breathtaking invention. You don't need to know what he is doing to appreciate that he is doing something different." – The Telegraph review of Entity [link]
Entity features a specially-commissioned electronic score by Coldplay and Massive Attack collaborator Jon Hopkins, alongside music from award-winning composer Joby Talbot (The Divine Comedy, White Stripes). See the trailer below:
Wayne McGregor | Random Dance - Entity
I know that some of you will not want to know too much before you experience it, while others want to go in with some additional understanding and background. The following video link is for the group who wants to know more. All others should consider it a bit of a spoiler… The Making Of Entity
Join us!
We know that not every film or book or performance will be available to everyone all the time. We'll often change up the way we do things, incorporating performance videos, books, and documentaries, and finding different ways to discuss (including live chat).
The team and I hope you'll participate when you can… and not just for the pieces you know you'll love but the ones that may challenge you. We want to cover different areas of dance so that like a good book club, this might be an opportunity to stretch you in new directions. For this reason, I welcome your suggestions as we get underway. Though it may be a tricky balance, I also hope that eventually everyone, whether new to dance, a student, or professional will feel that they can voice their thoughts, questions, and reactions to the work.
Kindly follow, like or share:
Nichelle Suzanne is a writer specializing in dance and online content. She is also a dance instructor with over 20 years experience teaching in dance studios, community programs, and colleges. She began Dance Advantage in 2008, equipped with a passion for movement education and an intuitive sense that a blog could bring dancers together. As a Houston-based dance writer, Nichelle covers dance performance for Dance Source Houston, Arts+Culture Texas, and other publications. She is a leader in social media within the dance community and has presented on blogging for dance organizations, including Dance/USA. Nichelle provides web consulting and writing services for dancers, dance schools and studios, and those beyond the dance world. Read Nichelle's posts.