Recital time! A time when dance teachers are inside dark auditoriums, wrangling children, finding missing head pieces, and organizing confused and lost parents.  Maybe you have already survived the mayhem of recitals or you are in the thick of it.
Either way, it is nice to go outside and smell dance between the roses!
I am a big proponent of dancing outside. It is great for teachers and students to feel the sun, the breeze and the grass between their toes. Nature can be a fantastic teaching tool and provides for all sorts of imaginative adventures.  The change of scenery from a classroom or studio can change the way children perceive space and their bodies.  It also provides students with a hands on approach to exploring texture and qualities of movement.
When I was studying dance, I was fortunate to participate in a site specific work choreographed by Sara Pearson and Patrik Widrig at Bates Dance Festival. (To learn more about PearsonWidrig Dancetheater check out www.pearsonwidrig.org.)  I learned that  anywhere I  danced became the studio/classroom/stage.  I also discovered that my body and brain were inspired by new places.  I was challenged to run down a hill at full speed, create shapes among the bushes and roll between haystacks the size of trucks.  In essence, I had a new playground to explore. Dancing wasn't so neat and tidy.  There were no mirrors or walls but trees, prickly grass and flowers.  I felt free and energized.  I found a new appreciation for the malleability and boundlessness of dance.
Tips, tricks & activities to make your outside class/exploration a success:
1. Even outside kids need boundaries.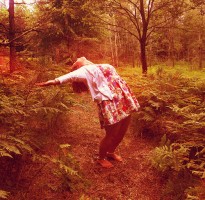 Use orange cones, flags or other markers to delineate the space you will use for your class and space that is out-of-bounds.  This way you can keep control of the class and keep the children safe.
2. Sunscreen, sneakers and water bottles are important.
Wear sneakers if you are dancing in a park because you want to make sure there is no glass, cigarettes, etc.  If you are sure the grass is free of dangerous debris, kick off those shoes and let your students feel the grass tickling their feet.
3. Don't bring recorded music!
Explore the natural sounds of your new surroundings.  Are their leaves on the ground?  What does it sound like to step on them?  Can your students hear the rustling of the bushes  made by the scurrying of chipmunks and squirrels?  Do they hear people talking, planes flying overhead, cars driving past?  This is the musical score of their outside dance experience.   If you want to add some rhythm bring a tambourine, shaker or something that does not hide the sounds of nature.
4. Let your surroundings inspire your teaching.
If outside you teach the same warm-ups, routines and exercises as in the studio,  then you are not taking advantage of all that is available around you. Use the trees, grass, and hills to your advantage.  If you like doing activities in a circle, create a circle around a tree.  If you leap through the space in class, then leap to your heart's content and focus on the expansiveness of the leaps.  Your class does not have to stop at three leaps because there are no walls preventing them from exploring 10 leaps in a row!  Jump over rocks and twigs, crawl under low hanging tree branches, roll down a hill and lie in the grass (if possible.)
DO NOT DANCE ON FRESHLY CUT GRASS! I learned this the hard way.  Newly cut grass is very bad for people with seasonal allergies.  So find out what day and time your outside venue has the grass cut and avoid this day.
5. Discover texture in a whole new way.
Have the children break up into pairs.  Have one child be the leader and the other be the follower.  The leader's job is to walk the follower(who has her eyes closed) around and have the follower touch things like trees, grass, rocks, and flowers. Taking away the follower's sight has the child focus on the experience more viscerally. The leader should not tell the follower what she is touching.  Then the partners should switch roles.  After this exercise is finished have the class discuss their experience.   Can they create a dance recreating the textures in their movements?   (Thank you to Sara Pearson and Patrik Widrig for this wonderful partnering activity.)
6. Ask for parent volunteers.
Have parents help in coordinating your outdoor adventure.  Ask parents to suggest a space that is convenient and accessible.  Maybe a parent can even host the dance class in their backyard!
Dancing outside is the exact opposite of dancing in a dark theater with artificial light.  Use the contrast of a dark confining  space and a bright sunny expansive space as a teachable moment.It can be invigorating, fun and educational all at the same time.
Share your outdoor dance experiences (or tips) in the comments!
Kindly follow, like or share:
Stacey Pepper Schwartz is the Founder and Director of Leaping Legs Creative Movement Programs. The focus of Leaping Legs is to help people regardless of age, experience or ability, become educated about their movement potential, develop kinesthetic awareness, and become more physically fit and healthy together as a family, and community. Leaping Legs promotes its goal through its original Up Down & All Around DVD, teacher training, and school and community workshops. The Up Down & All Around DVD received Dr. Toy's 100 Best Children's Products 2009 Award and 10 Best Active Products 2009 Award. The DVD has also been featured in many magazines including Dance Teacher and Dance Retailer News. In its August 2009 issue, Dance Teacher called the DVD "an essential tool for teaching the fundamentals of movement with daily adult-child interactions." Come visit www.leapinglegs.com to learn more about Stacey and her programs.