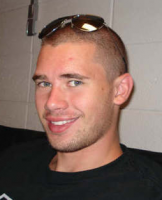 Colby is 22 years old and grew up in Palmer, Alaska. He's got a passion for dance, interests in business, web-design, and sports. Like many young dancers, he's got a lot on his plate as he tries to define his career and who he is. I believe I first encountered Colby on Twitter and he's always been professional and courteous. His path in dance and (I hope he won't mind my saying) in life has been somewhat indirect. While it's awesome to see a driven and focused career materialize, the truth is, most dancers I know have traveled a long and winding road. So, I thought it would be interesting to represent that and talk with Colby on the blog.
When did you start dancing, Colby?

I started dancing at the age of 13 because my sister was dancing at a studio and mentioned high school girls! [laughs].
Girls… Check! What about dance or the process of learning motivated you to continue?
I noticed right away it was what I really loved to do. I stayed with the same studio for about four-and-a-half years, studying in ballet, tap, jazz, and a little bit of breaking. The more I danced the more I enjoyed using it as an outlet for my emotions and to release all of my energy, whether it was to relieve anger, or to relieve the stress of my next test coming up, or just a pick me up if I was having an off day.
My motivation to continue was fueled by the ever increasing challenges and the fact that I was tackling those challenges successfully. My confidence continued to grow the more I danced. Also, attending a few live performances of professional companies and just seeing this whole new culture intrigued me.
Did you have support as a young man in dance?
I have always been and always will be supported by my family. I'm very blessed to have all of them. When I became a freshman in high school it became very difficult because I joined the high school cheer team too. This was in a smaller town where guys didn't really cross that plane at all. I was given a hard time by a lot of people that were supposed to be my friends. Some of it was even worse than just minor teasing. At one of the football games I had a potato thrown at me while I was cheering. Needless to say, I found out who my true friends really were. The further I got into high school the more it became "ok" but in the beginning only my close friends and family really supported me. Actually, to be honest not many girls had a problem with it. It was mainly just the guys that did.
You had a full scholarship to study dance in college but, after a year, left to join a pre-professional company. What about the college dance experience was not what you expected?
The training wasn't as well-rounded as I had anticipated. The program's focus was jazz and ballet. A good thing, but I was expecting a more balanced variety. Even though they had hip-hop and tap classes, they were at a beginning level. That was a bit of a disappointment as those happen to be my favorite.
There was also more drama than I expected, things seemed disorganized at times. To their credit they had a whole new staff but we were offered only two weekends of performances for the whole year.
All in all, I wouldn't give up that experience because good or bad, every experience helps you grow. College helped with technique. There was a more personal atmosphere than I had envisioned. There was good talent which helped me to push myself harder. There was time to focus on my dancing completely. When you are not in college and working, you never get as much time as you want.
In what ways did training with a company suit you better?
The pre-professional training broadened and is still broadening my views on hip-hop culture. Everyone in the company was putting their free time into what they loved so there was less drama (more professionalism). The training and performance opportunities kept us pushing the limits of our potential. Sharing your love for what you do with an audience, hopefully inspiring or entertaining them – that's what it's all about.
Putting It Together
Colby's primary project right now is DanceStage.com, a social network for dancers. I've contributed some of my posts to DanceStage.com (which I rarely do). They sit among some really useful articles, as well as contests, and other features which we'll chat more about below…
Tell me about DanceStage.com and what prompted its creation.
The idea for DanceStage started while I was in college. As I researched for dance assignments, I had the thought that things would be easier if there was a collection of info on dance all in one spot. I told a few friends, we partnered and off we went on it. They have since had to bow out due to time constraints or personal reasons, so I have managed to start taking it on myself. The goal is a social network that is a dancer's one-stop shop, but I have to build it one step at a time. So, I've started with the social network and I am building from there.
Social networks have exploded in the last two years. What has been most difficult about carving out a space online?
The difficult thing about carving a space online is you have to constantly evolve as the internet is constantly evolving. Another hurdle is becoming recognized. You could have the coolest site in the world but if nobody knows it's there it doesn't do anyone any good. You just have to be dedicated and persevere long enough to get your name out there.
You've partnered with Showstopper to present the Future Stars of America contest. How are winners chosen?
At each Showstopper regional they take the highest scoring group and give them DanceStage's Future Stars of America award. Their video then gets uploaded to the site and they are a contestant. Once the season is over and all the regional winners are up, DanceStage's selected judges narrow it down to a top five. These top five are reposted and the members of DanceStage can vote on their favorite video once a day for a week. At the end, the video with the most votes becomes our new Future Stars of America winners. Showstopper has been great to work with and very supportive.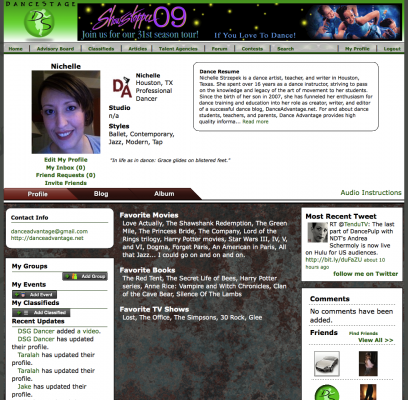 You have a section for classifieds, a forum, users can create customized profiles, and you've added new articles. What's next, what can users look forward to?
DanceStage will soon be coming out with a whole new look. I will be tightening up the features already in place and adding new ones. It will be a great change and I am excited for it. That is my primary focus right now. Some features that are in the back of my mind for the future are a dance history section, a more customizable profile, maybe some interactive games, more contests (small and large), hopefully an online store (for DanceStage apparel and other items), and when the new site comes out I will have a Suggestion Form on every page so that I can deliver what the users want.
Okay, big question. Do you have any thoughts for other 20-somethings trying to make their way?
For anyone trying to establish themselves, I would say do what YOU feel is right for you. Don't let other people persuade you. Sometimes they are doing it to try and protect you or help you, but only you can decide what is best for you. Whenever I have a decision to make, I call my mom, my dad, a sister or two and ask a few friends. I am very family oriented. My parents did a great job raising me and my sisters had a large impact on me as well. I take into consideration their different perspectives to make my choice. Then I decide, given all these different points, what is the best option for me. Not everything I've chosen has been the easiest but I regret none of the choices.
I also can't say enough for working hard. But not only work hard, work smart. Back in high school, we trained less often than the teams we competed against so my coach used to say that, instead of just working harder, we had to work smarter to make our time more valuable to us than their time was to them.
Thanks Colby!
Do check out DanceStage.com and their YouTube channel, where you'll find those Future Stars of America entries.
Have you taken your own long and winding road in dance?
Tell us about it in the comments!
Kindly follow, like or share:
Nichelle Suzanne is a writer specializing in dance and online content. She is also a dance instructor with over 20 years experience teaching in dance studios, community programs, and colleges. She began Dance Advantage in 2008, equipped with a passion for movement education and an intuitive sense that a blog could bring dancers together. As a Houston-based dance writer, Nichelle covers dance performance for Dance Source Houston, Arts+Culture Texas, and other publications. She is a leader in social media within the dance community and has presented on blogging for dance organizations, including Dance/USA. Nichelle provides web consulting and writing services for dancers, dance schools and studios, and those beyond the dance world. Read Nichelle's posts.