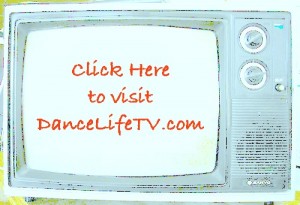 Just a quick bulletin to let you know that DanceLifeTV will be airing it's second episode on April 17. For those that don't know this is a new online project developed by Rhee Gold that features segments created with the dance teacher in mind. I caught Episode One last month and my thoughts are posted here (scroll to the Update section for my mini-review). In a recent newsletter, Rhee Gold and collaborator Mikeal Knight state that they've enjoyed the feedback on the first episode. Regarding the next installment they go on to say,
"Our commitment is to make each episode better than the last and we've got some really cool segments planned for episode #2 to launch April 17."
What's most interesting is that the creators have revealed a bit more about the plan for DanceLifeTV in coming months. Aparently upcoming episodes will feature sort of a video travel log as DanceLifeTV tours North America visiting studios and colleges, and attends special events with the aim of highlighting inspirational people and stories in the dance world.
For those of you who still haven't taken a look at Episode 1, just visit the website and choose either High or Standard (based on your internet connection) to view the installment. If you'd like to be notified when new episodes are set to premiere, be sure to sign up for their email list.
If you've seen Episode 1, why not have a look at the following articles from Dance Studio Life online:
Recital Time Motivation by Rhee Gold
There's Only One You by Nancy Wozny
No Wilting Flower by Rachel Strauss
Nichelle Suzanne is a writer specializing in dance and online content. She is also a dance instructor with over 20 years experience teaching in dance studios, community programs, and colleges. She began Dance Advantage in 2008, equipped with a passion for movement education and an intuitive sense that a blog could bring dancers together. As a Houston-based dance writer, Nichelle covers dance performance for Dance Source Houston, Arts+Culture Texas, and other publications. She is a leader in social media within the dance community and has presented on blogging for dance organizations, including Dance/USA. Nichelle provides web consulting and writing services for dancers, dance schools and studios, and those beyond the dance world. Read Nichelle's posts.