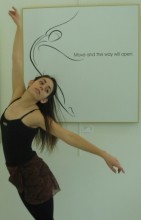 Being a dancer and a writer, I have a fondness for dance journals.
Whether keeping, suggesting, assigning, or just admiring a collection of pages set aside for thoughts on dance, I'll admit I get a little giddy over the potential in a blank page.
Just in time for the start of the new year, I received a copy of the Dance This Notebook
, a journal created by Dance Advantage guest writer, Janaea Rose Lyn and artist/collaborator, Laura Higgins Palmer.
Opening its pages, I was first struck by the amount of white space available to the dancer to fill. Around half of the pages in this 110-page paperback are completely blank. The rest feature quarter-page embellishments with Palmer's wispy line drawings of dancing figures and original quotes of inspiration, written by Lyn.
Each message and drawing speaks directly to the creative spirit of dancers:

"Questions, like movements, lead to more and better ones."

The imagery playfully echoes or relates to the quotes:

A figure in a stag jump, accompanies the text, "Leave the earth and see a new perspective."

Words and pictures even guide the creator:

"A sacred space invites imagination to visit."

"How to begin? Simply start and then continue."
At roughly 6×9 inches and less than 1/2 an inch thick, the Dance This Notebook fits easily in your dance bag or satchel.
Unlike many journals, the pages are unlined, providing an uncluttered space to freely record your creative ideas, choreography, class combinations, questions, reflections, corrections, accomplishments, or even your own drawings or visual representations.
For my college ballet course, I require students to keep such a notebook for class. This book, because it is created by instructors of dance and art, is a perfect tool for such an assignment. The attractive, simple design and messages will inspire any student or dancer.
Record your audition experiences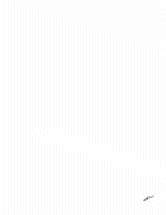 Janaea Rose Lyn has been offering her audition tips and advice here on Dance Advantage. Check out her posts and use the Dance This Notebook to reflect and recall details about the auditions you attend or plan to attend.
Let Dance Advantage prompt you
We offer the 4 for 40 E-course. The most popular component of this course is the "Dancescribe" journal prompts which are delivered weekly into your email inbox for 40 weeks – an entire year's worth of dance classes. Once again, a great pairing with the Dance This Notebook!
More dance diary ideas in our Reflection and Journaling for Dancers post.
More about the Dance This Notebook creators:
Janaea Rose Lyn (McAlee) is the currently full-time faculty and Dance Coordinator at Estrella Mountain Community College in Arizona. Previously she was Assistant Professor of Dance and Performing Arts Program Coordinator at Cecil College in Maryland. She is the author of Dance This Notebook
with Artist Laura Higgins Palmer and is a contributing writer for Choreoclinic. Janaea was Founding Artistic Director of both Convergence Dancers & Musicians and Dance Matrix, and she remains active as a Third Generation Isadora Duncan Dancer. Information at www.janaearoselyn.com.
Laura Higgins Palmer has been working directly with dancers and choreographers for more than two decades. From countless volumes of her drawings Laura creates finished paintings based on improvisations, observations, characters, and theatrical productions. Laura's work has been exhibited internationally and she has taught drawing, painting, design, figure and anatomy to students from elementary school through college and beyond. See her work at www.StudioLHP.com or www.Drawn2Dance.com.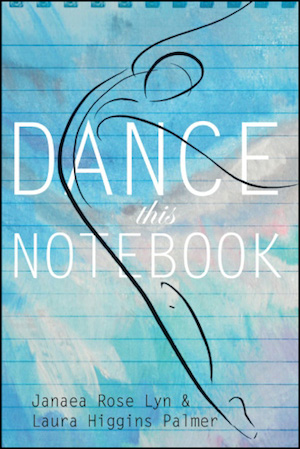 Kindly follow, like or share:
Nichelle Suzanne is a writer specializing in dance and online content. She is also a dance instructor with over 20 years experience teaching in dance studios, community programs, and colleges. She began Dance Advantage in 2008, equipped with a passion for movement education and an intuitive sense that a blog could bring dancers together. As a Houston-based dance writer, Nichelle covers dance performance for Dance Source Houston, Arts+Culture Texas, and other publications. She is a leader in social media within the dance community and has presented on blogging for dance organizations, including Dance/USA. Nichelle provides web consulting and writing services for dancers, dance schools and studios, and those beyond the dance world. Read Nichelle's posts.