There are few places in the U.S. like New York City.
Where else can you can see as much dance, audition for such diverse dance opportunities, or be trained and train among so many of the world's best dancers?
It's why some consider NYC the 'dance capital' of the United States, if not the world, and why dancers continue to flock there to learn and work and explore.
If you have dreams of dancing in New York, one of your big questions about the Big Apple is likely…
Where do I take class once I get there?
Go online and look for that answer and you'll find all kinds of advice and resources. It can be overwhelming.
What you really want is a list. An overview of the primary options. A comparison of the goals and missions of particular institutions and their facilities. Something that will give you a taste and feel of what each studio offers so that you can select what best meets your needs.
Sounds nice, doesn't it?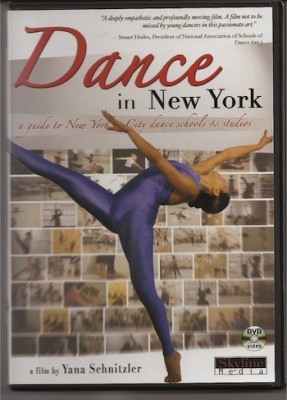 Well, this is what Yana Schnitzler had in mind when she set out to create and direct a video guide called Dance in New York.
I discovered the video via my subscription at KineticFlix. The video is highly requested for rental because of its promise as a practical guide to NYC dance for dancers and dance students from all over the world.
From 2005, when this video was made, to the present there have inevitably been some changes within the schools and the New York dance community. It's one of the pitfalls of a video presentation of this type.
However, with focus on many of New York's best known and most-loved programs, this particular film remains an insightful look at the many long-standing options for dance training and practice available in the city.
Hear Risa Steinberg, a teacher at the Limon Institute, insist "technique is our alphabet" or muse about the plight of dancers and their insecurities. Watch and listen to David Howard talk about the unique energy of New York, Movin' Out star John Selya reflect on why he takes class, or ballet siblings Ethan and Leslie Brown's description of the diversity in classes at Steps on Broadway.
Each approximately 5-minute segment provides film footage of and about the studio space, glimpses of a class in process, and interviews with owners and/or faculty members, as well as students.
It brings to life what you can't necessarily read on a web page, making Dance in New York a valuable resource for any dancer who has turned their eyes to this dance Mecca.
Of the 12 programs and studios in this video listing, I had heard about many, discovered a few, and learned something new about all.
Here are the twelve included:
Ballet Arts
Dance Space Center (Dance New Amsterdam)
Isadora Duncan Dance Foundation
Jennifer Muller Studio
Limon Institute
Martha Graham School of Contemporary Dance

Mary Anthony Dance Studio
Merce Cunningham Studio
New York Conservatory of Dance
Steps on Broadway
Susan Klein School of Movement & Dance
Trisha Brown Studio
Only Twelve?
Twelve in many other cities would be a pretty comprehensive list. But you're right, in New York, twelve is a start… a good start, but certainly not all-inclusive.
With awareness that a few descriptions of studio location, and perhaps personnel or programming needed a bit of updating on this film, I decided to hunt down its makers. I got a direct response from Yana Schnitzler and happily discovered that yes, an update and a 2nd volume are in the works for late fall/early winter of this year.
Plans are to release an updated Volume 1 and the new Volume 2 in a two-disc set. Dance in New York Volume 1 & 2 will contain approximately 24 dance schools located in New York City. Volume 2 will cover Broadway Dance Center, Paul Taylor School, Luigi's Jazz Center, Joffrey Ballet School, The Ailey School, Peridance, and more with the continued aim of presenting the dance student from the U.S. and abroad practical information about the school or studio and its ambiance.
The original Dance in New York video is not currently available for purchase. For now, you can queue it at KineticFlix.com while you wait for the two-volume set to arrive.

In the meantime, catch the trailer for Dance in New York Volume 1, a motivating love-letter to this "city of dance":
Have you seen the film? What do you think?
Do you aspire to dance in New York? Or have you made that leap already? Share your thoughts in the comments!
Kindly follow, like or share:
Nichelle Suzanne is a writer specializing in dance and online content. She is also a dance instructor with over 20 years experience teaching in dance studios, community programs, and colleges. She began Dance Advantage in 2008, equipped with a passion for movement education and an intuitive sense that a blog could bring dancers together. As a Houston-based dance writer, Nichelle covers dance performance for Dance Source Houston, Arts+Culture Texas, and other publications. She is a leader in social media within the dance community and has presented on blogging for dance organizations, including Dance/USA. Nichelle provides web consulting and writing services for dancers, dance schools and studios, and those beyond the dance world. Read Nichelle's posts.