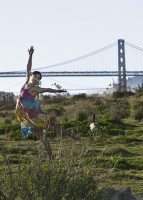 What will you be doing this time TOMORROW?
Thousands worldwide will be dancing as they come together simultaneously to create a global public art performance, uniting time zones, people, and cultures.
Now in its seventh year, dance anywhere® will take place on Friday, March 18, 2011 at noon pacific daylight time (PDT), 3pm EDT (New York, etc), 2pm for those of us in the U.S. Central time zone, and 8pm in Paris, Rome, etc.
If you aren't sure what time that is for you, check the world time clock link at the dance anywhere® website:
What if the world stopped to dance?
That was the question Beth Fein asked herself and her friends on the way home from a dance performance one evening more than seven years ago. Dance anywhere® is the investigation into that question.
Since 2005, dance anywhere® has spread into a worldwide party. Thousands of performers have participated on the streets, bridges, in schools, subway stations, museums, galleries and parks – integrating art into everyday public spaces and exposing unsuspecting audiences to dance. People have participated on six continents in twenty seven countries from Hawaii to San Francisco across the US, to Slovenia, Tanzania, Turkey, Estonia, Sweden, Spain, Ireland, Namibia, to name a few.
"This global event is an open invitation to all: to stop and dance wherever they will be." says Fein. "What is so wonderful about dance anywhere® is that it is a way for everyone, anywhere to be creative – to pause in their busy lives and dance with the whole world."
Visit danceanywhere.org to check out events and dance gatherings in your area (or add your own).
Follow dance anywhere® on Facebook or follow their tweets @danceanywhere.
Also attend and share the event on Facebook.
This time tomorrow…
Perhaps you'll be sitting at your desk.
Perhaps you'll be watching daytime television.
Perhaps you'll be at your locker.
Perhaps you'll be recovering from your St. Patrick's Day celebration.
Wherever you are. Whatever you're doing. Whoever you're with,
share a moment with the world and dance anywhere®
So let me ask again…
What will YOU be doing this time TOMORROW?
If you have an event planned, tell us about it!
If you aren't sure but you know you'll be dancing, come back and tell us about that, too!
Document your dance! Include links to photos, updates, or videos.
Me? I'll be with my young son, preparing for a special family gathering. But at 2pm (CDT), you can bet we'll be dancing our hearts out to a song of his choosing 🙂
Kindly follow, like or share:
Nichelle Suzanne is a writer specializing in dance and online content. She is also a dance instructor with over 20 years experience teaching in dance studios, community programs, and colleges. She began Dance Advantage in 2008, equipped with a passion for movement education and an intuitive sense that a blog could bring dancers together. As a Houston-based dance writer, Nichelle covers dance performance for Dance Source Houston, Arts+Culture Texas, and other publications. She is a leader in social media within the dance community and has presented on blogging for dance organizations, including Dance/USA. Nichelle provides web consulting and writing services for dancers, dance schools and studios, and those beyond the dance world. Read Nichelle's posts.