Though veteran followers of Dance Advantage may know the name, I'd like to introduce new fans to one of our site sponsors:


Vegan ballet slippers? Ballet slippers that only eat plants?
Not exactly. More accurately, you might think of these as ballet slippers FOR Vegans, or people who do not eat or use animal products. But, in fact, you need not be a Vegan at all to love these slippers or that they are cruelty-free (i.e. production does not harm animals) and a great choice for the environment.
If you were around for our Giving Thanks Giveaway last year, you know that Cynthia King Vegan Ballet Slippers come in child and adult sizes and are made of canvas uppers with synthetic full or split soles. They are THE compassionate choice for any dancer seeking slippers not derived from animal products (if you've looked, you know there are very few fully non-leather, cruelty-free options out there). These are affordable, durable, dye-able, and easily stand up in quality to leather soled slippers.
Who is Cynthia King?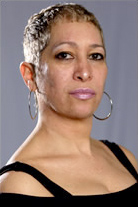 Cynthia King is the director of Cynthia King Dance Studio in Brooklyn, NY. Her love for animals originated in the connection she had with her dog as a young child and her passion for animal rights began with literature on the subject. Since 1967 she has eaten only a plant-based diet but consistently faced the challenge of recommending ballet slippers to her students as even canvas slippers use animal skin for the soles. It became her mission to provide an affordable alternative to leather-soled slippers.
Ms. King shared more about herself and her Vegan Ballet Slippers when she spoke with me recently:
Where have you trained and studied in your dance career?
I trained at the Ailey School, Clark Center, Boston Conservatory, and with Emiko & Yasuko Tokunaga. Then I performed professionally for many years, including as a member of the Rod Rodgers Dance Company. I've been teaching since 1986 and launched my own school, Cynthia King Dance Studio, in 2002.
You worked within the public school system as well. What do you most value from that experience?
I spent two years teaching dance in New York City public schools. I really enjoyed working with colleagues in related arts fields who were also contributing to the public school system.
What inspired you to make the transition to your own dance school?
I wanted more creative freedom, a proper floor to work on, appropriate class size, and to have some continuity with students through the years so that their technical training could be improved upon.
I have been wearing and teaching in my slippers. They have an attractive shape, hug the feet, and the soles are as effective as any leather sole. How long have you been working on and perfecting the design?
I've been developing the slippers since 2003. As of last year the split sole design is at its best. My teachers and students test each prototype here at the studio and their feedback has helped me to develop a slipper that's optimal for studio and performance use.

Tell us about your history and collaboration with Farm Sanctuary – it's a unique pairing dancers and farm animals!
I have a long history of supporting both Woodstock Farm Animal Sanctuary and Farm Sanctuary. For Woodstock we recently brought eight carloads full of dancers and support staff for a wonderful day at the sanctuary. For Farm Sanctuary I've recently produced two CKDS events featuring the children's book Our Farm: By the Animals of Farm Sanctuary by Maya Gottfried, who works here at the studio. The events celebrated the spirit of the animals and we donated proceeds to Farm Sanctuary.
Are there other ways you strive to be animal and environmentally conscious via actions or choices made in the daily running of your dance studio?
We only provide vegan food at studio events and meetings. Many people don't realize this but animal agriculture is the biggest threat to our environment, it takes 2,464 gallons of water to produce one pound of beef in California (source: Vegetarian Times).
In what other ways is your school involved in community service and outreach?
We donate to many local public school fundraisers, teach master classes in local schools and perform in them, teach in the playgrounds during the summer for free, do performances in the playground, and hold community events here. We also support local elected officials with interests in causes we believe in.
You've received some wonderful feedback and thanks for your efforts to provide Vegan Ballet Slippers. Can you share a particularly meaningful example that has really encouraged you?
I've spoken with hundreds of people who are so thankful and committed to cruelty-free living, it's all so touching that it's hard to pick out just one example. Connecting with other compassionate dancers all around the world is very encouraging. It was also very moving during the Dance Advantage giveaway to read so many touching stories about people's connections with animals that they posted at the site.
What's on the horizon for Cynthia King Vegan Ballet Slippers that you're excited about?
Right now my priority is getting them more into the mainstream and on more dancers' feet. I'm also continuing to try to raise awareness about the exploitation of animals by society.
How to get Cynthia King Vegan Ballet Slippers on YOUR feet

Visit cynthiakingdance.com/vegan-ballet-slippers. The slippers come in adult and child sizes and cost $24.95 plus shipping and handling. You can order online (or by phone)!
Please join me in thanking Ms. King and Cynthia King Vegan Ballet Slippers for their compassionate support of animals and for supporting Dance Advantage. Our sponsors help keep free content flowing at this site.
Sponsors of Dance Advantage receive on-site advertising as well as periodic posts dedicated to their site, service, or product. Though the content is organized and compiled by DA's Editor, these sponsored posts will always be marked as such. Dance Advantage makes every effort to partner with sponsors highly relevant to its audience. In this way, we hope not to disrupt our mission to be a source of quality content and connect you to useful resources across the web. See more in our disclosure statement.
THANK YOU for your readership and support!
Kindly follow, like or share:
Nichelle Suzanne is a writer specializing in dance and online content. She is also a dance instructor with over 20 years experience teaching in dance studios, community programs, and colleges. She began Dance Advantage in 2008, equipped with a passion for movement education and an intuitive sense that a blog could bring dancers together. As a Houston-based dance writer, Nichelle covers dance performance for Dance Source Houston, Arts+Culture Texas, and other publications. She is a leader in social media within the dance community and has presented on blogging for dance organizations, including Dance/USA. Nichelle provides web consulting and writing services for dancers, dance schools and studios, and those beyond the dance world. Read Nichelle's posts.