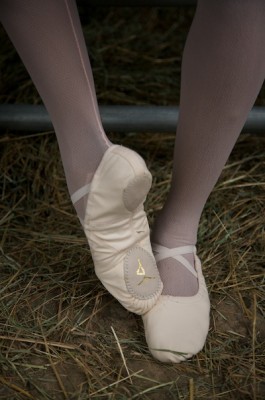 Cynthia King gives dancers a unique way to show their love for animals in their art by providing high quality, cruelty free ballet slippers.
As a vegan dancer and choreographer, King did not have any good options for ballet slippers. Even canvas slippers used animal skin on the soles.
Providing a viable and affordable alternative to leather-soled slippers became her mission, and after much research (and trial and error), Cynthia King Vegan Ballet Slippers were born, bringing her passion for dance and compassion for animals together.
Cynthia King Vegan Ballet Slippers are popular worldwide and were the selected slipper for two of Alvin Ailey American Dance Theater's innovative camps. These slippers have also attracted the attention of Hollywood—vegan star Emily Deschanel ordered a pair for a scene in the TV show "Bones," and most recently, Vogue magazine requested a pair for Natalie Portman to wear in their January 2011 cover shoot!
You can read more about Cynthia King's mission and dance school here.
The Giveaway
Cynthia King is giving away a Cruelty Free Package to ONE lucky DA reader.
The package includes:
Cynthia King Vegan Ballet Slippers (retail $24.95) The only 100% cruelty free slippers readily available! Made of canvas uppers with synthetic soles and stretch drawstring, they are the compassionate choice for dancers of all ages seeking slippers not derived from animal products. They are durable, dye-able, and now come in pink and black for adult sizes.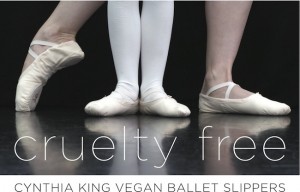 A Cruelty Free T-shirt (retail $30) features the attractive design at left.
"Vegucated" DVD (retail $25) "Vegucated" follows three meat- and cheese-loving New Yorkers who agree to adopt a vegan diet for six weeks. This entertaining film showcases the rapid and at times comedic evolution of three people who discover their own paths in creating a kinder, cleaner, greener world, one bite at a time.
The Cynthia King Cruelty Free Package giveaway is open to U.S. residents 18 and over and closes at Midnight EST on Friday, February 17.
How To Enter
Sign-in with the Rafflecopter form below using Facebook or your name and email. The widget will reveal multiple ways to earn entries.
The first, commenting on this post, is mandatory for entry (as always).
In this case, you'll be asked to comment, answering the question:
In what ways do you connect with or protect animals?
Sign in, and click on Do It and you'll see.
Upon entering, optional tasks for earning up to 10 additional entries will be revealed.
Complete as many as you like. Come back and Tweet once every day of the Cruelty Free Package giveaway.
Just make sure after each task you return and let us know you DID IT in the Rafflecopter form (don't worry, it'll save your other entries).
If you're having trouble seeing the form, I suggest updating or trying another browser.
Winners will be announced within days of the giveaway's close and will be contacted directly.
Please read our Giveaway Policy.
Tomorrow's Giveaway:
Teachers will be impressedwith these useful teaching aids from Dance Teacher Press.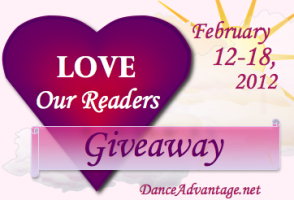 Kindly follow, like or share:
Nichelle Suzanne is a writer specializing in dance and online content. She is also a dance instructor with over 20 years experience teaching in dance studios, community programs, and colleges. She began Dance Advantage in 2008, equipped with a passion for movement education and an intuitive sense that a blog could bring dancers together. As a Houston-based dance writer, Nichelle covers dance performance for Dance Source Houston, Arts+Culture Texas, and other publications. She is a leader in social media within the dance community and has presented on blogging for dance organizations, including Dance/USA. Nichelle provides web consulting and writing services for dancers, dance schools and studios, and those beyond the dance world. Read Nichelle's posts.