Princess Ballerina? Gymnastics? Sports? Ice Skating? Art? Soccer? So many choices for birthday parties these days. Right?
Why not creative movement?
For whatever reason, this year I have been asked to do approximately 1,000 (ok, 8) birthday parties. The birthday child loves my ballet class, but wants to invite girls AND boys to the party. It's always a concern of the parent that if it's too much like ballet, the boys won't be interested. I assure the families that it will be a dance party, using props, imagination, and music!
In honor of my birthday this month, and since I have spent the last 5 weekends in a row teaching parties, I thought I would share some ideas I have been using when my students families hire me to do a birthday party for their child.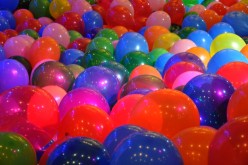 I will admit, parties are not my favorite thing to teach, but when the guests of honor are my students, it makes it much more fun!
The Logistics:
Space
Do you have a space you can use at a studio or center? If not, you will have find a place to rent. I usually leave it up the family to find the space. Tell them what you need for in terms of space, like a clean dance floor, and an empty room that will fit all of their guests. If you leave it up to them, then there is no disappointment in the space later on.
Time + Money
How much time will you spend doing this party? Will you be teaching only the dance portion or will you cut the cake as I like to do? Are you on set-up and clean-up duty? Did you have to buy special birthday music? All of these come into account when you set aside time for this birthday party and are considering what to charge the family.
Dance Party Ideas
These ideas work for ages 3 -6 year olds and are roughly a 45-minute party.
Share The Rules
When you are teaching class week after week, your students know the rules, but at a birthday party not all of the guests know the rules. To make sure everyone is safe, explain the rules quickly through a story. I pretty much make them laugh right out of the gate so they'll connect with me.
I say "Hi, my name is Peanut Butter" and they burst out laughing. Once this happens, I've got em'.
I ask them to put on their listening ears, their watching eyes, and look in their pocket for a marshmallow. The marshmallow is in case it gets really loud and we have to eat one, or walk on them to be quiet.
Decorate The Party Room Dance
Blow up balloons, paint the walls with stripes and polka dots, add confetti. Gather ideas from the kids and decorate the room for a dance party. Maybe you need a disco ball or streamers? Hang mobiles or splatter the paint (with a spin).
I like to use scarves for this part, you can dip the paint with the scarves and do lots of reaching to paint the walls and the ceiling.
Where else can you put the paintbrush (scarf)? Between your toes or on your elbow? Get creative by using different body parts.
Freeze And Move
Everyone loves freeze dance. I always ask what their favorite song is and use that. I like to spice up the freeze dance by adding words. While they're "frozen," add a word: boogie, jump, reach, shake, the possibilities are endless.
Then, it's really fun to add two words together. For six year olds you could try three words. It's exciting to watch them explore the movement, and take on the challenge!
Here is my Freeze Dance playlist:

Smooth Criminal – Michael Jackson

I like to Move It Move It – Madagascar

A Friend Like You – Fresh Beat Band

Holiday Road – Lindsey Buckingham

Footloose – Kenny Loggins
Travel On An Adventure
Maybe you want to travel to space, or the jungle, or under the sea? Maybe the birthday child has a favorite place they like to go.
Wherever we travel, we always see banners that say "Happy Birthday (insert child's name)" I say, "Wow! The sharks know that it's your birthday!" They get a tickle out of it.
The more people that know about the birthday child's special day, the more exciting it is. Find a way to incorporate it!
Leaps
So far we have had a lot of listening and following directions. You can throw this in at anytime if you think it's needed.
I have 4 long ropes I call "snakes." I get everyone to one side of the room and then tap them when it's their turn to leap over the snakes. I'm sure you will find that some parties guests will be great "waiters," but others will just want to do it all at the same time. As longs as you can manage their safety, I say go for it.
Sometimes it's just lovely to play some music and give them a task.
Make The Birthday Cake
Get everyone to the floor and make a straddle. Then, add whatever the children say they want in their cake to their recipe. Applesauce? MMMMM! Chocolate? Of course! Pizza? Sure! Stir it all up and then lay down to rest while it's cooking. Once it's done, decorate it with sprinkles or broccoli (no joke, a little one has said that before) and then…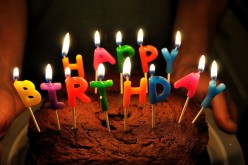 Blow Out The Candles!
I first saw this idea here, and it's my absolute favorite! I even do this in class if it's a students birthday.
Ask all of the guests (adults too!) to make a circle and the birthday child to go into the middle.
Everyone makes a straight candle shape. The birthday child goes on the inside and blows out all of the candles with their movement. In my experience, you will have to show 3 year olds what you mean by blowing out each candle with their arms, otherwise they will just blow in everyone's face. ha!
Once they "blow" out the candle, the candle falls to the floor. I usually do it two times around just for more fun!
Recommended Music: Happy Birthday Waltz
by Lois Bram & Sharon Bram – Happy Birthday! 
A Few Challenges
1) Encourage the hosts to wait to put food out until the dancing portion of the party is over. Otherwise, you will have children and adults eating bagels in the middle of your dance party.
2) Set aside a space for "grown-ups." If a child just wants to watch with their grown-up, they can't sit in the middle of the floor. Well… they can, but it's very frustrating for them. Encourage them to use the space you designate. If they want to dance with their child, encourage that too! The more the merrier!
3) What if the birthday child stops participating? Just keep teaching, they are more likely to join back in. If you stop everything for them, their guests will be disappointed.
4) Make sure the music is in close range. If you get every dance set up and then have to leave the kids to turn on the music, you will loose them.
5) Birthday parties are hard work! So much harder than teaching classes or doing choreography. Enjoy it, but know that when you take it on, it's not a piece of cake!
Do you teach creative dance birthday parties?
Would you ever give them a try? I would love to hear your ideas! 
Kindly follow, like or share:
A passionate advocate for early childhood dance education, Maria Hanley Blakemore specializes in teaching ages 0 months to 6 years. She left NYC, where she designed and implemented programs at Manhattan's Jewish Community Center, Dancewave Center and The Mark Morris Dance Group, to teach dancers in the greater Cleveland area. Maria holds a Master's degree in dance education from New York University (2007) and a Bachelor's degree in dance performance from Slippery Rock University in Pennsylvania (2005). Maria authors the blog Maria's Movers (www.mariasmovers.com) where she shares creative ideas and strategies for teaching young dancers. Maria served on the Dance/NYC Junior Committee for 2 years and presented at the 2012 Dance USA Conference. She also presents at the Dance Teacher Summit in New York City. Read Maria's posts.